This article is part of our week of ADCC 2022 coverage. To get live results, play by play, and commentary, we'll have a live updates article running all weekend.
ADCC 2022 is just a matter of days away and the full competitor list has already been confirmed, with a healthy mix of veteran competitors and dark horses or debutants that are more than capable of springing a surprise. There's still time for something to go wrong of course as accidents happen and it's possible that any one of the athletes competing might find themselves injured or otherwise unable to compete at the 11th hour. The minds behind ADCC 2022 have already prepared for any eventualities though and they've also released a list of alternates, an athlete for every division who will be ready to step in at a moment's notice if needed.
We've already assessed each of the divisions at ADCC 2022 in order to identify who has the best chances of reaching the podium on the final day, but now we're going to take a look at the dark horses from each division. This isn't an exhaustive list and it's certainly possible that an athlete not on this list could put in an incredible performance over the weekend and come away with the gold. Here are five competitors who might not currently have a lot of eyes on them, but we believe are the most likely to exceed expectations and shock the world at ADCC 2022:
Five ADCC 2022 Dark Horses To Watch
Ashley Williams – Under 66kg
With only three former medallists competing in the 66kg division at ADCC 2022, this is where any dark horses will get the best opportunity to shine. As it stands, Ashley Williams is likely the best primed to run through the division seemingly out of nowhere. It might seem unusual to list him as one of the dark horses for ADCC 2022 seeing as he's already the Polaris triple champion, but he's been overlooked by anyone outside of the UK in the build-up to the event. He already owns victories over two of the men in his division, Keith Krikorian and Ethan Crelinsten, and only narrowly lost to Geo Martinez in EBI overtime a few years ago. Williams' skill level and recent form makes him a comfortable bet to make it through the opening round unless he runs into one of the favourites and it'll be exciting to see just how far he can go after that.
Jeremy Skinner – Under 66kg
It might seem strange to pick two athletes in the same weightclass, but 66kg really does look like it's going to be one of the most interesting divisions of the weekend. Jeremy Skinner also won his place at ADCC 2022 by way of trials, winning what ended up being the only Asia and Oceania trial for the event. He submitted all five of his opponents at trials and looked flawless in doing so, including in matches against both Ariel Tabak and David Stoilescu. Although Skinner doesn't have the most extensive competition history outside of Australia, he's a fierce leglocker and one of the country's brightest prospects by far. After getting his black belt from Lachlan Giles last year, he's ready to tap into some of the magic that his coach brought to the event in 2019 by storming through the 66kg division.
Eoghan O'Flanagan – Under 88kg
Another product of the UK, O'Flanagan put on an incredible display in the first European trials when he submitted all five of his opponents by heelhook. He's been a force to be reckoned with for quite some time on the British professional grappling scene and has had a phenomenal leglock game for the last few years. He really started to put it all together last year though and that showed in trials when he put in the best performance of the weekend. Despite being known as a leglocker, O'Flanagan is actually pretty well-rounded and he's been packing on some serious muscle since qualifying for ADCC 2022. 88kg is always a tough division but his style matches up favourably with quite a few of the competitors in his field and if the bracketing goes his way, it's easy to see him making it through to the semi-finals without breaking much of a sweat.
Paul Ardila-Ibarra – Under 99kg
This year might just be the year that Paul Ardila-Ibarra has his breakthrough moment. He started out his career as a wrestler and only took up Jiu-Jitsu during the off-season, after he'd already become a state champion in Greco-Roman wrestling and placed twice in Folkstyle. He eventually qualified for his first ADCC world championship shortly after in 2015 when he won US trials while still studying Law. Ardila-Ibarra went out in the first round to the eventual bronze medallist Vinny Magalhaes but came right back and won trials again in 2017. He lost an incredibly close match to the eventual bronze medallist in the opening round then too, Jackson Souza this time. In 2019 he received an invite to compete and suffered his third loss in the opening round to an athlete that would end up reaching the podium, silver medallist Vinicius 'Trator' Gazola. Ardila-Ibarra is back for the fourth time now and he was able to demonstrate an incredible improvement in his leglock game when he won US trials this year, signalling that he might just be the best version of himself yet at ADCC 2022.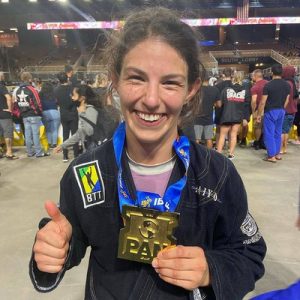 Brianna Ste-Marie – Under 60kg
Brianna Ste-Marie is in an incredibly tough division where there's no such thing as a favourable opening round matchup but she represents a real threat to each and every one of the women there. She was promoted to black belt in BJJ less than a year ago but she already showed signs of being an elite competitor when she won the Medusa 1 Combat Jiu-Jitsu tournament shortly before. She actually entered and won both the East Coast and West Coast trials, submitting six of her ten opponents across those events, including Raquel Canuto. She's something of an unknown quantity in her division but the last time that a woman made her ADCC debut with these kinds of achievements leading up to it, Ffion Davies took home a silver medal in 2019.
Click here to see the rest of our coverage of the 2022 ADCC world championships.
The full ADCC 2022 event, including all of the dark horses featured in this list, will be available to watch live on FloGrappling on 17th and 18th September, click here to subscribe and watch.