This article is part of our week of ADCC 2022 coverage. To get live results, play by play, and commentary, we'll have a live updates article running all weekend.
ADCC 2022 is just a matter of days away, so we've decided to put together our picks for the most likely medallists in each division. Sixteen athletes will be competing in each of the men's divisions and eight in each of the female ones, but only three in each bracket can walk away with a medal. There are plenty of returning champions and and talented fresh faces in each division however, so nobody will be getting an easy path to glory here and everybody will be in with a chance. For those of you who want to make your picks for the most likely medallists of ADCC 2022, the full competitor list can be found here.
Top Picks For ADCC 2022 Medallists
Men's Divisions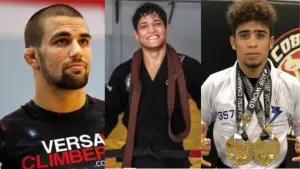 Under 66kg
The 66kg division is wide open this year with no returning champion and only three of the athletes have ever won a medal at ADCC before, with AJ Agazarm and Kennedy Maciel winning silver at 66kg in 2017 and 2019 respectively and Garry Tonon winning bronze at 77kg last time around. Tonon himself is one of our choices to reach the podium as he's one of the most experienced competitors under ADCC rules and has shown that his style lends well to the ruleset. Maciel is probably the safest bet to reach the podium and the most likely champion, owing to his past performance and recent victories over fellow competitors Josh Cisneros, Diego Oliveira, and Geo Martinez. He did recently lose to 2022 ADCC South American trials winner Fabricio Andrey in convincing fashion, the third of our top picks for medallists this year.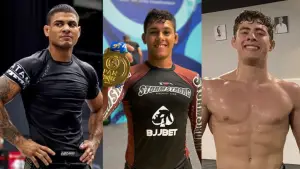 Under 77kg
The first choice for the 77kg division really needs no introduction, as all signs point to JT Torres winning his third consecutive ADCC gold medal and joining an elite group of three-time champions. With none of the other 77kg medallists from either 2017 or 2019 returning to compete in this division at ADCC 2022, the field beyond Torres is much more unpredictable. The North American East Coast trials winner Kade Ruotolo would be another good choice, but Torres' Essential BJJ are a team under ATOS and with Ruotolo representing ATOS, it's possible that the ADCC organizers match them up in the early rounds as they would with any other teammates. As a result, we've chosen both of the South American trials winners, Mica Galvao and Roberto Jimenez to fill out the other podium places.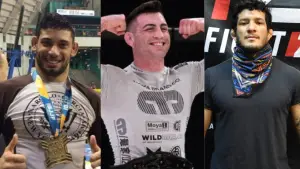 Under 88kg
Matheus Diniz is the returning champion here and he's a genuine master of the ADCC ruleset, his excellent tactical decisions will likely see him safely to the podium again even if he can't win gold. His toughest challenge will potentially be in the form of Mason Fowler, a fellow ADCC veteran who won his place in the under 99kg division of the East Coast trials before moving down in weight. Our final choice for the podium and the other major threat to Diniz's run to gold at 88kg is another athlete dropping down in weight from 99kg, the 2019 bronze medallist from that division Lucas 'Hulk' Barbosa.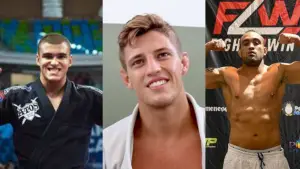 Under 99kg
Kaynan Duarte is another returning champion who has dropped down in weight and it will be incredibly tough for anyone to stop him winning again, especially considering his recent victories over several of this year's competitors at 88kg, 99kg, and over 99kg. It might seem unusual to choose a somewhat-unknown quantity as one of the most likely medallists for ADCC 2022, but Nicholas Meregali has a phenomenal chance of winning it all this year in his ADCC debut and he beat Duarte as recently as last year in the gi. Our final choice is an older champion, Yuri Simoes. Simoes won gold in 2015 and 2017 at under 88kg and 99kg respectively but took on too much in 2019 when he moved up to over 99kg, returning to under 99kg this year should pay off and see him take one more ADCC medal to add to his collection.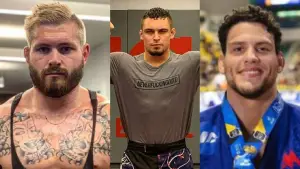 Over 99kg
The only other easy choice aside from JT Torres comes at over 99kg, where Gordon Ryan is the clear favourite to win the division when he becomes the first person to compete in both his weightclass and the superfight. Our second podium pick is the only one of the 2019 medallists returning for ADCC 2022, Nick Rodriguez. Rodriguez also happens to be Ryan's old training partner and the person who is likely to represent his biggest threat in the division. With five former ADCC world champions competing in this division, the battle to reach the semi-finals will be tougher here than anywhere else but the final spot in our picks goes to Ryan's fiercest rival, Felipe Pena.
Women's Divisions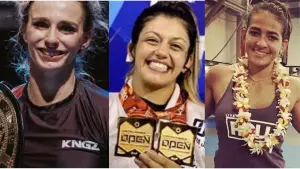 Under 60kg
Although the women's divisions are smaller, that doesn't make it any easier to pick the medallists for ADCC 2022 as there is tough competition everywhere. Bianca Basilio is the returning champion in the under 60kg division and although it'll be difficult for her to take home gold again, she's still a solid choice to take a spot on the podium somewhere. Last year's silver medallist Ffion Davies has established herself as one of the best female grapplers on the planet and her move to train with JT Torres has clearly paid dividends already, so she's likely Basilio's main competition. Finally, the 2017 champion Beatriz Mesquita is returning and she stands as the most likely candidate to take the other spot on the podium no matter what order these three women stand in.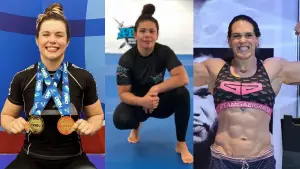 Over 60kg
The favourite to win the women's over 60kg division has been the same person since 2011 and she's only fallen short once so far, so we're picking Gabi Garcia as one of the most likely medallists as she attempts to win her fifth world title at ADCC 2022. Gracie Barra's Kendall Reusing stands a good chance of stopping her however, thanks to her outstanding technical ability and the fact that she's able to keep up with Garcia physically too. Rafaela Guedes won female breakout grappler of the year in the 2020 Jitsmagazine awards and she simply hasn't stopped since then, she was invited to compete this year after a string of phenomenal performances and she's another woman who has the ability to shut down Garcia and take gold.
Click here to see the rest of our coverage of the 2022 ADCC world championships.
The full ADCC 2022 event, including all of the potential medallists featured in this list, will be available to watch live on FloGrappling on 17th and 18th September, click here to subscribe and watch.