Jitsmagazine will be on hand to provide the live results, play-by-play, analysis, and highlights of the superfight championship match from the Abu Dhabi Combat Club (ADCC) World Championships 2022 between Gordon Ryan and Andre Galvao, which will be streamed live on FloGrappling on Sunday, September 18th after the rest of the event has finished. Additionally, we have also been on hand to deliver a play-by-play of every match that has taken place across all seven weightclasses at ADCC 2022, and the ADCC 2022 absolute division as well. As always ADCC 2022 has delivered plenty of excitement and non-stop action across both days, with upsets and underdog victories alongside incredible performances from veteran champions.
Now that the majority of ADCC 2022 has come to an end and all eight of this year's world champions have been crowned, it's time for this year's superfight championship match between Gordon Ryan and Andre Galvao. This is where we get to find out if Andre Galvao is able to defend his superfight title yet again and win this epic match for the fifth consecutive time, or if Gordon Ryan can dethrone the reigning champion and claim the belt. This match has been three years in the making, having been booked when Galvao won the last superfight against Felipe Pena and Gordon Ryan won the absolute division at the 2019 ADCC world championships.
In the meantime, check out the rest of our coverage of ADCC 2022 during the build-up to this historic event that includes breaking news. Or alternatively, take a look back at our original picks for the favourites to win each division, the athletes that we singled out as the dark horses who were most likely to reach the podium before the event, and the top matches that we were hoping to see take place.
This play-by-play is presented by Scramble: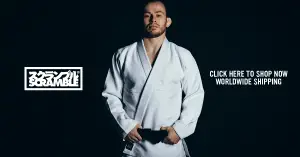 ADCC 2022 Superfight: Gordon Ryan v Andre Galvao
The pair touch hands and Galvao is very rough from the start. He shoves Ryan and hits him with a hard collar-tie that prompts the referee to warn him. Galvao charges forward and hits a quick double-leg to force Ryan to his back. Galvao starts to engage but Ryan enters a leg entanglement and starts to expose a heel. Galvao turns away and starts to yank his leg free. As soon as he engages the same thing happens again and Ryan attacks the legs, but Galvao escapes a lot quicker this time. Ryan attacks the legs again and forces Galvao to sit to defend this time. Galvao scrambles back to his feet and Ryan chases him, getting a bodylock and bringing him to the mat. Galvao attempts to elevate Ryan but he can't get it to work and they get reset in the centre. Galvao is starting to attack the legs himself but he doesn't get anything concrete.
Ryan settles into half-guard now and starts pressuring into Galvao. Galvao is using a knee-shield to keep him from passing but Ryan is using heavy top pressure to limit Galvao's movement. Galvao is creating space with the knee-shield well and he starts to work his underhook in, but Ryan is slowly getting deeper into the guard pass. Galvao is framing hard against Ryan but he manages to flatten him out in the end. Ryan gets chest-to-chest connection with the underhook in half-guard and he's using his free leg to help work his trapped leg out. Galvao adjusts but Ryan frees his leg and starts to pass to side control. Galvao manages to regain half-guard though and he denies the pass in the end. Ryan gets one underhook but Galvao is doing a great job of holding on to the ankle to keep Ryan in his guard as points are about to come into play.
Ryan passes to mount but Galvao turns belly-down in order to prevent Ryan from scoring points for the pass. Ryan turns Galvao over and sinks in his body-triangle to score the first three points of the match. Ryan is handfighting and manages to get a grip over Galvao's jaw as he switches sides on the body-triangle and scores again. He cranks on it for a moment but Galvao isn't going to tap so he goes back to trying to trap one of Galvao's arms and scores another three points. Galvao is working to escape but Ryan is able to trap one of his hands in the process and brings the score to 12-0 because of it. Ryan gets another choke over the jaw and he starts squeezing again but Galvao doesn't tap this time either, even though he only has one hand to defend now.
Ryan starts cranking on Galvao's face to lift his chin up, before attempting to slide the blade of his hand underneath the jaw. He switches arms and manages to slide the other underneath Galvao's jaw, locking up the choke and squeezing to force the tap.
Gordon Ryan defeats Andre Galvao via Submission – Rear-naked Choke
Gordon Ryan becomes the ADCC 2022 Superfight Champion by defeating Andre Galvao