Jitsmagazine will be on hand to provide the live results, play-by-play, analysis, and highlights of absolute division of the Abu Dhabi Combat Club (ADCC) World Championships 2022, which will be streamed live on FloGrappling on Sunday, September 18th after the rest of the event has finished. Additionally, we have also been on hand to deliver a play-by-play of every match that has taken place across all seven weightclasses at ADCC 2022. As always ADCC 2022 has delivered plenty of excitement and non-stop action across both days, with upsets and underdog victories alongside incredible performances from veteran champions.
Now that the dust has settled on each of the weightclasses and the current generation of ADCC world champions has been crowned, it's time for the 2022 absolute division. This is where we get to find out if any of the five men's champions are able to earn themselves a second gold medal at the same event, or if another of the tournament's elite competitors will be able to earn redemption and take home the most prestigious prize of the weekend. After the ADCC 2022 Absolute division has finished, we will then move on to offer a live play-by-play of the epic superfight championship match between Gordon Ryan and Andre Galvao.
In the meantime, check out our coverage of ADCC 2022 during the build-up to this historic event that includes breaking news. Or alternatively, take a look back at our original picks for the favourites to win each division, the athletes that we singled out as the dark horses who were most likely to reach the podium before the event, and the top matches that we were hoping to see take place.
This play-by-play is presented by Scramble: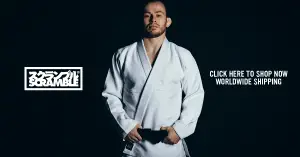 ADCC 2022 Absolute Division Live Results
Opening Round Matches
Nicky Rodriguez v Andy Varela
Both men are engaging in a heavy clinch battle here. There's a bit of a feeling out process but Rodriguez attempts to take the back in the first scramble, with Varela shaking him off. Varela uses Rodriguez's forward momentum to send him past, and he's dealing with the size difference very well. Varela leaps onto a guillotine but Rodriguez stays strong and he can't snap his head down into it so he lets go. Very heavy collar-ties from Rodriguez as they enter the point-scoring period now. Varela shoots in but Rodriguez sprawls hard and shuts it down. Rodriguez shoots soon after and slams Varela to the mat, taking the bodylock control. Rodriguez gets his points and he's starting to work his way through Varela's butterfly guard with the bodylock. Rodriguez passes to side control and collects another three points but Varela creates enough space to move back to guard. Rodriguez goes back to bodylock passing again. Rodriguez scores another pass and although Varela gets back to the guard in the end, it's not early enough. Rodriguez maintains the bodylock though and he passes once again, this time to mount as he starts hunting the armbar. Varela re-guards and Rodriguez blitzes past once again, straight to mount as he starts to work on isolating an arm. Varela works his way free and gets back to butterfly guard but Rodriguez passes one final time as the clock runs out.
Nicky Rodriguez defeats Andy Varela via Points – 17-0
Yuri Simoes v Lachlan Giles
Giles sits to guard straight away and as soon as Simoes engages he inverts. Giles is attempting to isolate an arm but Simoes is staying heavy in order to keep himself safe. Simoes disengages and then immediately dives back in but Giles is perfectly happy with this as he inverts again. Giles is scooting forward and Simoes sinks to his knees to start passing but this allows Giles to get an entry to the legs. Simoes sits to defend and works his knee-line free before immediately standing back up to pass again. Simoes pressures in and Giles inverts, this time he's a little bit deeper on the armbar but Simoes is able to keep himself safe and disengage, circling around as points become available. More of the same now for the rest of the regulation period as Simoes is repeatedly attempting to pass to north-south, but Giles is able to keep him at bay by inverting again and again.
Giles chooses to accept the penalty point and sits to guard in the overtime round with both men resuming the same action that the regulation period had. Simoes is pulling on heavy collar-ties against his seated opponent but still can't quite solidify the pass. He's been close a few times but Giles' inversions are stopping him every time. The overtime round ends without any points being scored.
Yuri Simoes defeats Lachlan Giles via Judge's Decision.
Roberto 'Cyborg' Abreu v Elder Cruz
They start out by handfighting and Cruz is pressuring Cyborg quite a lot to wear him out. Cyborg drives forward but can't find an opening for the takedown. Cruz snatches a single-leg but Cyborg is solid and he can't get anything from it. Some more back-and-forth action in the clinch while points become available and Cruz shoots in for a single-leg, but he can't finish this one either. Cyborg shoots now as Cruz is disengaging and he does get Cruz down, but Cruz scrambles to his feet and no points are scored. There's very little to separate these two on the feet and they wind down the rest of the regulation period battling it out in the clinch.
Cruz snatches a single-leg early in the overtime period and Cyborg defends well once again. Next time they engage, there's a brief scramble and Cruz almost gets his back, but again Cyborg works his way free. Cyborg comes close to a takedown but Cruz turtles to deny points, with Cyborg quickly getting his first hook in. He ends up getting a body-triangle in order to score points and starts working for the rear-naked choke against Cruz. Cruz escapes to top position and starts working frantically to pass, piling on the pressure until Cyborg finally manages to scramble to his feet. They finish the last few seconds of the fight standing in the clinch from there.
Roberto 'Cyborg' Abreu defeats Elder Cruz via Points – 3-0
Victor Hugo v Fabricio Andrey
Andrey chooses to stand with Hugo at the start. Andrey attempts a throw-by but Hugo goes out of bounds and they reset. Hugo is clearly significantly stronger in the wrestling exchanges but Andrey is working very well to keep him on his toes. Andrey ducks under and lands a beautiful takedown but Hugo hits a tilt sweep and comes up on top shortly after. Andrey attempts to take Hugo's back but Hugo counters with a leglock attempt. Both men stand and Andrey attempts a single-leg but he can't get his leg up. Hugo lands a takedown of his own as they go out of bounds but it's just before points are available. Andrey attacks the legs but Hugo counters with a kneebar attempt of his own, transitioning to a heelhook before Andrey escapes. Hugo shoves Andrey to the ground as he's getting back up and takes top position, looking to set up a head and arm choke. Hugo gets the tap pretty quickly now.
Victor Hugo defeats Fabricio Andrey via Submission – Head and Arm Choke
Felipe Pena v Roberto Jimenez
Jimenez comes out quickly and charges Pena down but Pena hits a counter-takedown. Jimenez scrambles quickly to try and land the sweep but he can't get it. They reset in the centre and Jimenez manages to wrestle back to standing, but Pena latches on to double unders and slams him to the mat. Quick buggy choke attempt from Jimenez but he can't lock it up. Pena is comfortable in side control and Jimenez is working hard to escape but the movement just allows Pena to get to mount. Jimenez works his way back to guard and hits a nice sweep to score points but Pena counters quickly, sweeping to top position himself and levelling the score. Pena scores further points by taking the mount and starts attacking the back, securing hooks and getting his points shortly before Jimenez finds an entry to his legs. Jimenez can't quite get it though and Pena resumes top position. He controls from here and passes guard once again, with Jimenez attempting a buggy choke and initiating a scramble shortly before the time runs out.
Felipe Pena defeats Roberto Jimenez via Points – 13-2
Pedro Marinho v Tye Ruotolo
Both men start out slow and they're being rough in the clinch but the pace picks up soon. Ruotolo is using a lot of feitns and reaching for Marinho's ankles a lot, he's looking to tire Marinho out it seems. He runs Marinho out of bounds but can't hit a takedown. Ruotolo charges forward and lands a takedown but he can't keep Marinho down for very long at all. There's a lot of aggression from both men now and the referee is speaking to both of them as the points are about to become available. Marinho shoots in for a takedown and manages to transition to Ruotolo's back, lifting him up and slamming him to the ground. He can't finish it and Ruotolo scrambles free but he drives in straight after and scores a takedown of his own. Marinho turns to his knees but this allows Ruotolo to sink both hooks in incredibly quickly. In doing so, Ruotolo starts attacking a head and arm choke from the back. He manages to force Marinho to tap in short order.
Tye Ruotolo defeats Pedro Marinho via Submission – Head and Arm Choke
Giancarlo Bodoni v Haisam Rida
Rida lands a quick takedown and starts working to pass guard but Bodoni uses reverse de la riva to put Rida onto his butt. Rida disengages and gets to standing, before launching over the top with a flying armbar attempt. Bodoni counters though and gets an entry to the legs, but he's not able to do anything with it before Rida stands back up. Rida hits a sweep and stars chasing the armbar, locking up a triangle for control and cranking on the arm to finish.
Giancarlo Bodoni defeats Haisam Rida via Submission – Armbar
Nicholas Meregali v Vinicius 'Trator' Ferreira
Meregali sits to guard early on but Trator is strong in top position and manages to threaten a pass. Trator drops down to start passing from closed guard. Trator opens up his guard and Meregali inverts to get into a leg entanglement, but he can't get a good enough bite on the heel. Trator goes back to passing and he's working to finish but the constant threat of elevation from Meregali is slowing him down. Just as points become available, Meregali pulls on Trator's ankle and torques his knee. Trator lands heavily and calls a stop to the action as he looks in pain.
Nicholas Meregali defeats Vinicius 'Trator' Ferreira via Submission – Injury
Quarter-Final Matches
Yuri Simoes v Nicky Rodrigues
Rodriguez and Simoes are being aggressive in the clinch with both men landing heavy collar-ties. Rodriguez attempts a few snapdowns but Simoes is standing tall and isn't going down easy. They're wrestling for position pretty intensely and there's plenty of shoves but no real commitments to takedown attempts by either man before points are in play. The time is starting to wind down and there have been a few footsweeps and some half-hearted takedowns but neither man is willing to commit fully to anything in case it fails. Simoes shoots in and slips a little but Rodriguez doesn't take advantage of the opportunity. As the time is dying out, Rodriguez starts pushing hard to score a takedown and he shoots in but Simoes frames against him to stop it. He shoots in again and Simoes leaps out of the way just before the regulation period ends.
They clinch up as overtime starts but it's a gritty battle again with neither man able to break the other's balance for long enough to hit a takedown. Rodriguez shoots in and gets close on a takedown around the halfway point but Simoes sprawls hard. Simoes works for a takedown of his own but the time runs out with neither man able to score.
Yuri Simoes defeats Nicky Rodriguez via Judge's Decision
Robert 'Cyborg Abreu v Victor Hugo
Hugo sits to guard and Cyborg does a long step to try and get past in one swift movement. Cyborg continues putting pressure on and starts throwing Hugo's legs past him. Hugo manages to pull one of Cyborg's legs within reach and starts attacking the toehold. He can't get it so he transitions to the heelhook instead but Cyborg is using his free leg to keep himself safe. Cyborg pulls himself free before getting caught in donkey guard for a moment. He has to use a fantastic scrambling ability to transition to Hugo's back, sinking in both hooks and slowing down once he knows he's got control. Hugo scrambles free and Cyborg disengages, with Hugo choosing to remain seated instead as points are now in play. Cyborg gets close on a guard pass but Hugo turtles to prevent points from being scored and this gives Cyborg another opportunity to take the back. He can't get both hooks in this time though and doesn't score any points for the movement as Hugo works his way free. Cyborg dives forward and starts some relentless over/under passing but Hugo creates space and stays safe. Cyborg sinks down and starts passing from his knees but Hugo wraps up his closed guard. Cyborg uses the Sao Paolo pass and forces his way to half-guard as a result. Hugo creates space again to get back to seated guard as the regulation period ends.
In overtime the pair wrap up immediately and Cyborg hits a lovely trip to take top position and score his first points of the match. Hugo pushes against Cyborg's shoulder to create distance but Cyborg sinks straight back down and settles into closed guard again. With around thirty seconds left Hugo suddenly wrestles up and attempts to hit the sweep as they run off the mats. He isn't able to score any points when they leave the matted area but that was incredibly close. The match ends with Cyborg holdong on to top position comfortably.
Roberto 'Cyborg' Abreu defeats Victor Hugo via Points – 2-0
Felipe Pena v Tye Ruotolo
Ruotolo is putting a very high pace on Pena right from the start and Pena's having a little trouble keeping up with his movement .Ruotolo's using his speed advantage to keep Pena on his toes but he can't quite land any takedowns. He shoots in and gets a good grip on Pena but Pena lifts him up and throws him to the edge of the mat. Pena rushes forward to take top position but Ruotolo gets his butterfly hooks in and elevates Pena clear over the top of him. Pena starts attacking the legs now but he exposes his back in doing so and Ruotolo jumps on the opportunity as points have just become available. Pena defends and wrestles up, but chooses to sit down shortly after and accept the penalty point. Ruotolo engages and starts working to pass but Pena inverts and starts attacking the heel. Ruotolo is defending well though so Pena changes pace and starts attacking the back instead. He uses the beartrap briefly and has some success but Ruotolo is just too quick for Pena to control. Pena goes back to attacking the legs and enters 50/50. Ruotolo escapes now and Pena sits up to attack the back but Ruotolo counters with a kneebar attempt. Pena defends and wrestles upto attack Ruotolo's back again, dragging him to the mat and using the half-nelson to get his first hook in. He's frantically trying to get another hook in and cranking on the choke but he can't get anything to work as the time runs out.
Tye Ruotolo defeats Felipe Pena via Penalties – 0-1
Giancarlo Bodoni v Nicholas Meregali
The two teammates come out of the gate quickly and Meregali attempts a throw but is countered quickly by Bodoni, being put on his back. Meregali starts working to atack the leg but Bodoni starts using that as an opportunity to attack the back. Meregali defends his back and comes up on top at the same time. Bodoni attempts to use the grips he has to scramble but Meregali works his way free and settles down into top half-guard. Meregali is trying to use a knee-cut pass now but Bodoni keeps spinning underneath and now he's working on a false reap. Meregali finally gets the pass just twenty seconds before points are available and he quickly secures the crossface to control Bodoni. Bodoni is really struggling to create space now but he takes advantage of a tiny movement by Meregali to get back to half-guard. Bodoni starts to reap again but Meregali pressures forward and forces Bodoni to turtle to deny passing points. Meregali quickly secures the body-triangle to score his first points of the match and starts working his left arm under Bodoni's chin. Bodoni starts to escape but Meregali re-takes the back to collect further points. Bodoni gets free but Meregali takes mount instead, only for Bodoni to use a kipping escape to get back to half-guard. Bodoni tries to wrestle up and Meregali uses the front-headlock to control him. Bodoni works free and shoots in quickly to score a takedown, but he's unable to pass Meregali's guard in the last thirty seconds of the match.
Nicholas Meregali defeats Giancarlo Bodoni via Points – 6-2
Semi-Final Matches
Yuri Simoes v Roberto ' Cyborg Abreu
They clinch up and Simoes feints for a takedown that gets a reaction from Cyborg. Simoes sits to guard and gets a good grip on a heelhook but Cyborg gets free quite quickly and both men return to standing. They both turn up the heat in the clinch now and Simoes lands a hard footsweep right at Cyborg's shin. They continue with the aggression and the referee warns them, but Simoes shoots in for a single-leg straight after and Cyborg sits in order to use that same leg to propel Simoes overhead and return to standing. They resume handfighting and battling for head position but with a little more urgency now that points in play. Cyborg rips Simoes' hands out of the way to shoot in but Simoes sprawls down hard on him and shuts it down. The referee resets them in the centre and Simoes attempts a footsweep but can't get Cyborg off-balance enough. Cyborg shoots in again and Simoes sprawls hard, diving on a single-leg of his own straight after. He lifts Cyborg's leg but Cyborg runs away in order to prevent the takedown and stay standing. Cyborg shoots and gets sprawled on again, but this time Simoes tries to spin to his back unsuccessfully. Another shot from Cyborg and another hard sprawl to deny him. Simoes runs Cyborg out of bounds one last time shortly before the regulation period ends.
Overtime kicks off and Simoes is really putting the pressure on Cyborg now. He gets in on a single-leg and drives Cyborg out of bounds but they're reset in the centre in the same position. After a little trouble, Cyborg manages to stomp his foot to the ground and circle away. Simoes drives Cyborg out of bounds again but Cyborg is quick on the reset and shoots in for a takedown attempt. Simoes feints before committing to a shot and taking Cyborg down just off the mat to score the first points of the match. Simoes starts passing heavily and he's working hard but he's not overly-concerned with what happens in the final minute as he knows he's up on the scoreboards.
Yuri Simoes defeats Roberto 'Cyborg' Abreu via Points – 2-0
Tye Ruotolo v Nicholas Meregali
Ruotolo is trying to use his speed advantage once again, attempting to outwork Meregali early. Meregali reaches for a single-leg but can't get in on it enough. Ruotolo looks for a knee-tap but with no success. Meregali lands a huge uchimata and Ruotolo tries to counter with a sweep immediately but Meregali shuts that down with heavy hips. Ruotolo initiates a scramble and uses it to stand up, going back to putting pressure on Meregali on the feet. Ruotolo attempts an uchimata of his own and latches on to a D'arce choke in the scramble that follows. Meregali tries to spin out but Ruotolo follows him and he's squeezing hard for the finish. Meregali spins again and this time he fights his way free, taking top side control. As soon as he's there, Ruotolo starts threatening with a buggy choke and this is enough to allow him to create space and get back to guard just before points are available. Ruotolo wrestles up and starts handfighting with Meregali again. Meregali reaches for a leg but Ruotolo sprawls. Ruotolo attempts a footsweep and uses it to get in on a single-leg but can't quite finish it. Ruotolo attempts a throw but gives up his back in doing so, with Meregali working hard to get his hooks in. Ruotolo defends the back and refuses to concede points when Meregali attempts to stay on top too, eventually scrambling free in one movement and getting back to his feet. Meregali is starting to wear down now but he has enough left to snatch a single-leg. Ruotolo pulls on his head but Meregali uses that to force him to the ground, with Ruotolo turtling to deny the points and immediately attacking the legs. Ruotolo is trying to get in on the kneebar but he can't secure it as the regulation period ends.
They restart on the feet in overtime and Ruotolo is pressuring him again. Meregali tries for a single-leg but doesn't get anywhere as Ruotolo creates enough distance. Ruotolo shoots in and gets deep on Meregali's hips but he can't quite drive through to finish it as Meregali forces him back to standing. Meregali snatches another single-leg and this one is much better, so Ruotolo has to turtle this time in order to deny points. They're reset in the centre Ruotolo immediately scrambles free to take top position. Meregali tries to stand but Ruotolo latches on to a rear-bodylock as they go out of bounds. They're reset in the centre and Meregali rolls through to face Ruotolo again. Ruotolo increases the intensity as the clock counts down and he even shoots for a double-leg in the dying seconds but he's still not able to score.
Nicholas Meregali defeats Tye Ruotolo via Judge's Decision
Third-Place Playoff Match
Roberto 'Cyborg' Abreu v Tye Ruotolo
Cyborg is unable to compete due to injury suffered in the semi-finals and Ruotolo will take the bronze medal as a result.
Final Match
Yuri Simoes v Nicholas Meregali
Meregali charges out but can't unsettle Simoes as he stays steady. The two tie up together and Simoes tries to hit a footsweep but it doesn't amount to anything. Simoes picks up a single-leg and Meregali chooses to sit down to guard instead of fighting the takedown, conceding a penalty point as a result. Meregali attempts to use a butterfly hook to elevate Simoes but he posts out and maintains top position. Simoes attempts a quick knee-cut but Meregali drives him back. Meregali gets a grip on the ankle and he pulls Simoes in to single-leg x guard but Simoes shrugs off the entry and drops back to his knees to continue passing. Simoes is hunting for double unders but he can't get them before Meregali takes control of an ankle and sweep to top position. Meregali starts working on a knee-cut pass of his own, but Simoes is switching between reverse de la riva and the knee-shield to keep him at bay. Meregali is using constant pressure to gain ground in the battle to pass guard but Simoes manages to get under one of Meregali's legs to create space. Meregali gets chest-to-chest connection and he drops into half-guard but Simoes swims for an underhook and uses it to keep Meregali off him. Simoes wrestles up to top position as points are now available.
Simoes gets in on single-leg briefly but he can't finish it with Meregali keeping his hips this far back. Simoes drives him back and attempts to pummel inside in the clinch but they have to reset as they go out of bounds. Meregali sits to guard again with just a little over five minutes left and he concedes another penalty point in doing so. Simoes drops to his knees to engage and Meregali gets to closed guard. Simoes stands up and Meregali grabs an ankle, but he isn't able to do anything with it. Simoes is working hard to pass the knee-shield and although he's not able to do so, he's shutting down all of Meregali's attempts at sweeps pretty comfortably. Meregali works back to closed guard but Simoes stands once again, dropping back down quickly to try and obtain double unders. Meregali recovers guard again and Simoes is taking a more relaxed approach to his passing now as the time winds down.
Yuri Simoes defeats Nicholas Meregali via Penalties – 0-2
Podium Placement
Gold – Yuri Simoes
Silver – Nicholas Meregali
Bronze – Tye Ruotolo