Team Grappling is still in it's infancy and only a few years ago, there were no big promotions attempting it. Now, it seems as though everyone has made an attempt at the concept and many promotions have tried different version of the same core principle: Teams of grapplers competing against one another instead of a standard one-on-one match that we've grown accustomed to. Here, we'll take a look at the biggest promotions that have tackled the idea and try to figure out which one has given us the best ruleset for other promotions to imitate moving forward.
Quintet
Kazushi Sakuraba is the godfather of team grappling as the originator of the whole concept back in April 2018. His promotion is based entirely around team grappling and the success of the original is what really led to the explosion in different formats we see now. The idea of a team weight-limit was a fun one and the chance to see some insane matchups that you'd never see in a normal tournament is what first drew fan's attention. The only real drawback to his ruleset was that heelhooks have never been allowed at Quintet, something that feels needlessly restrictive when we talk about the elite level of competitive grapplers.
Quintet delivered some fantastic action in the first edition and continued in fine form, mostly thanks to some incredibly aggressive stalling calls that pushed the pace. Recent events have seen a much lower number of submission finishes however, something that seems to be explained by a leveling out of the competition. The first few Quintets featured a number of truly elite competitors like Craig Jones and Gordon Ryan running through competitors who were just a step behind them. Now, the promotion features relatively evenly-matched teams that understandably seems to result in a higher number of draws.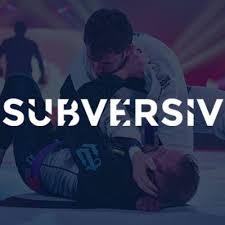 Subversiv
This promotion, led by the minds behind Fight 2 Win, took a little while to settle into their own structure after starting in 2018. They offer smaller teams of only 3 competitors instead of Quintet's 5, but this also allows for 16 teams to compete in a knockout format, instead of Quintet's 4. Subversiv also make an effort to include female grapplers, something that wasn't done before they came onto the scene. This does come at a price however, as it limits the ability for fun matchups between weight-classes.
Subversiv teams have one lighter male, one heavier male, and one female competitor who only compete against their counterparts on the opposing team in a "best out of three" format. The promotion does have some great points in their favor, including the wider ruleset that no gi grapplers have come to love, but it comes at the cost of the unpredictability that makes team grappling so great. Subversiv essentially bridges the gap between the wild west of team grappling and the more traditional one-on-one grappling.
Tag-Team Matches On SUG and 3CG
Chael Sonnen borrowed this smaller version of team grappling straight from Vince McMahon in 2018 when he decided to run a tag-team match on Submission Underground. Since then, it's also been adopted by Third Coast Grappling who actually went one step further and decided to do a Tennis-style Mixed doubles match instead, opening up the possibility for sections of the match to be contested between the two genders. While the tagging element certainly adds some excitement, the fact that all matches are fixed between two teams of two grapplers limits the format somewhat.
It's also worth mentioning that there's a small time-window when a tag is made that effectively means the match is two against one. When this is done with elite competitors, like Nicky Rodriguez, Vinny Magalhaes, Craig Jones, and Kyle Boehm at SUG 11, it's essentially a death sentence for the solo grappler. Because of this, it effectively encourages grapplers to disengage when those tags are made, in order to stay alive. This can sometimes result in pretty stale matches, like the aforementioned SUG 11 headliner, and really works best when contested between lower-level competitors with much less on the line.
Polaris Squads
The most recent version of team grappling came from the UK and Polaris really went as far as they could to come up with an entirely new ruleset. With larger teams of eight grapplers, the first squads event was only contested between two teams over a much longer time limit of eighty minutes in total. They too decided to go with the much more openminded ruleset and didn't ban any submissions, resulting in the format becoming an instant hit and already announcing a second edition to be contested in the gi this time.
As Polaris also used high-level competitors for every spot on the team, this resulted in the same outcome as recent Quintet events where there was a low number of submission finishes. But by shortening each round-time to five minutes and taking a leaf out of Sakuraba's book with aggressive stalling calls, the event delivered nearly an hour and a half of nonstop action from start to finish. The idea of having the teams based around countries and continents is fun and it'll certainly be interesting to see how the ruleset holds up when the athletes wear a gi.
The Result
This is just an opinion of course, but what makes team grappling as fun as it is for me is the unpredictability of matches and the possibility for underdogs to rise up. For that reason alone, Tag-team matches and Subversiv don't really feel like the best version of this concept. They're both fun in their own right, but there's no real unknown quantity involved, you know exactly who is fighting who all the way through. Quintet and Polaris Squads both have that unknown quantity in spades and allow the potential for david and goliath-style matches from start to finish.
That's where it gets hard though, because Polaris has delivered in possibly the only area that fans have criticised Quintet: the limited submissions. On the other hand, they've also only given us one example of how the format works and while it certainly was a fantastic event, Quintet has delivered on nine different occasions already despite the banning of heelhooks. In short, it's still early days for Polaris Squads and it's too soon to tell if they've hit gold with their ruleset, but it certainly looks that way so far.