Join us today (Sunday, 27th September) for live updates on Polaris Squads. The latest in team grappling innovation, Polaris Squads features two teams of eight grapplers representing Team Europe and Team UK and Ireland. These sixteen men will come from both the under 75kg and under 95kg weight-classes and will all do battle over two forty-minute halves, the full rules for Polaris Squads can be found here. Alongside this groundbreaking event will be a superfight that follows the Europe v UK and Ireland theme as Magdalena Loska takes on Ffion Davies.
In between her time spent preparing for the only superfight on Polaris Squads, we managed to get an exclusive interview with Ffion Davies in order to discuss a whole host of things, including the match with Loska and how she thinks it will go. As part of our buildup to this groundbreaking event, we also got some time with the man behind Polaris and their Squads event, Matt Benyon, to get some information on how the promotion has been dealing with the recent Coronavirus pandemic. This marks the second event that the UK's biggest grappling organization has staged behind closed doors since crowded events have become an impossibility, the first being their UK Grand Prix which was won by one of the UK's brightest young stars, Freddie Vosgrone.
Alongside this excellent Polaris superfight, the full lineup for both squads is as follows:
Team Europe                                                                                                   Team UK and Ireland
-75kg
Mateusz Szczecinski                                                                                                    Ashley Williams
Tommi Pulkkanen                                                                                                               Tom Halpin
Kamil Wilk                                                                                                                     Dominic Dillon
Dinu Bucalet                                                                                                                            Jed Hue
-95kg
Eduardo "Teta" Rios                                                                                               Darragh O'Connail
Marcin Held                                                                                                                       Bradley Hill
Tarik Hopstock                                                                                                               Kieran Davern
Santeri Lilius                                                                                                                 Taylor Pearman
Polaris Squads First Half
First for Team Europe is Eduardo "Teta" Rios and he comes up against Ashley Williams. Both men seem to want the takedown with a lengthy standing exchange where Williams keeps working the armdrag. As Rios attempts a single-leg, Williams jumps to a Triangle Choke before switching to an Arm-In Guillotine. Rios shakes him off and both men return to standing for another grueling battle. Williams goes for an Imanari roll as the final minute starts but Rios settles down to start working his guard-passing. As they return to standing again, Williams attempts a Kani-Basami takedown and nearly locks up a Heelhook but the time sounds as Rios clears the knee-line.
Ashley Williams v Eduardo Teta Rios – Draw and Double-Elimination.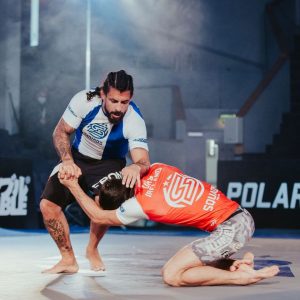 Bradley Hill comes up against Mateusz Szczecinski and the lighter man sits to guard immediately. Szczecinski gets underneath his man and starts working a Straight Ankle-Lock but Hill is defending very well. Hill starts trying to work his passing game but Szczecinski switches to X guard instead. Hill starts pressuring in and as Szczecinski goes for a Heelhook, he is forced to recognize the threat and defend quickly, giving up the pass. The pair are reset in the middle and Hill drops into a knee-slice pass while Szczecinski inverts to retain guard, working to single-leg X this time. Hill surprises his opponent with an Estima Lock that forces Szczecinski to give up the pass to avoid being submitted, but the time runs out from there.
Bradley Hill v Mateusz Szczecinski – Draw and Double-Elimination.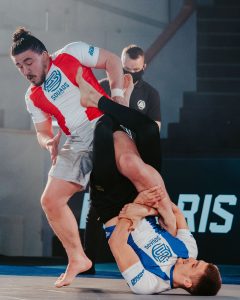 Jed Hue steps up to face Kamil Wilk and both men sit to guard this time. Hue chooses to stand and work to pass Wilk's guard although Wilk threatening leg attacks is disrupting his attempts. Wilk starts using X guard to attempt a Kneebar but Hue spins out and disengages, sitting back to his knees to try and pass using the body lock. Wilk uses butterfly hooks to elevate his opponent and nearly catches a heelhook but Hue spins out again, disengaging and re-engaging to try and pass from his knees. Wilk uses his butterfly hooks again and locks in a tight shoulder-crunch before quickly switching to a Heelhook, with Hue escaping once more. Hue works fantastic leg-pummeling to pass to knee-on-belly before switching to mount and work his way up Wilk's body. The match ends with Hue frantically working to isolate an arm as Wilk rides out the remaining few seconds.
Jed Hue v Kamil Wilk – Draw and Double-Elimination.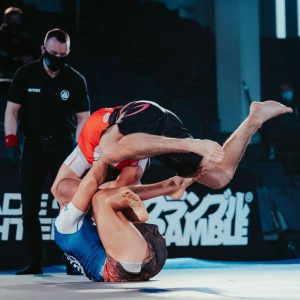 Kieran Davern is up next against Marcin Held in a battle of leglock experts. Davern pulls guard and tries to get underneath Held, getting a lovely butterfly sweep. He secures side control and starts working a D'arce Choke as Held recovers half-guard beautifully, getting enough space to breathe. Davern abandons the choke and Held forces him to disengage entirely, before pressuring back into Held's butterfly guard. A near-pass from Davern and he ends up in half guard again as Held inverts and attempts a Kneebar. Davern escapes and returns to his pressure-passing game, getting back to half guard again. Held threatens another Kneebar that allows him to come up on top, although Davern executes another lovely butterfly sweep to finish the match on top.
Kieran Davern v Marcin Held – Draw and Double-Elimination.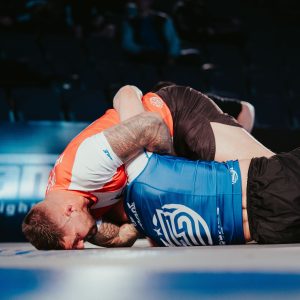 Taylor Pearman is up next against Santeri Lilius and Pearman sits to guard immediately, working to elevate and secure the saddle. Lilius disengages and starts trying to pass the guard from the headquarters position. Pearman manages to elevate and attempt a Straight Ankle-Lock before Lilius escapes back to standing. Pearman work to sweep and as his opponent stands, he follows him to take the back and drag him to the ground on the edge of the mat. Lilius rolls under and locks up a tight Toehold that looks to have Pearman worried, but he escapes and the pair are reset in the center. Lilius is working to pass using a knee-slice but Pearman's use of De La Riva hooks and the constant threat of the inversion prevents him from doing so as the time runs out.
Taylor Pearman v Santeri Lilius – Draw and Double-Elimination.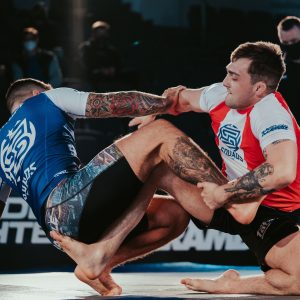 Tom Halpin sits to guard as soon as his match with Dinu Bucalet starts but he is based out really well, preventing Halpin from getting underneath him. Halpin pops up incredibly quickly to sink in a High-Elbow Guillotine but Bucalet throws his legs over to pass guard and force him to give up the choke. Halpin escapes side control and the pair return with Bucalet in Halpin's guard again. Halpin throws his legs up for a Triangle Choke incredibly quickly, getting underneath and tightening it as Bucalet taps.
Tom Halpin Submits Dinu Bucalet via Triangle Choke and Team UK & Ireland are 1-0 up.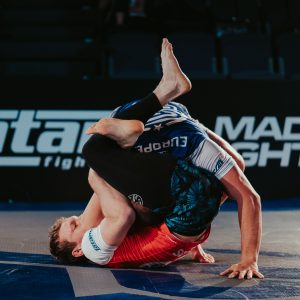 Tommi Pulkkanen is next up for Halpin and he switches it up by pressuring into Pulkkanen's guard immediately. A brief inversion by Pulkkanen allows him to come up on top before he sits back, allowing Halpin to try and pass again. Instead he uses top position to hit a lovely saddle-entry that Pulkkanen escapes. After a minute of furious leg-pummeling from both men, Pulkkanen stands up to try and pass Halpin's guard instead. Pulkkanen jumps on an Estima Lock but Halpin escapes expertly and after a brief exchange, starts working for a Straight Ankle-Lock of his own. Pulkkanen clears the knee-line and the round ends shortly after.
Tom Halpin v Tommi Pulkkanen – Draw and Double-Elimination.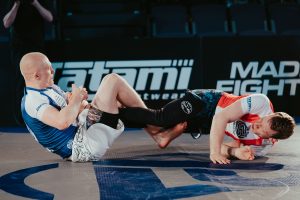 Tarik Hopstock is the final member of Team Europe and he comes up against Darragh O'Connail. As Hopstock sits, O'Connail starts working lovely speed-passing by trying to go around the guard. Hopstock gets a brief bite on an ankle but O'Connail sits and escapes before quickly returning to standing passing. O'Connail is switching to a heavier passing game and briefly threatens a Guillotine as he passes but Hopstock escapes and turns to face him. O'Connail makes an attempt at diving over the guard and catching a D'arce Choke but slips off at the last second, before starting to pass again. Hopstock catches an ankle again and uses it to come up on top by threatening a Straight Ankle-Lock. O'Connail spins furiously, managing to escape just in time to make it to the end of the round on top.
Darragh O'Connail v Tarik Hopstock – Draw and Double-Elimination.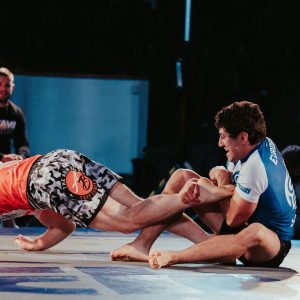 With only half a normal round's time left as the match starts, Mateusz Szczecinski is up against Dominic Dillon. Szczecinski sits to guard immediately and works like crazy to enter the legs. As Dillon defends he is forced to give up his back and Szczecinski sinks in both hooks unbelievably fast before switching to a body-triangle instead. Szczecinski is trying to secure a choke but Dillon manages to get his back to the mat and he's defending well. Szczecinski gets back in control and starts working a brutal face-crank to try and open up his opponent for a choke, but it's just a little too late as the first half ends.
Dominic Dillon v Mateusz Szczecinski – Draw and Double-Elimination.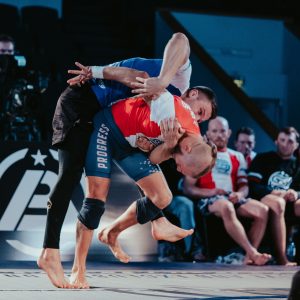 Superfight: Ffion Davies v Magdalena Loska
Davies pressures into her opponent standing and immediately drives her out of bounds. They reset in the center and after Loska executes a lovely guard-pull after a brief standing exchange. Davies starts on a knee-slice pass and although Loska holds off for a moment, she glides through her guard and settles into a heavy side control. Davies starts driving her knee through to go to mount before switching and sliding underneath Loska to take the back. After initially defending well, Davies eventually sinks in both hooks and starts working to trap an arm. Davies switches to a body-triangle and snakes an arm under the neck of Loska, locking up a picture-perfect Rear-Naked Choke to get the finish in just under four minutes.
Ffion Davies Submits Magdalena Loska via Rear-Naked Choke.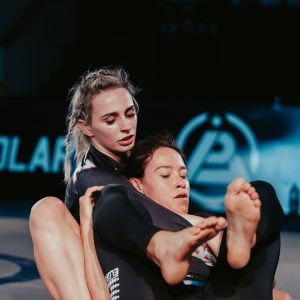 Polaris Squads Second Half – Team UK & Ireland Leads 1-0
The second half starts with Ashley Williams facing off against Marcin Held. Both men are handfighting and wrestling in the clinch, but Williams tries an armdrag just like his earlier match. Held hits a beautiful inside trip but Williams counters with a Triangle Choke as he hits the ground, forcing Held to stand and disengage to escape. Williams gets even closer again with his armdrag before jumping to a Triangle Choke that Held has to escape from again. Williams tries another armdrag but uses it to pull guard this time while Held tries to pass. As Williams inverts, Held hits a perfectly-timed counter to attempt a Kneebar but Williams turns out and stands immediately. Williams hits a single and as Held recovers half guard, he reaches over to work a D'arce Choke but Held hips in to a brutal Kneebar from the bottom, rolling Williams onto his back and his knee pops as the time runs out. Williams is limping off the mats as the match is declared a draw.
Ashley Williams v Marcin Held – Draw and Double-Elimination.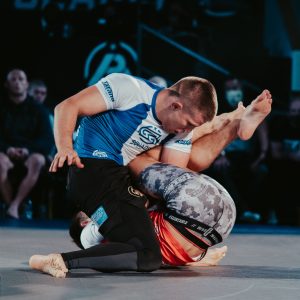 Both Kieran Davern and Tarik Hopstock sit to guard as their match starts, both men eager to work the other's legs. Hopstock catches a bite on the ankle first and starts to try and secure the position but Davern manages to free his foot quickly. Davern tries to dive over his guard and latch onto the neck but misses and lands on his back. Hopstock returns the favor by knee-slicing through his guard and cinching up a tight D'arce Choke, forcing Davern to expose his back. As Hopstock switches to a Necktie grip to secure the choke, Davern fights his way free but gets his guard passed again as Hopstock takes mount. He manages to get a hook underneath and elevate his opponent off him but Hopstock is close with another power knee-slice. He tries to sit down on an Ankle-Lock but Davern defends and uses the opportunity to return to top position. Hopstock gets his closest attempt of the match but Davern kicks his opponent off him with all his strength and the match ends.
Kieran Davern v Tarik Hopstock – Draw and Double-Elimination.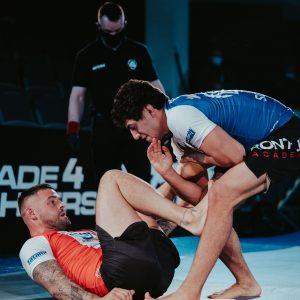 Bradley Hill and Kamil Wilk square up but Wilk decides to sit to guard. Hill is using his weight advantage to power through Wilk's butterfly guard but he's using those hooks to keep space very well. Hill picks up the pace and starts smashing through Wilk's guard on his knees but can't get past both legs at once. As Wilk tries a shoulder-crunch, Hill uses the elevation to smash past his butterfly hooks but still can't secure the position. Hill is working extremely hard to pass but Wilk switches to X guard and extends his opponent away. As Hill tries to step straight through to an Armbar from the top, he gives up his leg in return and is forced to defend a Straight Ankle-Lock as the time runs out.
Bradley Hill v Kamil Wilk – Draw and Double-Elimination.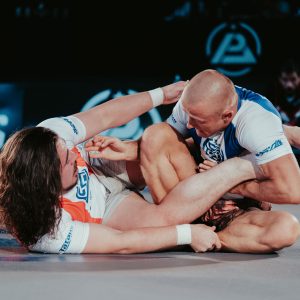 Jed Hue and Mateusz Szczecinski both sit to guard and start working for leg entanglements as soon as their match starts. They roll out of bounds and reset in the center before Szczecinski manages to start working on an ankle, but Hue escapes just as the pair go out of bounds again. Szczecinski spins through to a grip on the ankle even quicker this time but Hue escapes again. Szczecinski starts reaping the knee and gets a decent Heelhook attempt but Hue clears the knee-line and briefly shows his back before escaping. Szczecinski enters backside 50/50 and holds onto regular 50/50 as Hue rolls, but eventually loses the grip on the foot too. Hue stands up to pass and dives around his opponent's guard for a Kimura, narrowly missing and the time runs out shortly after.
Jed Hue v Mateusz Szczecinski – Draw and Double-Elimination.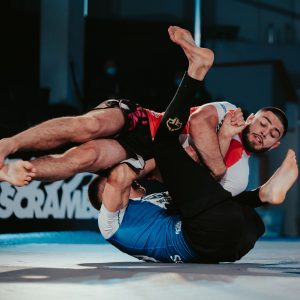 Tommi Pulkkanen and Dominic Dillon are up next but Pulkkanen sits to guard straight away. He's using a De La Riva hook to invert and manages to expose his opponent's back but Dillon defends well and manages to escape without giving up both hooks. Pulkkanen tries the Caio Terra Footlock from Reverse De La Riva and Dillon gives up the sweep in order to escape, settling on his back as Pulkkanen is working to pass. Dillon manages to create space and move to X guard but Pulkkanen strips the hooks away and starts working a knee-slice pass. Pulkkanen uses beautiful footwork to get a glimpse of his opponent's back but Dillon recovers a butterfly hook and sweeps his him as the match ends.
Dominic Dillon v Tommi Pulkkanen – Draw and Double-Elimination.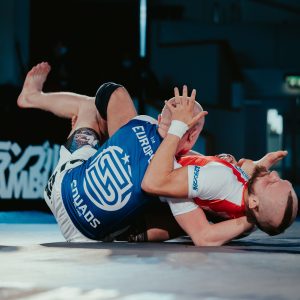 Europe's team captain Eduardo "Teta" Rios is up next against Taylor Pearman. The Englishman sits to guard and Rios starts passing from his knees but ends up being caught with an Omoplata. As Rios rolls, Pearman starts to take his back but the experience of the team captain shows as he escapes calmly and disengages. Rios uses a longstep to try and pass the guard quickly but isn't able to finish, with Pearman working good guard retention. As Rios stands, Pearman snatches a foot and tries to stand and transition to a single-leg but can't quite climb up the leg. With enough time for a last-ditch Heelhook attempt by Pearman, the buzzer sounds before he can get anything good going.
Taylor Pearman v Eduardo "Teta" Rios – Draw and Double-Elimination.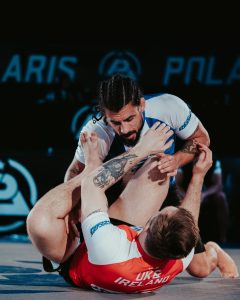 Darragh O'Connail is the only remaining member of Team UK & Ireland as Halpin has been forced to withdraw due to an injury. He comes up against Santeri Lilius and sits to guard early in the match, with Lilius trying to roll through for a Kimura and not getting it. O'Connail is retaining guard well but Lilius takes advantage of a momentary gap and secures the pass to settle into side control. O'Connail recovers quarter guard but Lilius knee-slices straight back through and steps to north-south, then the opposite side. O'Connail turns to turtle and recovers guard quickly before Lilius knee-slices through again and starts wrenching on an Arm-In Guillotine as the round ends.
Darragh O'Connail v Santeri Lilius – Draw and Double-Elimination
The final member of Team Europe is Dinu Bucalet and he is met by Ashley Williams who looks eager to have his third match of the night. Bucalet tries William's signature move and hits a lovely armdrag that Williams forward rolls to recover from. Bucalet latches onto a Kimura grip from the top and as Williams rolls off the mat, he switches to a really tight Armbar. Williams rolls again and the pair crash into the seated area, with the referee having to reset them from standing. As the pair start wrestling, Williams jumps onto a Guillotine and forces Bucalet to give up top position in order to defend. Williams secures side control and Bucalet starts working frantically to create space as the pair are reset in the center again. Bucalet recovers guard and stands to wrestle with Williams again, but WIlliams jumps onto a flying Triangle Choke. He quickly switches to a Flower Sweep as they hit the ground and settles into mount with a grin on his face. Bucalet powers out to escape and the entire event ends with him on top.
Ashley Williams v Dinu Bucalet – Draw and Double-Elimination.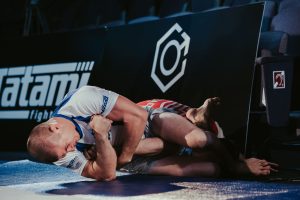 Full-Time – Team UK & Ireland Wins 1-0!
Don't let the scoreline fool you, this was one of the most exciting grappling events you'll see. Every single match produced high-level action and the short round-times guaranteed a really fast pace to each one. Tom Halpin was clearly the man of the match as he was the only man to finish one of his opponents, but Ashley Williams also put on a series of great performances as the lightest man on Team UK & Ireland. On Team Europe, Mateusz Szczecinski was the star for his phenomenal ability to push the pace beyond what his opponent's could handle and Tarik Hopstock's relentless leg attacks put everyone under pressure. Both of these young competitors are ones to watch for the future.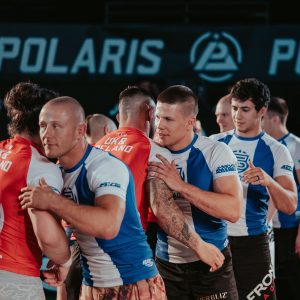 The full Polaris Squads event will be streamed live and available for replay on UFC FightPass, click here to subscribe and watch.