We spoke to the heads of some of our favourite competitions from across the globe to get some insight into how the constantly changing pandemic is effecting BJJ events organisers.
"… my mentality has had to shift from evolving to maintaining for the time being"
Empire Grappling, one of the biggest and most loved competitions in the UK is reeling in uncertainty for the first time in its 10 year history. Jake Cross, owner and main man for both Empire and UKFC is highly ambitious and has grown his business from the ground up and after 10 years managed to finally take the plunge and make this his full time job. That's now all in ruins and a dream that was so close, has been taken away.
"We had big things planned for this year, and you got a small glimpse of that with our most recent Empire Grappling Invitational. Uncertainty and not knowing anything is killing us. I'd initially hoped to get a small event with strict COVID restrictions up and running by the end of the year, but it's not looking like that's going to happen now"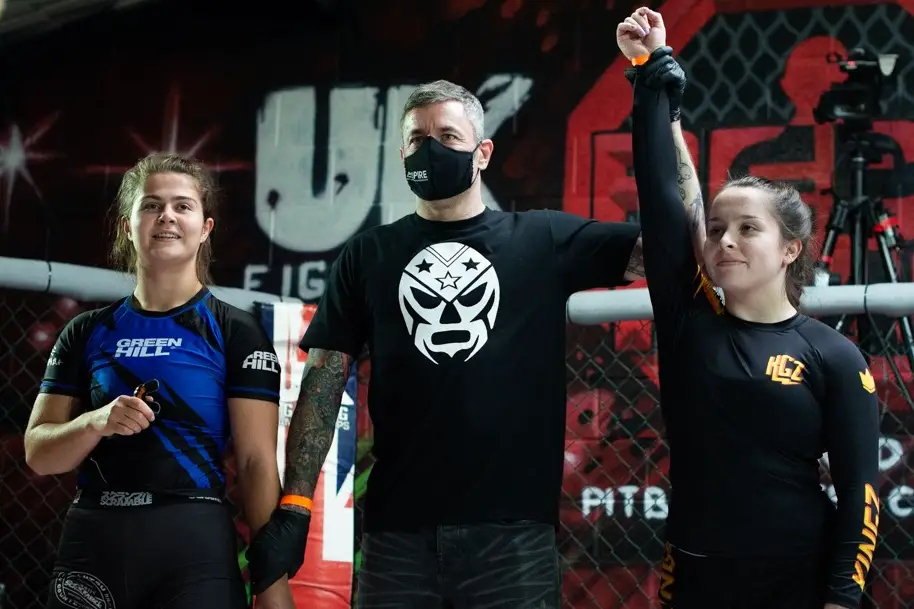 I know Jake well; I've worked with him for close to 5 years and have been competing at his competitions since 2013. He had to cancel one of his events that had over 600 entrants, has had to cancel an upcoming UK Fighting Championship card, and has been searching for a job outside of BJJ to make ends meet until the world gets back to normal. I asked him about the pressure and struggles he's under.
"We love the community we've cultivated at our events. If you speak to anyone in the UK they will tell you its very different to any competition they've done. We accept nothing but the highest standard for our comps, but we're friendly and approachable and that atmosphere has translated into a family atmosphere at our events. It's tough at the moment; my event in March was cancelled.
I'd invested in new bespoke competitions mats and had already started investing in the future… so I had to take out an emergency business loan to make sure I could give out refunds and was also very lucky with the support I had with sponsors Progress Jiu Jitsu and Idee Pure. That's without even mentioning the wonderful support of a lot of competitors who were more than happy to take credits rather than refunds to help us. I left work earlier in the year to focus on my events and make them the best they can be and I've had to go back to work, my mentality has had to shift from evolving to maintaining what we have built and personally surviving for the time being".
"You're seeing other people's businesses destroyed and just hoping that doesn't happen to you"
Over the last few years Grappling Industries has steadily been establishing itself as a behemoth in the competition circuit across the globe. The team regularly dual-run events in different locations have huge entry numbers and in reality have already put the 'biggest' BJJ competition organizer, the IBJJF, on notice.
David Aguzzi is the founder and driving force (along with his team) behind the rapid growth of Grappling Industries over the last 5 years. They hold over 160 BJJ competitions around the globe per year and are navigating uncertain waters and continuing to try and run events during the pandemic.
"We've lost 6 months of our year, which is around $2.5m in lost sales for us. The next 6 months aren't looking like they will be full schedule either"
David talked to me at length about the responsibility he feels towards his staff. He has 13 full time employees and employs what is likely hundreds of local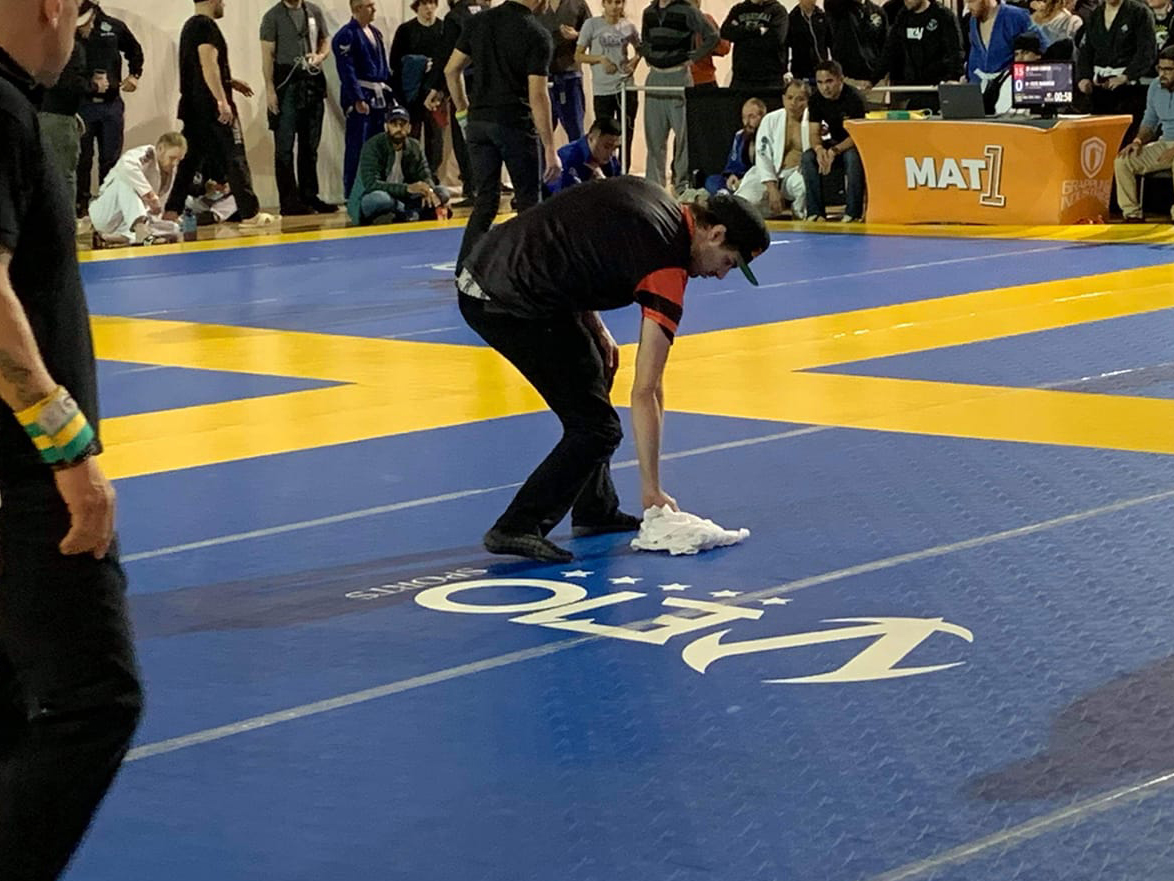 contractors to work BJJ events across the globe. "I wear my heart on my sleeve. I don't want them to have to leave us just to make ends meet. I want to make sure they are taken of. These people aren't just my employees, they've become my friends. Some of them have been with me for 6 or 7 years, they have families, mortgages and car payments."
"I was really upset when this all started, nobody had any answers and nobody knew how long this would last. I was working 16 hour days just to try and figure out a way to protect my employees and make things work. You're seeing other people's businesses destroyed and just hoping that doesn't happen to you.
We're in one of the worst occupations for a pandemic. We're at the mercy of venues and local authorities whilst restrictions in some places are moving forward and others like Australia are moving backwards. We're still running tournaments where it's safe to do so, but people have lost their jobs and are less able to spend money on luxuries like competition, which is totally understandable.  Our community have supported us massively through this; we sold 170 lifetime passes for $600 each. Around 90% of people are carrying over registrations to future events if their event is cancelled and we've been able to get help from the government in most places outside of Europe."
The next 6 months aren't looking any more certain and I asked David what he thinks that means for competition. He noted a lot of 'in house' competitions popping up, which to some extent are cash grabs, but theorised that as the world gets closer to normal, competition between BJJ promoters is going to be huge with it being unavoidable for major events to avoid clashing date wise.
Grappling Industries are working closely with local authorities and are continuing to run competitions where it's deemed safe. If you're keen to compete you can find the full list of locations here.
"Matchmaking has become complicated… we've decided to leave america for the time being"
In reality Polaris needs no introduction. It's Europe's longest running large-scale professional grappling event and is one of the industry leaders in production quality. Polaris is fortunate enough to be a professional event and benefit from UK exceptions for elite competition. They've already had one behind-closed-doors event during the pandemic and hype is at an all-time high for the upcoming Polaris Squads event. We spoke to Polaris director Matt Benyon about the impact of the pandemic on Polaris.
Polaris is about as close to a professional BJJ sporting event as you can get. It has a broadcast deal with really one of only two big players in the BJJ streaming/content market and has featured a host of top tier talent during its run. We're already seeing governments trial safe fan return for major sporting events so I asked Matt what's changed in terms of safety at their events.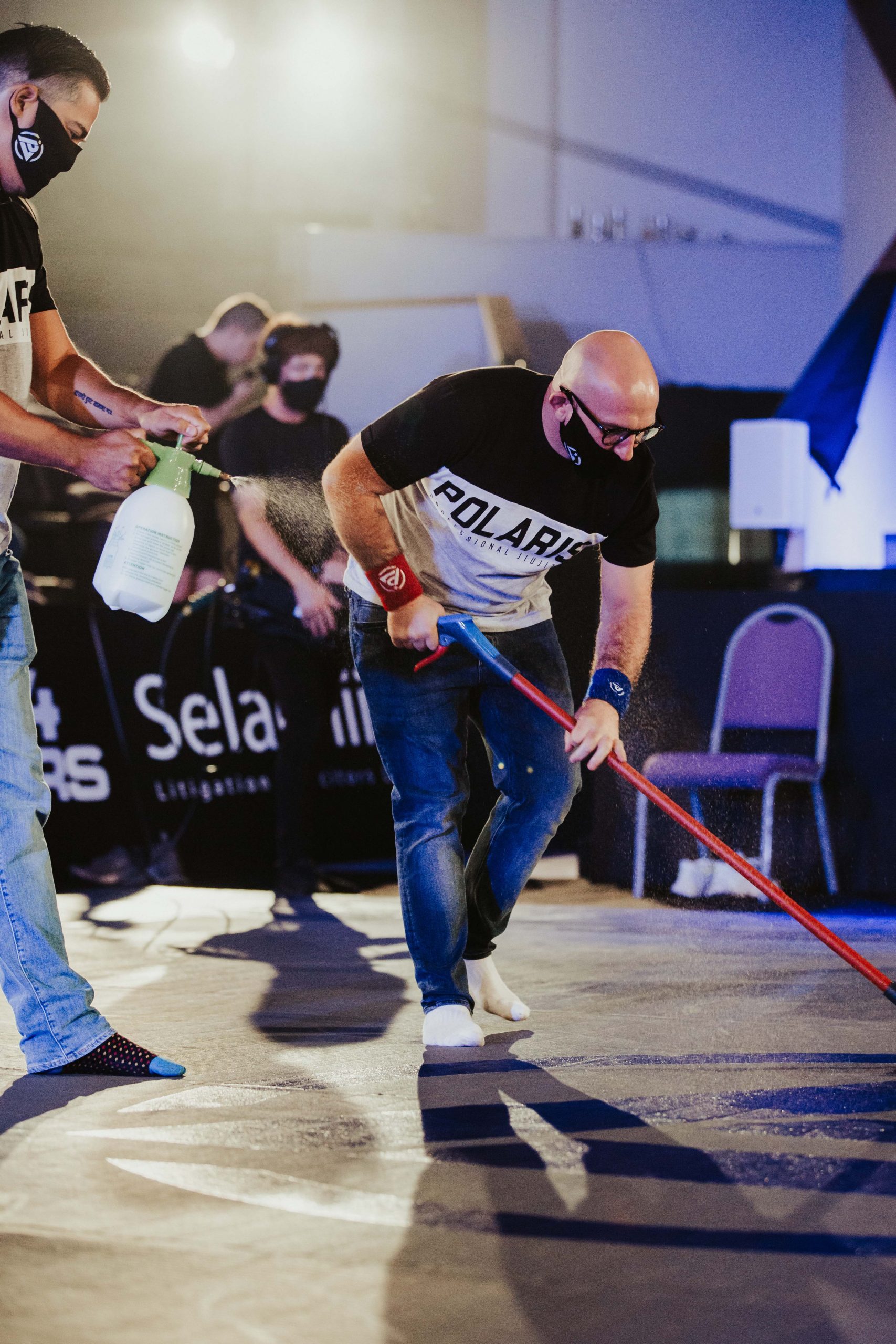 "Unfortunately we can't do testing. But we've got everything else in place to be as safe as possible. We ran another show during the pandemic and there was no cases [as a result] of that show. We have pretty strict guidelines on the athletes and the staff. Things like mask wearing, hand sanitation, minimizing contact, training in bubbles behind the scenes. We have a pretty extensive risk assessment document and it's basically everything we can do apart from full-on COVID testing."
"Matchmaking has become complicated, if we were a really big organization I think we could get some sort of government support. I've seen that Cage Warriors got some sort of exemption where they're allowed to bring in anybody, even from a quarantined country. We're not at that level or organization or connection. We're just a little ol' jiu-jitsu tournament at the end of the day.  We are missing having some of the big household names. We've just decided to leave America for now. Till things go back to normal"
*if you're a BJJ or grappling related business owner we'd love to hear about the impact of the pandemic on your business. Message us on social media if you have an interesting story to tell.