Gordon Ryan and several key members of ATOS clashed over social media again, this time primarily involving Kaynan Duarte and eventually, head coach and founder Andre Galvao. It all started with an innocent post by Michael Sears, the matchmaker for FloGrappling's Who's Number One, where he congratulated ATOS' Ronaldo Junior for taking on Craig Jones, the Australian phenom who just so happens to be a teammate of Gordon Ryan, and will be moving over to Puerto Rico with him to train in the new gym under John Danaher.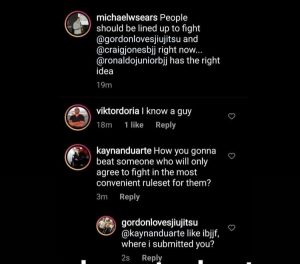 Michael Sears: People should be lined up to fight Gordon Ryan and Craig Jones right now… Ronaldo Junior has the right idea.
Kaynan Duarte: How you gonna beat someone who will only agree to fight in the most convenient ruleset for them?
Gordon Ryan: Like IBJJF, where I submitted you?
Ryan was referring to the one and only time that he is met Duarte on the mats, at the 2018 IBJJF no gi Pan-Ams, where he took his back and ended up submitting him by Rear-Naked Choke. Of course, this attracted the attention of everyone at FloGrappling as the possibility of a matchup between the pair is too tantalizing to pass up. Ryan has never been one to actually turn down a challenge, and it seems like Duarte is eager to get his revenge too.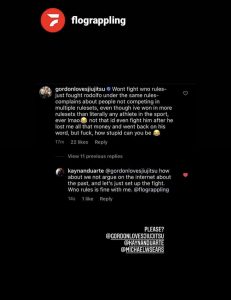 Gordon Ryan: Wont fight wno rules – just fought Rodolfo (Vieira) under the same rules – complains about people not competing in multiple rulesets, even though ive won in more rulesets than literally any athletes in the sport, ever lmao. Not that id even fight him after he lost me all that money and went back on his word, but f*ck, how stupid can you be.
Kaynan Duarte: How about we not argue on the internet about the past, and lets just set up the fight. wno rules is fine with me.
This also attracted the attention of other grapplers close to the pair, Andre Galvao and Tom DeBlass. DeBlass remained very cordial during the exchange and even congratulated Galvao on his team's success in competition while referencing his upcoming potential match with Ryan, so it seems like he really has learned a lot from his recent social media ban.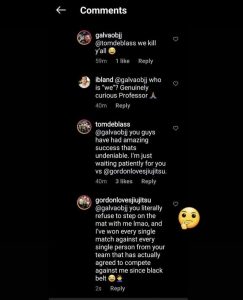 Andre Galvao: Tom Deblass, we kill y'all.
Tom DeBlass: You guys have had amazing success thats undeniable. I'm just patiently waiting for you vs Gordon Ryan.
Gordon Ryan: You literally refused to step on the mat with me lmao, and I've won every single match against every single person from your team that has actually agreed to compete against me since black belt.
DeBlass was of course referring to the fact that Ryan should end up taking on Galvao at ADCC 2022 for the superfight championship after both men emerged victorious at the 2019 edition of the event. That match isn't certain just yet however as even ADCC head organizer Mo Jassim hasn't been able to confirm that the match will go ahead. If the fans get what they want, at least we might see a preview of that amazing match, should Gordon Ryan face off against Kaynan Duarte at the upcoming Who's Number One event, or one in future.
The upcoming Who's Number One event will be streamed live on FloGrappling on February 26th, click here to subscribe and watch.