editors note: some the embedded posts from Tom DeBlass are not viewable in this post while he is banned.
If you follow Tom DeBlass on Instagram and have noticed that for the last few days your feed has been short on inspirational quotes with Lions in the background, and shirtless hulking men, you can blame the shadowy and mysterious effect of the Instagram shadow ban. In order to control the content on social media, algorithms are put in place to ensure that influencers can't game the system, or put out content that the company deems inappropriate or damaging. It isn't always apparent what causes the shadow ban to take place. Usually it's some sort of offensive post or a banned hashtag, but the exact nature of the algorithm is unknown to Tom DeBlass or anyone else, except for those inside the organization.
Tom is not the kind of guy to worry about stepping on toes or offending anybody. He speaks his mind and tells the world what he thinks with no filter. This is probably one of the reasons he has garnered over 180k followers. Love him or hate him, the guy knows how to build a following and keep them engaged. That is until a couple weeks ago. On Monday, Tom posted on his backup account that he had been shadow banned, but encouraged his followers to go to his account directly to keep up with him. The account isn't deleted just kept off of peoples feeds for a number of days. The common consensus is that it takes about 12 days for the account to become active again in people's feeds.
Tom weighed in on a range of political topics during the summer, from his frustration with the lockdowns, to the various "Black Lives Matter" related protests. Many of his followers were supportive, while others accused his of spreading misinformation such as in the post below. He was also a vocal advocate for protecting children from pedophiles, including openly calling for the killing of pedophiles several times. Promoting violence is against Facebook and Instagram's terms of service, although they have been criticized for selectively enforcing their terms across their billion user accounts.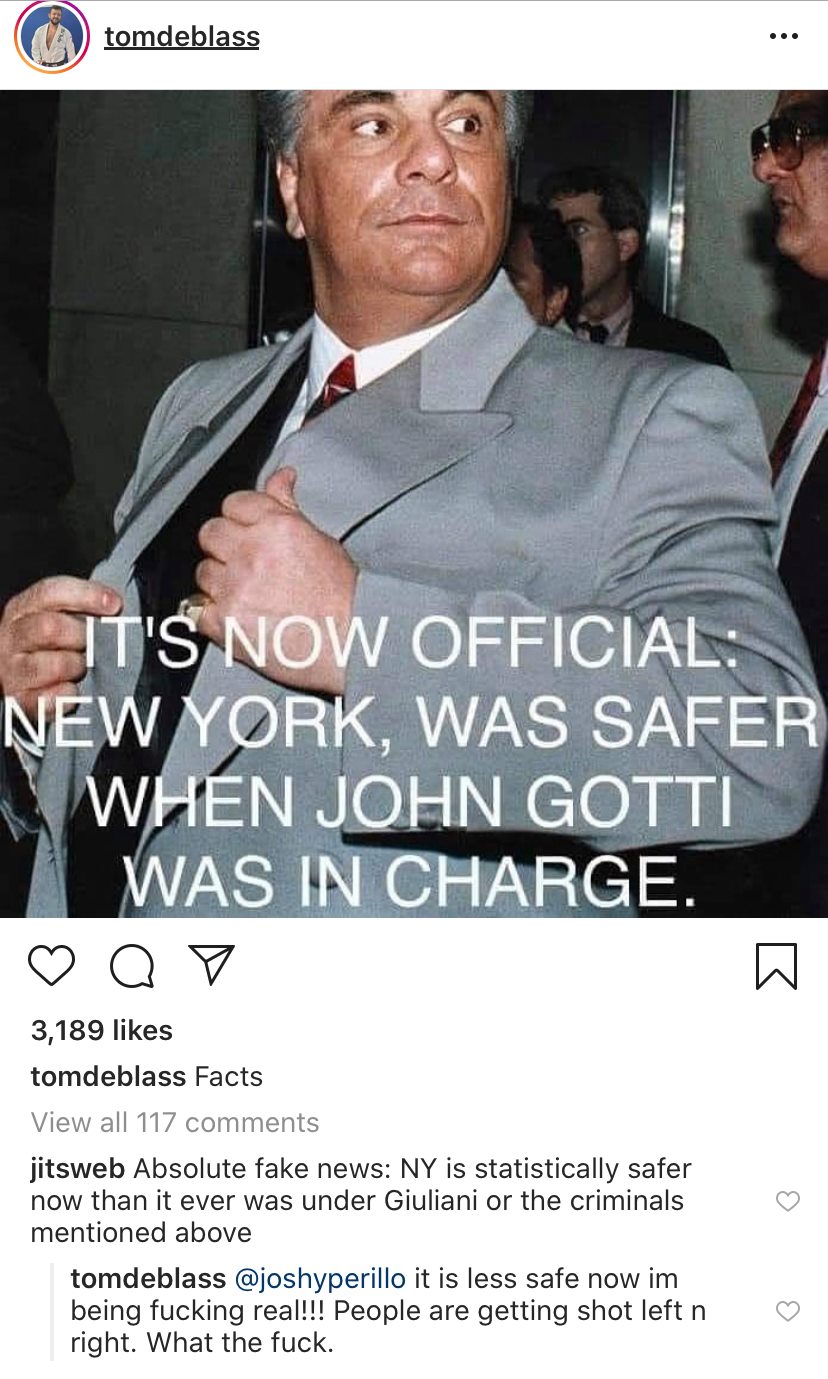 View this post on Instagram

 
Speaking to JitsMag, Tom acknowledged that the pandemic affected his mental health during the summer and like many others, it affected his his business as well.
"The biggest thing was forcing me to shut down my business. I had a friend commit suicide because he lost his business. Gary [Tonon] lost his business. I was so angry, but what good does that do for anybody?"
Tom went on to say he was frustrated by the ban but was moving on and considered it a lesson:
"I do believe we have a responsibility, as public figures, to show some class and dignity and for a few months, I was kinda losing my shit. . .I'm not even angry that it happened, because I look at it as God's plan. How much further and crazier would I have gotten on social media if I didn't get shadow banned."
Once the stuff of legend and conspiracy theorists, shadow banning has been making the news recently as more content creators, politicians and influencers are effectively put out of business during the ban. Many people rely on the income that they are able to generate from their social media following and being banned can have a major effect on their bottom lines. To be banned without knowing why is a major cause of concern for those whose livelihood depend on being able to interact with their followers and this is exactly the position Tom DeBlass finds himself in. He is out of business and he's got no idea why at this point. For now you'll just have to search Tom Deblass directly on Instagram or rely on his protege Gary Tonon to get your inspirational Lion meme fix.