BJ Penn has become known more for his controversial statements and actions in recent years than his fighting career, and now he's made some unusual comments around CTE. While it's far from the first time that Penn has received negative attention for something he's said online, the videos of physical altercations and legal issues in recent years have undoubtedly given him a lot of negative attention too. These things have been a far cry from how his career started out, when he was one of the most popular figures in both BJJ and MMA.
Penn started out his career as a BJJ competitor and quickly advanced through the belt rankings in order to become one of the fastest black belts in the history of the sport. It only took him 3 years to reach that level and it was clearly well-deserved, because he actually won the IBJJF world championship at black belt that very same year. He joined the UFC shortly after to make the transition to MMA, and quickly worked his way up the promotion's lightweight division. He earned two title-shots at lightweight before moving up to welterweight and defeating Matt Hughes to win that belt, leaving the UFC due to a contract dispute shortly after.
After spending a few fights competing for K-1, Penn returned to the UFC and won the lightweight title to become the second man in history to titles in two different weight classes. He remained in the UFC for the rest of his career and ended it on a seven-fight losing streak that included several temporary retirements along the way. With his professional MMA record standing at 16-14-2, Penn officially retired for good back in 2019. Although he has thrown his name in the ring for big-name boxing matches since then, he hasn't actually taken any other fights and has spent his time running for governor of Hawaii instead.
BJ Penn responded to a tongue-in-cheek comment one of his Instagram about CTE, and shared his thoughts on the topic: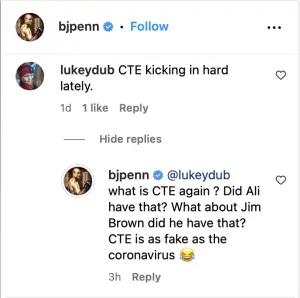 While the fan attempted to get BJ Penn to talk about CTE further, he continued responding in the comments but avoided that topic specifically: