There's something inherently inspiring about an underdog coming out on top against all odds and BJJ is no exception. Some of the biggest upsets in BJJ have been a signal of things to come, when an unheralded newcomer takes their first steps to becoming a legend. Other times, it may just be a flash of brilliance from a competitor who has absolutely no business beating the person they did. Regardless of what the case may be, it's always fun to look back on those times that someone shocked the world by upsetting the natural order.
Mackenzie Dern Sneaks Past Gabi Garcia
To overcome the weight difference in this contest alone was incredible, Dern weighed in under 55kg to compete earlier that day while Garcia has never weighed in under any limit and has always been over 100kg. Not just that, but Garcia had already beaten Dern four times previously and every time by submission. These four victories were among more than 50 in a row for Garcia, who had gone unbeaten for 6 years prior to this match while winning 2 ADCC World Championships and 8 IBJJF World Championships (she was later stripped of 2 due to a positive drug test). Dern played the game perfectly by pulling guard early and nullifying Garcia's passing game so neither woman could score a point, eventually winning due to Garcia being hit with a penalty.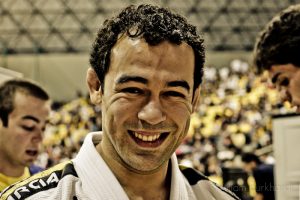 Marcelo Garcia Tears Through ADCC 2003 With A Smile
It's hard to think of Marcelo as being the underdog in any situation as he's now considered one of the greatest of all time. Back in 2003 however, Marcelo was still living in Brazil and had yet to win any major event, only competing at black belt for a little while. He entered the South American ADCC Trials and performed pretty well but lost in the Semi-Finals, only getting the invitation to ADCC 2003 at the very last minute due to Denis Hallman pulling out. Nobody knew the small Brazilian at the start of that weekend but they certainly did afterwards. He defeated a 37-fight Japanese MMA veteran in Kiuma Kunioki to start with, followed by both of the favorites to win his weight-class: 2-time ADCC World Champion, Renzo Gracie, and the recent IBJJF World Champion, Vitor "Shaolin" Ribeiro. By the time he submitted Otto Olsen in the finals, his legacy was already secure.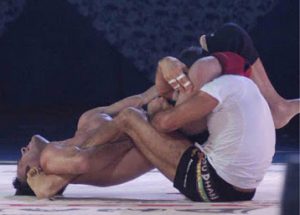 Eddie Bravo Becomes The First American To Submit A Gracie
No list of the biggest upsets in BJJ history can be complete without mentioning the moment that shook the grappling world. Bravo was a brown belt at the time and had to earn his way to ADCC 2003 the old-fashioned way, by winning one of the American trials events. The Jean-Jacques Machado student was almost completely unknown and impressed the crowd just by winning his first match against a member of Nova Uniao's golden generation, Gustavo Dantas. He still wasn't expected to do remotely well against Royler Gracie though, as Royler had won the last three ADCC World Championships in a row and looked unbeatable at the time. That was until he ran into the now-famous Rubber Guard of Bravo who worked his game to perfection and locked up a tight Triangle Choke that forced Royler to tap. Although he didn't medal at the tournament, Bravo was awarded his black belt on his return home and set up the first of many 10th Planet schools almost immediately.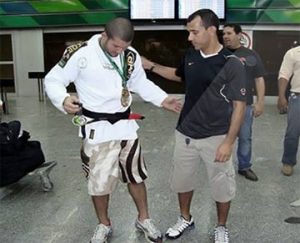 Rodolfo Vieira Bursts Onto The Scene Against Braulio Estima
Vieira was also a brown belt way back in 2009 and entered a mixed-ability division at the 2009 Abu Dhabi World Pro tournament. He won his first two matches in impressive fashion but came up against Estima in the Semi-Finals, who was already a 2-time IBJJF World Champion with 5 years of elite competition under his belt. In an incredibly close back-and-forth match, Vieira displayed the heavy top-game that he would become known for in the decade that followed and secured the victory by advantages. His coach, Julio Cesar, was so impressed by the feat that he went to meet Vieira upon his arrival in the airport and awarded him his black belt there and then.
Ffion Davies Registers The Best Debut Year Ever
Davies might have won an IBJJF World Championship at brown belt, but plenty of competitors manage that feat and then struggle for a while once they hit the biggest stages. Instead of struggling, Davies started off by winning the IBJJF No gi World Championship less than a month after earning her black belt and quickly followed up with a UAEJJF Grand Slam London victory and a Polaris title. She wasted no time in making history as the first European to win the CBJJ Brazilian Nationals and the first UK athlete to earn an ADCC medal, winning silver in her weight-class. Throughout this period, Davies beat a who's who of female grapplers in Bianca Basilio, Gezary Matuda, Heather Raftery, and Bia Mesquita, solidifying her place among those greats after an entire year of some of the biggest BJJ upsets.
As with any combat sport, there are plenty of upsets through BJJ history and discussion over which is the biggest is always contentious. If you think there are any that we've missed off the list, sound off in the comments below!
For more of our articles looking into moments throughout BJJ history, visit our throwback archives.