BJJ is often described as the martial art that allows you to overcome significant size differences and turns smaller people into giant killers. But what happens when the bigger opponent is also an elite grappler? The simple answer is just that the skill difference needs to be bigger than the size difference, although it's certainly not as easy as it sounds. It takes a truly elite competitor to consistently defeat those who have a clear advantage over them purely with the use of superior technique. With that in mind, here we'll take a look at the smaller competitors in our sport who were so technically proficient that black belts upto twice their size still couldn't beat them.
Marcelo Garcia
Garcia is the easiest choice on this list by far and is often considered one of the greatest grapplers of all time, regardless of weight. It's his achievements in the absolute division that really stand out though, considering he usually competed at 77kg or 82kg. He's managed to collect a pair of IBJJF World Championship bronze medals in the absolute division, along with both a bronze and silver medal in the absolute division of the ADCC World Championships. He's beaten the likes of Ricco Rodriguez, Xande Ribeiro, Robert Drysdale, Roberto "Cyborg" Abreu, and Rolles Gracie, all of whom competed around 100kg and most have been champions of those divisions. This alone is enough to declare Marcelo Garcia as the king of the giant killers by a clear mile.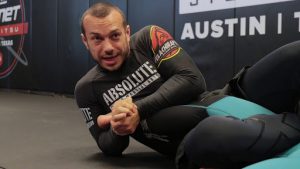 Lachlan Giles
Giles' competitive record is pretty thin compared to the rest of the people on this list and he only really started fighting bigger men in the last two years. Historically, he has competed as low as 70kg but usually makes 77kg his home, his first impressive absolute win coming when he submitted Rida Haisam twice in one night back in 2018. Haisam might not be a big name, but he's a 94kg athletic grappler who Giles handled relatively easily. Then came Kinectic, where Giles submitted an entire team of 5 competitors in a row, including Ricco Rodriguez and Chris Lytle who both outweighed him by at least 20kg. His crowning achievement then came at the ADCC 2019, when Giles submitted the 99kg Patrick Gaudio and two 99kg+ competitors, Mahamed Aly and Gold medallist Kaynan Duarte, all with brutal heelhooks and on route to a bronze medal. Despite a shorter resume overall, this incredible performance alone warrants Giles' inclusion here.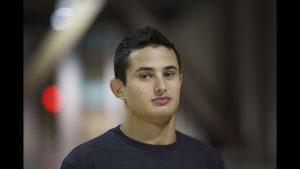 Caio Terra
Terra is the lightest competitor on the list, having won six consecutive IBJJF No gi World Championships at 55.5kg. He was well known throughout his decade of elite competition as being a massive problem in the absolute division despite his size, even winning gold there at the IBJJF European No gi Championships in 2013. During Terra's time at the top of his weight-class he defeated several phenomenal BJJ black belts, NCAA wrestlers and MMA fighters who were multiple weight-classes above him like Bruno Bastos and Robert Fonseca. Terra is probably the most extreme example of superior technique being able to overcome significant weight differences and since retiring, he's continued instilling that attitude into his students as well.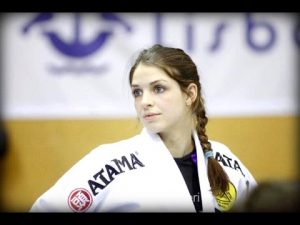 Mackenzie Dern
Dern is the only female on this list and for good reason, she fought as low as 56.5kg often in her career but entered the absolute division almost every time she competed, even winning a World Championship there once. It was this dogged persistence that led to her having 5 matches with the most intimidating woman in BJJ history, the 100kg+ Gabi Garcia. On her fifth and final attempt, Dern managed to edge out the win in a close match that would end Garcia's 6-year and 51-match unbeaten streak. Not just this, but Dern also beat several world champions with significant weight advantages like Fernanda Mazzelli, Venla Luukkonen, Talita Noguiera and Dominyka Obelenyte. Before embarking on her MMA career, Dern was the undisputed queen of the giant killers.
Are there any other small competitors who deserve a mention on this list? Sound off in the comments below if you can think of any!