One of the top female BJJ competitors on the planet, Rafaela Guedes, is busy preparing to make her MMA debut at an unspecified time in the future. She burst onto the scene back after being promoted to black belt back in 2020, when she had a flawless debut year and won 'Female Breakout Grappler of the Year' at the JitsMagazine BJJ awards. She's only developed her game even further since then and has managed to add a lot more to an already-impressive competitive resume.
Guedes won the Who's Number One heavyweight title at the WNO Championships in 2021, defeating three of the best female competitors in one weekend to do so. She closed out that year with the perfect performance at the IBJJF no gi world championships, winning two gold medals by emerging victorious in both her weightclass and the absolute division. She came within inches of winning her first ADCC world championship in 2022, making it all the way to the final before falling to Amy Campo by just a single point.
It seems as though Rafaela Guedes is looking for a new challenge now, as Andre Galvao recently shared a story to his official Instagram account indicating that she would be making her MMA debut soon: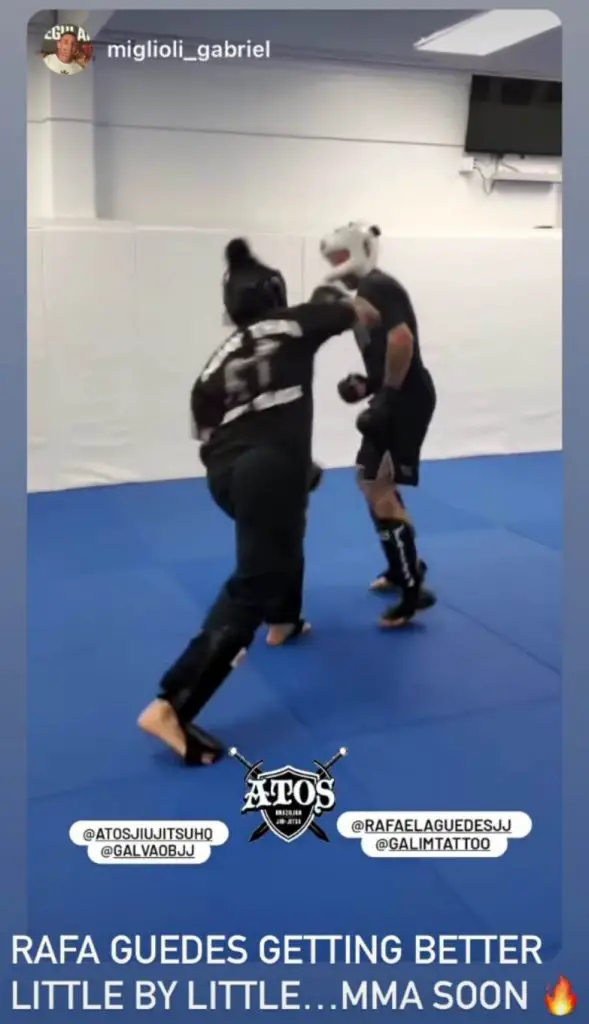 It's still early days of course, as Guedes has not yet booked her first fight or announced a clear timescale. Given that she's one of the best grapplers on the planet and is already putting in the hours in striking session with great coaches at ATOS, it shouldn't be long before she's ready to make the move.
Rafaela Guedes isn't the only member of the ATOS team who appears to be preparing for her MMA debut either, as she appears to have been joined by Kade Ruotolo in training too. Guedes shared the photos on her official Instagram account of both of them after what appeared to be a particularly tough training session. It should come as no surprise that Ruotolo was there too, as he has been open about the fact that he's eventually going to transition to MMA as well: