Marcus 'Buchecha' Almeida has been focusing more on his MMA career in recent years, but he's still interested in booking a rematch against Gordon Ryan regardless. Buchecha is the most successful world champion in IBJJF history and at one point in time was considered the greatest grappler on the planet, a title that many would now use to describe Ryan instead. The first time these two met was actually a pivotal moment in both men's respective combat sports careers, and it happened all the way back at ADCC 2019.
At that point, Ryan had just won his second ADCC world championship title and was storming through the absolute division with three straight submissions. Buchecha hadn't managed to win the over 99kg division that year but already had two ADCC titles to his name and had made it into the final of the absolute division too. It was a tough match where neither man was able to score points and Ryan won by the thinnest of margins due to a single penalty point Buchecha received during the match.
That match was the culmination of Ryan's incredible run at ADCC 2019 and emerging from that tournament as a double champion was a huge part of what led to him being regarded as the greatest no gi grappler on the planet. It also served as a pivotal moment in Buchecha's career too, as it was the final time that he competed in professional grappling before deciding to transition to MMA. After some time developing his skills, Buchecha made his MMA debut at ONE: Revolution on September 24th, 2021 and registered a submission win in the first round.
Over the next year he registered another 3 first-round finishes all the way up to his most recent fight at ONE on Prime Video 1. With a 4-0 professional record, Buchecha is turning out to be a fantastic MMA fighter and he's proved to be an important figure in the ONE Championship heavyweight division. He has his 5th fight coming up at ONE Fight Night 13 on August 4th, 2023 and in order to promote the fight, he sat down for an AMA (Ask Me Anything) on Reddit where he used the ONE Championship account to answer fan questions. The fans decided to ask him about Ryan at one point and he was nothing but complimentary about his former opponent: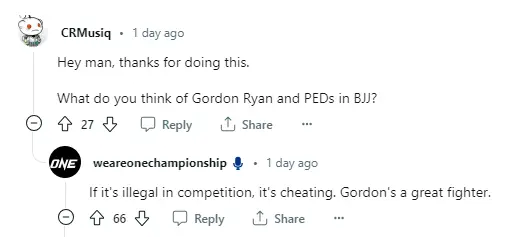 After Gordon Ryan was brought up, it didn't take long for a fan to ask about a potential rematch against him and Marcus 'Buchecha' Almeida's answer was quite surprising considering his recent focus on MMA: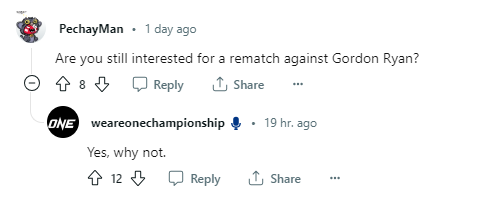 Marcus 'Buchecha' Almeida has talked about getting back into professional grappling recently and there really isn't any more challenging matchups than the rematch with Gordon Ryan. Given that Ryan has had a working relationship with ONE Championship CEO Chatri Sityodtong and even signed a contract with the promotion in the past, so it's not an impossible idea either. Fans would certainly love to see these two elite grapplers battling it out in one of the upcoming ONE Championship events, and it'd be interesting to see who emerges victorious the second time around.