Earning a place on the podium at an ADCC World Championship is an incredible feat and only a select few grapplers will ever earn the status of champion at the prestigious event. Even rarer still are those that manage to conquer their weight-class and the vaunted absolute division in the very same edition. Earning the title of ADCC Double Champion is so difficult in fact that only seven men and two women have accomplished this in 22 years of competition. Today we're looking to find out who out of these nine people had the tallest mountain to climb.
The only women who have managed to win two titles in a single event were Juliana Borges and Hannette Staack in 2005 and 2007 respectively, although they were also the only times this has ever been possible. prior to 2005 there were no women's brackets at all at ADCC and in every event since, there have only been two women's brackets with no absolute division. Sadly, considering that women's divisions are also limited to 8 competitors instead of the 16 for men, this also means that neither woman could be considered as having the hardest run to ADCC Double Champion. Not to take anything away from either woman as they both had phenomenal careers but due to the size of the field, they both had two less matches than most of the men in the running.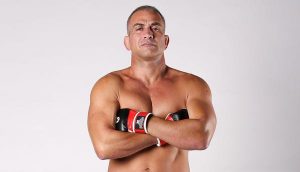 Mario Sperry
The first ever edition of ADCC took place in 1998 and saw Mario Sperry conquer both the 99kg category and the absolute division, becoming the first man to achieve this feat. He had to overcome Mohammed Saleh, Larry Parker, Renato Verissimo and Ricardo Almeida in his own division, followed by Oleg Taktarov, Simon Siasi and Ricardo Morais in the absolute division. Like the two women double champions, Sperry's run also suffers from less matches than the modern ADCC Double Champion would have, and the strength of his competition was not as impressive as later years either.
Sperry's biggest challenges in his weight-class came from Verissimo and Almeida, both well-respected BJJ competitors at the time who would go on to have decent MMA careers, much like Sperry himself. In the absolute division he faced off against a man who had already started his MMA career, Elite Judoka and Sambist Oleg Taktarov. His final two matches were against men who outweighed him, but the difference in general grappling skill between Sperry and Siasi and Morais was significant enough that he looked sure to become the first ADCC double champion.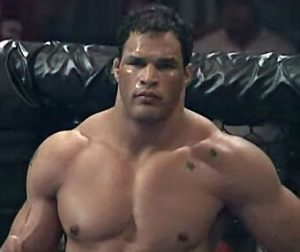 Mark Kerr
It would be another two ADCC events before "The Smashing Machine" became the next double champion and he did it by entering the heaviest weight-class available. Kerr had an incredibly hard opening match against a young Josh Barnett followed by a comparatively easy match against journeyman MMA fighter, Anthony Netzler. The final two matches in his bracket however, were against two legends of BJJ in Rigan Machado and Ricco Rodriguez, it's a testament to just how good of a wrestler that Kerr was at the time that he was able to outwork both of these men back-to-back.
His run in the absolute division in 2000 was just as impressive, as Kerr had to defeat Leo Vieira in his opening match and while this was no mean feat, it's worth considering that Kerr had more than a 20kg weight advantage. He then came up against an NCAA Division 1 wrestler a little closer to his size in the 99kg Mike Van Arsdale, followed by two men who had already earned three ADCC medals between them in the first two editions. Both Ricardo Almeida and Sean Alvarez had spent a great deal of time training under Renzo Gracie, but only Alvarez was in the same weight-class as Kerr.
Ricardo Arona
Arona faced an unusual challenge in his first match at 99kg against Ruslan Mashurenko, a Ukrainian Judoka who was just coming off an Olympic Bronze Medal performance the year before ADCC 2001. Shortly after that he came up against a complete stylistic change in the form of Renato "Babalu" Sobral, who was around twenty fights deep into his MMA career and had just won the Brazilian National Wrestling Championship for the third consecutive time. After that, he had a tough Semi-Final against Norwegian BJJ black belt, John-Olav Einemo, who remains the only man to ever beat Roger Gracie at ADCC, en route to winning the following edition in the same weight class. The final was then against a man who features heavily in this list, Ricardo Almeida.
In the opening round of the absolute, Arona would face a bigger wrestler in Roger Neff but much like Sperry in parts of his absolute run, the skill gap was clearly in Arona's favor. Next up was an 88kg Saulo Ribeiro, someone Arona would have the weight advantage over but seeing as he came into this tournament off the back of four straight IBJJF World Championships and had picked up his third ADCC medal earlier that day, Ribeiro was not an easy match for anyone. Then came the hulking Vitor Belfort, only 24 at the time and incredibly athletic, "the phenom" was already a black belt in both Judo and BJJ. The final was a difficult one against the legendary Jean-Jacques Machado, but considering he won silver at 77kg during the tournament, the weight advantage was a significant factor for Arona.
Roger Gracie
It wasn't until ADCC 2005 that Roger Gracie would earn his place as a double champion and he remains the only person to ever submit all eight of his opponents on the way there. His first match at 99kg was against the overmatched Justin Garcia before he came up against one of the more creative grapplers around at the time, the Octopus Guard inventor Eduardo Telles. After this came Gracie's most difficult match of his weight-class against the BJJ legend with the unpassable guard, Xande Ribeiro. In the final he came up against BJJ and Luta Livre black belt, Alexandre "Cacareco" Ferreira, who was only a few years into his MMA career at the time.
His absolute run started with a match against Shinya Aoki who despite being an incredible grappler, was outweighed by more than 20kg in an uphill battle. At the time of the match, Aoki was only 5 fights into an MMA career that still continues today after more than 50 fights and five title-reigns in four different promotions. Gracie's Quarter-Final match was against the heavier Fabricio Werdum, who had already won seven IBJJF and two ADCC World Championship medals in the four years prior to this fight. Following this, Gracie would have a rematch with Xande Ribeiro before having to take on Ronaldo "Jacare" Souza in the final, only a year after the famous IBJJF World Championship final where he beat Roger with a broken arm.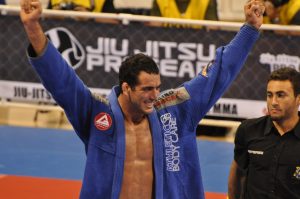 Braulio Estima
Estima is the joint-lightest male ADCC double champion and his first match in the 88kg bracket came against Yuji Arai and the Japanese grappler wasn't much match for Estima. The next match was the one that looked the most difficult for Estima at the time, against the rather unheralded James Brasco, a NCAA Division 1 wrestler and BJJ Brown belt. His Semi-Final match came against a young Rafael Lovato Jr, at a time when he had only just won his first IBJJF World Championship out of an eventual four. The final saw Estima become the only man on this list to beat one of the others in his journey to double gold as he submitted Andre Galvao with an Inverted Triangle Choke.
His opening absolute match saw him at a weight disadvantage of around 20kg against the Finnish BJJ brown belt, Janne-Pekka Pietilainen. Next he fought against Marcelo Garcia, who had already won three of his four ADCC world championships at 77kg and was widely known for beating bigger men in the absolute division. He went back to fighting bigger men again for his final two fights against Vinny Magalhaes and Xande Ribeiro, the bronze and gold medallists of that year's 99kg bracket respectively.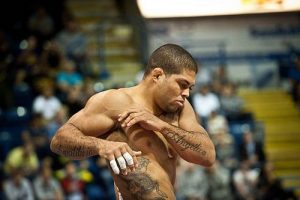 Andre Galvao
The very next edition of ADCC in 2011 saw Andre Galvao earn his place among this list and set up the start of his four-fight dynasty as ADCC Superfight champion. His first match in the 88kg bracket was Don Ortega, a NCAA Division 2 All-American and experienced BJJ competitor who Galvao beat on points. Next up was Gunnar Nelson, the future UFC fighter who had only had 9 fights at this point in time. His Semi-Final match came against the elite no-gi grappler Pablo Popovitch who had already won 3 IBJJF no gi World Championships and 3 ADCC medals. The final match was a huge challenge as he met Rousimar Palhares, who had already heel-hooked all 3 of his opponents in just over 10 minutes collectively.
Galvao's opening match of the absolute division was against the 99kg Japanese wrestler Shinso Anzai and although he was an unusual stylistic challenge, he didn't last long. Galvao then came up against Sergio Moraes who was on absolute fire in 2011, winning five medals at major IBJJF tournaments that year. The two competitors were the same weight and Moraes and was only a few months away from his UFC debut at the time. In the Semi-Final match he faced the criminally underrated Murilo Santana who was one of the best pressure-passers of that generation despite only being 77kg, and was notoriously difficult to submit. The final saw a rematch of his clash with Popovitch where Galvao went one better and managed to submit him in just over 3 minutes to finish his run.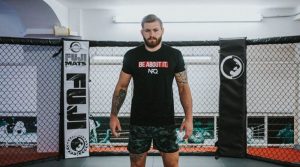 Gordon Ryan
We had to wait eight long years until ADCC 2019 when the seventh double champion would claim his spot on the list. Ryan's first 99kg match was against Australian black belt Ben Hodgkinson and it was over and done with in under 2 minutes. Next up was Tim Spriggs, who had just won the IBJJF no gi World Championship in 2018 after four years competing at black belt. His final two matches were against his two biggest challenges in the bracket as he faced a four time IBJJF no gi World Champion in Lucas "Hulk" Barbosa, and Vinicius "Trator" Ferreira, who had only just beaten Keenan Cornelius to take gold at the IBJJF no gi Pan-Ams.
The opening round of the absolute division gave Ryan a last-minute addition to the 88kg bracket in Pedro Marinho, who was clearly overmatched against him. Next up was Ryan's teammate Garry Tonon who had earned his first ADCC medal at 77kg earlier that day. Ryan's Semi-Final match was against another 77kg competitor and fellow leglock expert, Lachlan Giles. While Giles made a phenomenal run through the absolute bracket to finish with a bronze medal, he couldn't get past Ryan. This set up a final match where Ryan was the smaller man for the first time, against Marcus "Buchecha" Almeida. Buchecha is the single-greatest IBJJF competitor in history, racking up an incredible total of 13 gold medals alongside his 2 ADCC World Championships, making this the most difficult final match of all time.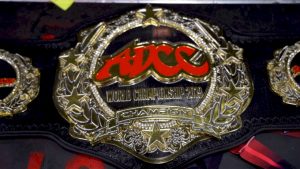 The Answer
Of course, the answer will always be a subjective one but Mario Sperry's run to double gold took one less match than the other 6 men and of course, the strength of competition has improved greatly over the last two decades. Mark Kerr faced difficult opposition the whole way through his run but something has to be said for the fact that he was the bigger man in most of his absolute matches, and even outweighed most of his own division at nearly 120kg of pure muscle. Arona had a very tough weight-class to get through but he was relatively fortunate in the absolute division that he enjoyed the size advantage over half his opponents after a less-competitive opening round.
Roger Gracie had one of the most difficult absolute runs outside of Aoki, but his bracket was not as difficult as most of the other men on this list, other than his Semi-Final against Xande Ribeiro. Galvao also had a nice start to his weight-class and was fortunate that he only fought one man bigger than him in the absolute division too. Gordon Ryan had a very difficult weight-class but enjoyed a huge weight advantage in 3 of his 4 absolute matches and despite the epic final matchup against Buchecha, it isn't quite enough to declare him as having the most difficult route to double gold.
That accolade goes to Braulio Estima.
The Brazilian grappler faced Rafael Lovato Jr at the height of his powers and beat Galvao in the final of his weight-class, who would only lose one more ADCC match before his dominant run as Superfight Champion. But the true difference is in the absolute division. Estima only had the weight advantage in one fight, against one of the only grapplers for whom weight means absolutely nothing, Marcelo Garcia. Not only did he have to overcome 20kg in his first fight, but his final two matches were against men who had just finished proving themselves two of the best grapplers a whole weight-class above him.
Do you think one of the other 8 ADCC Double Champions had a tougher road than Estima? If so, sound off in the comments below!