Fight 2 Win 149 has been hotly anticipated thanks to the announcement of a blockbuster main event matchup between the worm-guard king, Keenan Cornelius, and Gabriel Almeida. Sadly, news has just broken that Cornelius has been forced to withdraw from the event at the last minute due to a back injury. Almeida will still headline the event however as current IBJJF European Champion, Manuel Ribamar has stepped up on short notice to take him on. Regardless of Cornelius withdrawing, the team he recently established, Legion Jiu-Jitsu, will still be heavily represented at the event as eight of his students will be making the walk out to the F2W mats.
First up for his squad are three young purple belts eager to make a name for themselves. Both Edward "Juno" Lucero and Jacob Kassama are only 19 years old but are already experienced competitors. Kassama made the jump to Legion from Art of Jiu-Jitsu and has already won a F2W purple belt title, while Lucero is a fast-paced action grappler who will be eager to get back in the win column after losing a decision at F2W 148. Then there's Kyle Adam Hodgdon who some of you might recognize from John Danaher's instructionals, a 24 year-old who'll be competing under the F2W banner for the very first time.
The final five representatives of Legion Jiu-Jitsu are all brown belts, starting with Breylor Grout, a 24 year-old who also competed on the last F2W event and came away with the victory. One of Cornelius' coaching team will also make the walk as Austin Aaron Fraley, the Head Kid's Program Instructor, competes in the gi against Jaccob Charles. Shortly after that Michael Egley will represent Legion Jiu-Jitsu for the very first time in competition, as he recently made the switch over from Team Carlson Gracie.
Just before the black belt matches start, Cornelius has his final two men vying for brown belt titles at Fight 2 Win 149. The first is Conner Deangelis, who will be competing for the Brown belt Middleweight Gi title against Tyler Murrah. Deangelis is a well-known and respected competitor who made waves as a young blue belt at ATOS, although he faces a tough challenge from Murrah, a representative of The Forge BJJ. Finally, you'll see Sloan Taylor Clymer, coming in hot on the heels of a performance that earnt him "Submission of the Night" at F2W 148. He will be competing for the Brown belt Light-Heavyweight No Gi title against Emil Fischer, a Strong-Style MMA representative who holds a stellar 6-1 promotional record so far.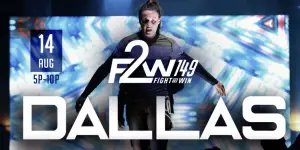 Fight 2 Win 149 Full Card
Manuel Ribamar v Gabriel Almeida – 205lbs Black Belt Gi
Luiza Montiero v Jena Bishop – For the Black Belt Featherweight Gi Title
Lucas Pinheiro v Edwin 'Junny' Ocasio – For the Black Belt Bantamweight No-Gi Title 
Mauricio Fernandes v Max Danrely – 155lbs Black Belt Gi
Cody Hoffstatter v Frank Rosenthal – 155lbs Black Belt No-Gi
Erick Raposo v Diego Santana – 165lb Black Belt Gi
Gilvan Costa v Kevin Williams – 195lbs Black Belt Gi
Jean Petric v Joao Costa – 200lbs No-Gi
Eric Board v Jeff Hammond – 180lbs Black Belt Gi
Sean Joseph v Cliff Sabroe – 145lbs Black Belt Gi
Emil Fischer v Sloan Clymer – For the Brown Belt Light Heavyweight No-Gi Title
Eric Naples v Cameron Mellott – For the Brown Belt Flyweight No-Gi Title
Tyler Murrah v Darin Conner Deangelis – For the Brown Belt Middleweight Gi Title
David Weintraub v Cameron Adair – 145lbs No-Gi
Leandro Nascimento v Michael Egley – 235lbs Brown Belt Gi
Zach Cothren v Guilherme Monteiro – 160lbs Brown Belt Gi
Jaccob Charles v Austin Fraley – 175lbs Brown Belt Gi
Nader Tannir v Dominick Williams – 210lbs Brown Belt Gi
Breylor Grout v Guilherme Bacha Guedes – 230lbs Brown Belt Gi
Christian Johnson v Leroy Brown – 235lbs Purple Belt Gi
Stephanie Williamson v Yasmim Coutinho – 150lbs Purple Belt Gi
Austyn McNeil v Zach Wolivar – 180lbs Purple Belt Gi
Hemerson Neris de Souza v Gabriel Costa – 200lbs Purple Belt No-Gi
Carson Steicher v Juno Lucero – 150lbs Purple Belt Gi 
Noah Villemarette v Christopher Soto – 165lbs Purple Belt No-Gi
Aric Mercado v Kyle Adam Hodgdon – 160lbs Purple Belt Gi 
Alexandru Marculescu v Jacob Scott – 145lbs No-Gi
Jess Feliciano v Rhodes Faraday – 140lbs Purple Belt No-Gi
Jerry DeAmond v Jacob Kassama – 170lbs Purple Belt Gi 
Ramiro Leon v Jordan Marshall – 205lbs No-Gi
Brayden Wolfe v Owen Sabroe – 145lbs Teen Blue Belt Gi
Kevin Ditto v Sean Rubchinuk – 170lbs Teen Yellow Belt Gi
Gray Hernandez v Hamza Al-Saad – 160lbs Blue Belt No-Gi
Chase Main v Mitchell Cupp – 180lbs Blue Belt No-Gi
Nick Carlucci v Manuel Bernard Mejia – 190lbs Blue Belt No-Gi
Marie Eliza Cordero v Skylar Idell – 140lbs Blue Belt No-Gi
Alejandro Felix v Anthony Williams – 170lbs Blue Belt No-Gi
Oliver Smith v Joshua Rodriguez – 130lbs Blue Belt Gi
Lorenzo Ledesma v Guillaume Prada – 150lbs Blue Belt Gi