We recently got the opportunity to test out the best products that Humble Fightwear is able to offer, and provide our readers with an honest review of how their training gear shapes up with the rest of the market. Humble Fightwear is a relatively new company that operates out of Australia and has already hit the ground running by setting up a sleek website and putting together a wide range of products. They offer all the equipment necessary for both gi and no gi grappling, along with some nice streetwear as well.
If you're interested in purchasing any of the Humble Fightwear gear detailed in the product review below, click here for more.
Humble Fightwear Review
Humble Fightwear is only a few years old, but the people behind it have a ton of experience in the BJJ world. It's always better for a brand to be run by people who would actually use the product it sells, and gis or no gi equipment are no exception. That's something that really does come through when you use the products that Humble Fightwear offer, and the attention to detail is definitely noticeable. They are definitely poised to become the biggest Jiu-Jitsu clothing and equipment brand in Australia, and for good reason.
No Gi Rashguards and Shorts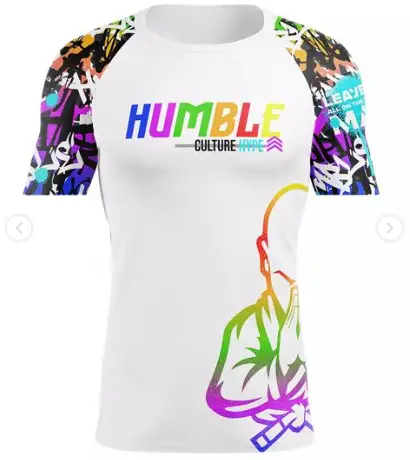 We were able to get our hands on two different pairs of shorts and a rashguard from Humble, giving us the opportunity to test out a wide range of options. Firstly, it's refreshing to see a brand that focuses on sleek and simplistic designs instead of the crowded and often messy designs that a lot of rashguards and shorts are known for. Even their brighter and more colourful designs still look cleaner and more polished than most. The quality is genuinely top-notch too. Everything fits in all areas exactly as you'd expect, and the rashguards don't roll up like some are known to. The shorts use velcro to ensure they don't slip, and both those and the rashguards are flexible yet strong. The rashguards are also made from quick-drying material which definitely comes in handy after heavy training sessions.
Gis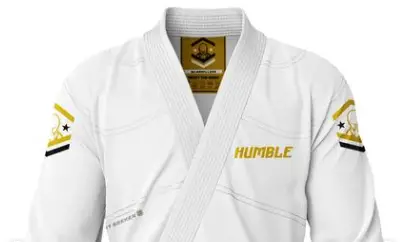 We tested out the Feather Pro gi from Humble Fightwear in A2 sizing and found that the fit was perfect. The brand continues that same trend of attractive designs that aren't over-complicated, making for a nice aesthetic. The stitching is great and it's completely IBJJF legal. They make use of ripstop pants and an extra lightweight 350 GSM. This makes for a perfect competition gi and also comes in women's sizes as well.
Streetwear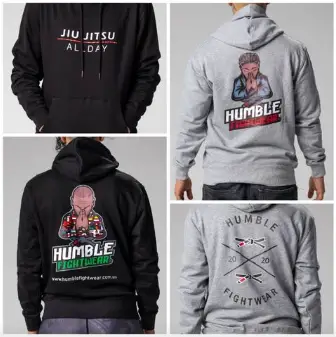 Humble Fightwear also offers a lot of streetwear as well, including T-shirts, hoodies, and vests. We got the chance to test out one of their T-shirts and the material is a light and breathable cotton/spandex combination. Again, the designs are minimalistic and make a really nice change compared to the loud designs that BJJ practitioners might be used to. It's high-quality and genuinely worth the money it costs, so it's hard to really find any flaws with the streetwear they offer. We didn't test any of their hoodies or their vest but judging from the quality of the rest of the gear they offer, it's a pretty safe bet that these will be just as good.
Conclusion
Humble Fightwear is definitely going to be a brand to keep an eye on in the years to come. They've come an incredibly long way in a short space of time and it'll be interesting to see where they go from here. Everything they offer is high quality and well worth the cost, comfortably competing with some of the most popular brands in the sport in that area. They offer something a little different aesthetically as well, steering clear from the busy designs that you might see from other brands and instead focusing on quality and something that looks a lot cleaner. They've already started to sponsor top competitors in both MMA and BJJ like Danielle Kelly, allowing them to reach a much bigger audience and grow the business even further.