The window to sign up for the absolute division at the IBJJF Pan Championship 2023 has now closed and the brackets have been released, with several top competitors about to meet in the tournament over March 25th and 26th. One of the favourites to win the men's divisions is undoubtedly Nicholas Meregali, who is returning to gi competition for the first time since ADCC 2022. While he'll be hungry to prove himself once again under IBJJF rules by taking home two gold medals, he's not going to have it easy in either division.
There's plenty of competitors standing in his way in the absolute division of the IBJJF Pan Championship 2023, and the brackets have played out to put him up against tough opposition like Roberto Jimenez early on. There's a few other contenders standing in his way before he makes it to the final too, with Dimitrius Souza, Yatan Bueno, and top prospect Uanderson Ferreira all there. The other half of the division is wide open really, although certain names like Johnatha Alves, Clay Mayfield, Mathias Luna, and Erich Munis do stand out.
In the women's absolute division the obvious favourite is the returning champion Gabrielli Pessanha. It's a fantastic lineup though and there are actually a fair few women who have a good chance of dethroning her. Melissa Stricker Cueto and Maria Malyjasiak might be able to stop her from reaching the final, while Elisabeth Clay and Ffion Davies might be waiting for her if she gets there. These aren't the only women capable of taking gold, and in fact any of the twelve women in the bracket could see themselves on the podium by the end of the week.
IBJJF Pan Championship 2023 Absolute Division Competitor List
Men's Division
Dimitrius Souza
Italo Lima Costa
Johnatha Alves
Uanderson Ferreira
Mathias Luna
Diogo Araujo
Erich Munis
Yatan Bueno
Javier Barter
Paulo Henrique
Caio Vinicius
Mair Amaral
Eduardo Franca
Joshua Guerra
Clay Mayfield
Nicholas Meregali
Roberto Jimenez
Marlon Fagundes
Pedro Pessoa
Women's Division
Maria Malyjasiak
Melissa Stricker Cueto
Elisabeth Clay
Ffion Davies
Tamiris Fernanda
Gabrielli Pessanha
Maria Claudia
IBJJF Pan Championship 2023 Absolute Division Brackets
Men's Division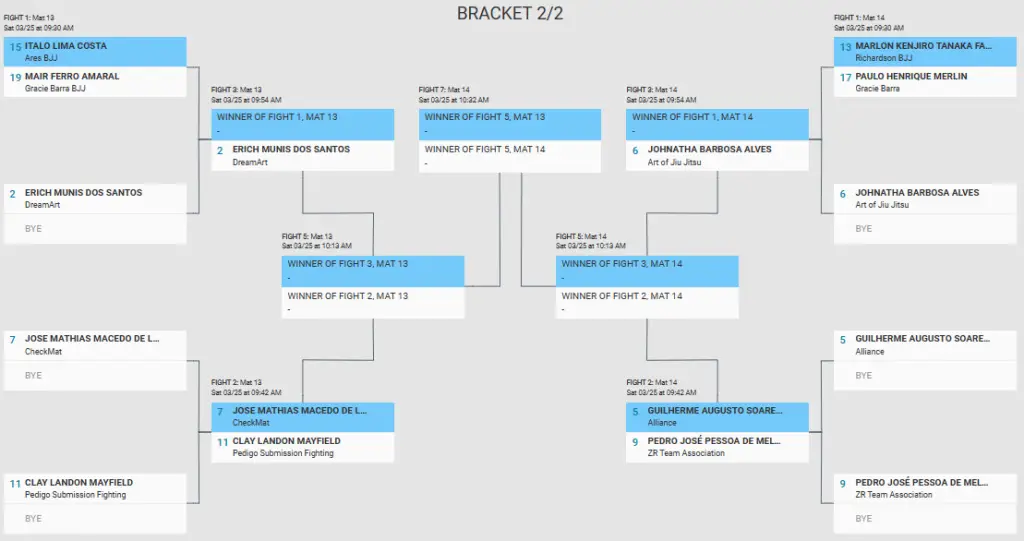 Women's Division