As the weeks ticked by, Mark Gutierrez began to understand that the BJJ gym closures weren't ending anytime soon. His gym in Monterey, California, which had clawed tooth and nail to get into a bigger space and acquire its first one hundred students, was just getting on a roll in March before being ground to a halt due to closures.
"We were so close. California had gotten up to phase three, gyms could reopen at phase four. I thought we were home free, but we've been going backwards ever since."
As the state experienced a resurgence in COVID-19 cases, the county returned to a lockdown for gyms, this time for the foreseeable future. While Mark made do with private lessons and online classes, his gym memberships continued to drop off until he could not pay his full rent. It was then he did something he said he would never do, he started a GoFundMe to raise rent money.
"The memberships were dropping off, I kinda just had to make a choice. I didn't want to do it. It felt gross. I like exchanging value for money. I want to give you something. But it's not smart to have a big ego in a pandemic. It's not like I burned my business to the ground and am asking for money."
Mark was humbled by how much came in, nearly $20,000. He says it made him emotional and committed to staying open no matter what.
"The ultimate goal is to just to keep the gym alive. I'm not going to shut my doors. I'll mow lawns if I have to. If we can just hold on, when we get out of this there will be such a demand."
Mark is one of the thousands of gym owners bracing for a long, dark winter as a business owner. Like many, he's grappling with balancing safety and following the law against the financial reality of staying in business. JitsMagazine interviewed three such gym owners that have either closed partially or permanently about the existential threat facing jiu-jitsu businesses in America.
". . .around four of five weeks, people started contacting us asking to cancel their membership. We started to get that it was going to be a problem."
Gracie Jiu-Jitsu St. George, Utah
In southern Utah, right on the border of Arizona and Nevada, Jake Johnston is still reeling from seeing his thriving school of nearly two hundred students closing its doors for good after two months of lockdown. Jake, a Pedro Sauer black belt who began training in 1992, left a stable job in architecture to create GJJSG with his student Ian. With an initial investment of $30,000, the two bet big on their new venture. Jake had sold his house, his mother passed away in his basement, and he had a child the same year GJJSG opened.  Opening his academy in 2018, Jake said it was the hardest year of his life. Things were beginning to pay dividends when March of 2020 changed everything,
"We were pulling in tons of people, everything was going well. When I heard it was a pandemic, I didn't know how serious it was gonna be. I closed the school down for two weeks initially, I was hopeful we would come back. But around four of five weeks, people started contacting us asking to cancel their membership. We started to get that it was going to be a problem."
Jake says that at six weeks, he knew that they were dying. By the time their affiliate partners (Gracie Academy) began doing virtual classes, the 200 students they had fought to acquire over two years was just 30 or so. Jake went to his landlord, but they were not cooperative. They instead secured a Paycheck Protection Program (PPP) loan, but with no long term plans to ease restriction on training, PPP would not be enough to keep them afloat.
When asked if he considered simply defying local ordinances and staying open, Jake admitted that it was on the table,
"I think a lot of people here, including myself, called BS on a lot of this stuff. I don't think that COVID is big threat, that's my opinion. I've been training every day. I trained with one guy who I found out had COVID, and I didn't get it."
Jake wonders if he would have stayed partially open, if he could have stayed in business. But he admits that he took it very seriously, until about a month in when he began to wonder if COVID was overblown in the media. But by then, it was too late. While many students have encouraged Jake and Ian to press on, they admitted they are tired. Each of them have been teaching every night for two years. Jake is 47. With their lease almost up, starting over by locking into another four year deal was discouraging. Jake is now teaching some morning classes at a nearby school.
". . .[our landlord] basically told us in an email to start looking for another job to pay our rent. They weren't very supportive at all."
Bellum Brazilian Jiu-Jitsu, Minnesota
Like Jake Johnson, gym owner Derek Barlow was mostly on board with the closure of his school for a few weeks, as were his students. But after learning about his state's "phased reopenings" he realized that in all likelihood, they would not be open until at least October. Derek didn't feel good about continuing to collect monthly fees from his students. Not only did he stop accepting people's cash, he actually refunded everything he had collected since the beginning of the lockdown. It amounted to several thousand dollars.
Derek's landlord was not prepared to be as altruistic. When Derek reached out to them asking what kind of payment options he had for a closed business, they replied in a terse email,
"They basically told us in an email to start looking for another job to pay our rent. They weren't very supportive at all"
At their lowest point, Derek, a black belt under the Zenith organization (Robert Drysdale), notified his students that Bellum would be closing their doors. Derek said he asked his students about online classes via zoom, but the response was lukewarm. He says it was rightfully so, not feeling particularly confident in student's ability to learn jiu-jitsu without some sort of contact training.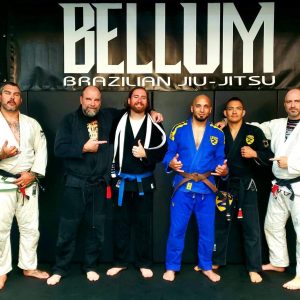 But as the state of Minnesota continued to refine their regulations, an updated guidance proved to be the saving grace for Bellum. The state clarified that if partons of businesses are physically exerting themselves, they are exempt from mask requirements. Derek and his instructors decided that it was enough leeway to justify re-opening on a limited capacity and schedule. He says that if the state wants to shut him down again, they'll have to come get him,
"You can close me down by force, but I'm not going to put myself through this again."
With their savings wiped out and the gym operating at about 80% capacity, Derek says it will be a long winter, and they will have to find a way to get away from their landlord into a new building. Derek applied for but was denied a PPP loan. Hesays that COVID has disillusioned him about a lot of things, particularly the government. He says local bars and even small ice cream shops have been fined by the government for staying open, but his gym seems to have escaped scrutiny for now. While he's grateful for that, he says that the state's approach to who gets punished and who doesn't is nonsensical.
Elite Team, California
Back in Monterey, Mark says he was able to strike a deal with his landlord under the sentiment that something is better than nothing. He says he's always been an easy tenant, often making repairs and upgrades at his own expense. The goodwill paid off with his landlord in his time of need. Mark is not doing group classes like Bellum Jiu-jitsu, but has instead invested in some homemade grappling dummies and is holding online classes with them. In Monterey county, indoor workouts are not allowed. When asked about the stigma of solo training, Mark shrugs it off,
"That's the stigma of 'oh I can't get better with a grappling dummy.' First of all, if you're a beginner you don't know what the heck your doing anyways. You're not doing chains of techniques, you're doing basic positions. You can do that with a dummy and make progress."
Mark says he hasn't considered defying local rules, saying that he is taking the safety of his students and his own family seriously. Mark has two children, one of them a newborn.
"If I get sick, that's two weeks I can't be with my family. My wife has to do everything herself. I'm not doing that to her."
Mark says that he is frustrated by the politics and conspiracies that have crept into the COVID conversations. He theory is when people are scared and confused, they search for reasons that make sense to them, not unlike a new student searching for reasons why they are failing at jiu-jitsu.
Mainsteam fitness gyms across the US may prove to be a grim preview of what's to come in martial arts. Gold's Gym declared bankruptcy in May, and 24-hour fitness has closed over 100 gyms and laid off employees, avoiding bankruptcy in June with a $250 million lifeline loan. With the majority of jiu-jitsu gyms being small businesses, low overhead may allow them to stay open longer. But if COVID-19 experiences a second wave in the winter, thousands of them may be peril.