A World Championship is an elusive thing in any sport and BJJ is no exception. There are incredible athletes around the world who have never been able to take home the sport's highest honor at black belt, but that doesn't make them any less incredible. Sadly, the attention usually goes to the winners, not those that fall just short of gold. As a result, we want to shine a light on some of the best BJJ competitors who haven't been able to win a world championship yet.
This one might seem like an unusual inclusion considering how incredibly well known he is, but it's a fact that Tonon has never actually won a world championship in BJJ. He's won five different EBI events and earned a bronze medal in both the ADCC and IBJJF World Championships, but he's never actually come out on top on the highest stage. Now that he's focusing much more on his burgeoning MMA career over at ONE Championship (5-0) it seems unlikely that Tonon will ever win a World Championship. That being said, his ADCC bronze medal only came in 2019 and with Mo Jassim (ADCC organiser) being a fan of his, he should get another chance in 2021 as well.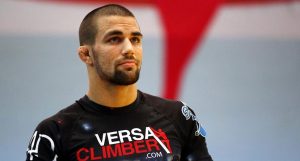 Jones-Leary is a phenomenal young Australian grappler and a black belt under Murilo Santana at Unity Jiu-Jitsu. He has previously won a world championship at brown belt but has not been able to repeat that feat since earning his black belt in 2018, as he was disqualified in the second round of 2019. He did recently put on a fantastic performance at the Spyder Invitational, running through some of the best competitors in the -76kg weight class with relative ease. This performace and Jones-Leary's age mean that he should be destined for at least one gold on the highest stage over the next few years.
Jimenez is another young and relatively recent black belt who seems destined for greatness in the not-so-distant future. He's found repeated success in his journey through the colored belts, winning five world championships both in and out of the gi from Juvenile to brown belt. He excels at hunting for the back and securing the finish when he gets there, having done so in 5 out of 19 wins at black belt. Although he hasn't competed in the highest stages at black belt just yet, Jimenez competes in superfights and minor tournaments often. In fact, he has already beaten elite grapplers like Vagner Rocha, Nicky Rodriguez, Manuel Ribamar, and Fellipe Andrew.
Another unusual choice given his overwhelming popularity, it's surprising that Jones has never managed to win a world championship. Less so, when you consider that he specializes in both Triangle Chokes and Heelhooks, the latter specifically from the Z-guard position, and does not compete in IBJJF tournaments as a result. He has had two fantastic attempts at winning an ADCC gold medal so far, but has finished 4th and 2nd in 2017 and 2019 respectively. An avid competitor on the superfight scene, there's no doubt we'll be seeing Jones make another attempt in 2021 and given his rate of improvement, a gold medal is definitely within reach despite the fact that he'll be 30 at the time of competition.
Rocha is a prolific competitor who seemed guaranteed to take home a world title after winning every major IBJJF event at brown belt. Sadly, life derailed his career in 2014 when he was diagnosed with cancer, although he made a full recovery and very successful comeback the following year. He's fallen just one match short of a world title on several occasions, owning three IBJJF silver medals and an ADCC silver medal. He's had a rough streak lately after losing all of his matches this year so far but is only a year removed from beating the likes of Kaynan Duarte, Patrick Gaudio, Vinicius 'Trator' Ferreira, and Marcus 'Buchecha' Almeida. With only a few years left of his athletic prime, it remains to be seen whether Rocha will finally get that elusive gold medal.
Is there anyone you think was missed off this list or was more deserving of a spot than those included? If so, sound off in the comments below!