The Kimura is an iconic submission that appears and re-appears all throughout BJJ history and always seems to be at pivotal moments. It's enjoyed something of a resurgence over the past decade and that's primarily thanks to American grappler David Avellan. He was a relatively inexperienced MMA fighter with a 2-1 record and a solid wrestling base who had enjoyed some success in smaller-scale tournaments like NAGA and Grappler's Quest. That all changed when he started to perfect his Kimura Trap system in several attempts at the ADCC World Championships, finally earning a bronze medal in 2009. He brought the idea of using the submission from every possible position and using it to transition to other submissions, sweep, and even pass guard to where it can now be seen at almost every elite event.
Although Avellan was pivotal in bringing this aspect of the submission to the forefront of modern grappling, many grapplers have used the Kimura to sweep and submit opponents regularly. One of the most famous usages of this submission in recent memory came at PRIDE 10 in 2000, when Kazushi Sakuraba faced off against Renzo Gracie. Sakuraba had only recently earned his status as "The Gracie Hunter" after beating Royler and Royce, while Renzo was undefeated at the time in his first 10 MMA fights. The undefeated Gracie was caught in Sakuraba's Kimura and refused to tap, forcing him to break his arm which prompted the referee to stop the fight.
This victory cemented Sakuraba's already-growing legacy but the fight was famous for a reason entirely separate to the man who won it. This was because history repeated itself, the fight taking place nearly 50 years after the first time a Japanese grappler broke a Gracie's arm after they refused to tap. This was back in 1951, when Masahiko Kimura caught Helio Gracie in what he would have called "Gyaku Ude Garami" due to his Judo background. Helio, like Renzo after him, refused to tap and ended up having his arm broken in two places while his corner threw in the towel. It was this iconic moment that caused BJJ competitors to give the technique it's name, directly after the man who used it to defeat one of their pioneers.
Although the use of this technique by a Judoka might indicate that's where it's origins lie, the truth is a little less clear. Both Masahiko Kimura and the eventual teacher of the Gracie Family Mitsuyo Maeda had trained with catch wrestlers during the early parts of their careers. They enjoyed sharing techniques between the two arts and even having fierce contests to determine the superior grapplers. It's no surprise then that catch wrestling also has claim to being the originator of this submission, an art where it's more commonly referred to as the "double wristlock".
There were several early proponents of the double wristlock in America, including one of the greatest Freestyle wrestlers of all time and 1924 Olympic gold medalist, Robin Reed. Reed actually used it to pin several wrestlers on his run through the games that year and legend has it that on the boat trip to Paris, he beat all 13 of the US team's wrestlers in friendly matches despite being in the second-lightest weight-class available. He actually spent a lot of time training with another fan of the double wristlock, Martin "Farmer" Burns, a catch wrestler who was widely regarded as one of the best American grapplers of the late 19th century.
Coincidentally, Farmer Burns was also a big fan of trading techniques with the Judoka and cross-training to improve his overall grappling ability. It's this muddying of the waters during the turn of the century that makes it hard to pin down where the submission actually originated. It does seem likely that catch wrestling may be the answer though, given that there was liberal use of a potential precursor to the technique, the Hammerlock. The Hammerlock works using the same basic mechanics as the Kimura but is a more rudimentary version that doesn't make use of he more powerful figure-four grip configuration. The Hammerlock can be seen below in a 1913 correspondence course that was devised by Farmer Burns himself.
It's actually another catch wrestler who is often credited with the invention of the double wristlock specifically, Lorigo "Tony" Morelli during the 1920s. Sadly, there's no way to guarantee which catch wrestler is responsible for devising the figure-four grip configuration that we now call a Kimura, or even if it truly does come from catch wrestling at all. What we do know for certain is that the manipulation of the shoulder in that direction was commonplace in several forms of wrestling and was already being used widely a hundred years ago. Seeing as wrestling itself did not originate in America but was brought there by the Europeans, it only makes sense that this manipulation of the shoulder could be traced back further as well.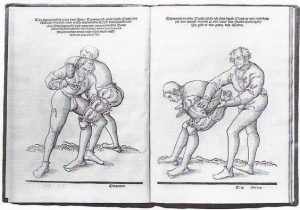 Above is two pages from one of the earliest printed works describing wrestling techniques, "The Art of Wrestling: Eighty-Five Devices" by Fabian Von Auerswald. The book was written in 1537, illustrated in 1539 and printed that same year in Germany. The second page clearly shows a standing Hammerlock, not much different from ones that Farmer Burns would go on to spread around America via his correspondence course. What this shows is that regardless of where the superior grip configuration of the Kimura was invented, the actual shoulder-lock can be traced back to the very early days of European wrestling almost half a century ago and potentially further again.
This piece is part of a series diving deep into the history of various submissions, click here to look through the rest of the series.