Road to ONE 3 is scheduled for September 10th and features two absolute legends of Japanese MMA, Shinya Aoki and Masakazu Imanari. At 37 and 44 respectively, both men are in the twilight of their careers and they provide fans with fond memories of the best promotions that have ever staged events in the East. Both men are incredibly well-travelled having fought for more major promotions than most fighters ever will, with over 110 professional MMA fights and 80 wins between them.
Aoki (44-9(1)) started his career fighting for DEEP before becoming Shooto Middleweight champion, fighting several times in PRIDE while defending that title. He's also well-known for being a finalist in the first DREAM Lightweight Grand Prix, a championship he would go on to win after losing in his first attempt. Along with the odd fight for Strikeforce, Bellator and RIZIN, Aoki moved to ONE FC in 2012 to become their Lightweight champion and even challenged Ben Askren for the Welterweight title at one point. The Judo black belt, BJJ black belt and A-class Shoot Wrestler will face off against Kimihiro Eto at Road to One 3.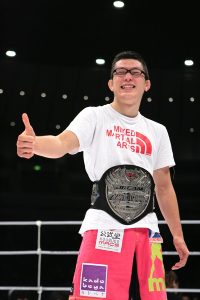 Imanari (38-18-2) is a fellow A-class Shoot Wrestler who was a pioneer of the leglock game in MMA, coining the Imanari roll. He started just a little earlier in 2000 and fought for Pancrase, Zst and DEEP in the beginnings of his career, including a short time in PRIDE. He managed to win a DEEP grand prix, becoming their Featherweight champion before also winning their Bantamweight championship and the Cage Rage Featherweight title. Like Aoki, he too made it to the final of a DREAM grand prix, but in the Bantamweight division and even featured in two more grand prixs for the promotion over the years before eventually moving over to ONE FC in 2018. Imanari will take on Yuta Nezu at Bantamweight in his first fight in well over a year.
Road to One 3 Announced Fights
Shinya Aoki v Kimihiro Eto – Lightweight 
Yosuke Saruta v Yoshitaka Naito – Strawweight
Hiroyuki Tetsuka v Gunther Kalunda Ngunza – Welterweight
Masakazu Imanari v Yuta Nezu – Bantamweight
Asahi Shinagawa v KING Yusuke – Strawweight
Naoya Kuroda v Arii Shoa – Strawweight
For the latest information on Road to One 3 and any other ONE FC events, click here.