Quintet 4 is scheduled for September 10th, 2023 and we've put together a full preview of this blockbuster event that will mark the promotion's return after over two years away. A lot of effort has gone in to making this one of the biggest grappling events of the year, and there have been some changes made as a result. Quintet will now be streaming on FloGrappling for the very first time, but the production value of the event will be just as high as it always was. The promotion hasn't changed what works though, as the rules that made Quintet such a popular event in the first place have remained the same.
Quintet 4 Full Preview
The original lineup was announced quite some time ago, but it has undergone a few significant changes since then. Not only have individual team members changed for some of the teams, but New Wave Jiu-Jitsu actually dropped out of the event entirely. Seeing as that team originally looked like one of the favorites to win the tournament, this was naturally quite a blow to the event. Thankfully the promotion managed to book equally impressive replacements in the form of B-Team Jiu-Jitsu. Now the lineups for each of the four teams competing at the event have been finalized in time for this preview, and Quintet 4 looks every bit as exciting as it did when it was first announced.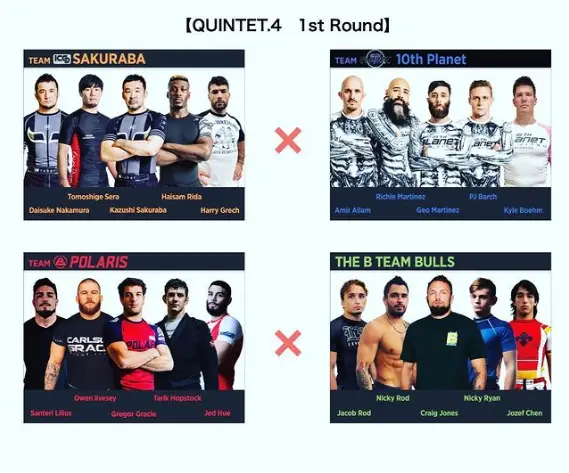 Team Sakuraba
This team is led by the founder of Quintet himself, Kazushi Sakuraba. Along with creating the rules; Sakuraba is more experienced under them than anyone else at the event, with 4 appearances even before he steps on the mats this time around. That might not be enough for him to lead his team to success at Quintet 4, as the lineup he's brought with him are the underdogs in this preview. It would require some great performances for Team Sakuraba to beat any one of the other three teams, so beating two of them and winning the event seems pretty unlikely.
Key Members
Haisam Rida is the best hope that Team Sakuraba has of taking home the win here, and he's more than capable of winning a few matches at the event. While that might not be enough to see his team to victory, he'll still probably have a good night on the mats himself. Outside of that, Harry Grech is their next best hope of making it to the final. There are a lot of tough matches waiting for him in every team at Quintet 4, but if Grech is able to show up in his best form then he's the other key member identified in this preview of Team Sakuraba that could help push them to victory.
Full Lineup
Kazushi Sakuraba
Haisam Rida
Tomoshige Sera
Daisuke Nakamura
Harry Grech
Team 10th Planet
10th Planet have competed in several Quintet events and their individual team members have more experience competing in this ruleset than the majority of the rest of the field. They're a strong team with several ADCC veterans among their ranks, and that advantage in experience could be enough to see them through to a victory. A few things would have to go right in order for Team 10th Planet to win the whole tournament but they should at least make it to the final. They're not the clear favorite to win in this preview of Quintet 4 but they're not far behind either, 10th Planet are more than capable of causing a minor upset and claiming their second Quintet title.
Key Members
PJ Barch has been on fire lately and has really turned the corner in his career, becoming one of the top competitors in his weight class. He's at a nice weight where he's not so big that his matches will be any shorter, but not so small that he'll struggle to cope with the bigger men in the opposing teams. Barch is capable of getting a few wins here so long as the matches line up well for him. Geo Martinez is the other key member we'd pick in this preview, thanks to his epic performances at previous editions before Quintet 4. He's small enough to get short matches against big grapplers and his constant threat of submissions means he's a dangerous opponent for anyone.
Full Lineup
Geo Martinez
Richie Martinez
Kyle Boehm
PJ Barch
Amir Allam
Team Polaris
Although Team Polaris also have plenty of Quintet experience in the past, the actual lineup we'll be breaking down in this preview has changed significantly ahead of Quintet 4. They have a tough opening round match against the favorites in B-Team, but if they can get past them then they may very well win the whole thing. It's a big ask, but there are some fantastic grapplers representing Polaris and each one of them is capable of pulling off a win against top competition individually. For Polaris to add a second Quintet title to their collection, every member of the team is going to need to put in a great performance.
Key Members
Tarik Hopstock has a fantastic straight ankle-lock and given that the Quintet ruleset prohibits the use of heel hooks, this is the ideal ruleset for him to shine under. He may very well surprise some of his opponents that are usually regarded as better leglockers, and he can submit anyone who gets sucked in to trading leg attacks with him. Jed Hue is an equally exciting competitor who constantly hunts for the submission finish at a fast pace and although he might get caught himself, he could rattle off a few quick wins if things go his way.
Full Lineup
Gregor Gracie
Owen Livesey
Tarik Hopstock
Santeri Lilius
Jed Hue
The B-Team Bulls
B-Team Jiu-Jitsu are coming into this tournament as the favorites to win the whole thing, their competitors have enjoyed the most success at the highest levels and there are no clear weak links in the team. Every single member of the B-Team lineup is capable of winning a few matches regardless of which team they come up against at Quintet 4, so everything points to them getting the win in this preview. That's part of the beauty of Quintet though, just one lucky win or great performance is enough to inspire a team to victory and nothing is guaranteed.
Key Members
Craig Jones and Nicky Rodriguez are the biggest threats in B-Team identified in this preview and as ADCC 2022 silver medalists, they've both accomplished more than anyone else at Quintet 4. It's going to be tough for anyone to beat either of these men, but the beauty of Quintet is that a draw is good enough to take them out of the match. While on paper it looks like both Jones and Rodriguez should get a few wins at the event, it's not outside the realm of possibility for them to get stalled to a draw in their opening matches.
Full Lineup
Craig Jones
Nicky Rodriguez
Jacob Rodriguez
Jozef Chen
Nicky Ryan
The full Quintet 4 event, including every team detailed in the above preview, is available to watch live on October 10th, 2023 on FloGrappling.