A few weeks back I was talking to Magid Hage for an interview and towards the end of the call he pauses to ask if I wanted to talk to the wristlock aficionado himself, Pete 'The Greek' Letsos. I gladly took him up on his offer and we got to talking before Hage and I wrapped for the day. I only had a few minutes with him but we ended up discussing mindset, general advice and of course; wristlocks:
Hi Pete! 
Pete 'The Greek' Letsos: My Last name is The Greek. 
Haha! Nice to meet you Pete The Greek. I have a training partner who is obsessed with your instructional "Wristlock the World" and now uses them with pretty brutal efficiency on all of us. What made you get so into wristlocks? 
Pete 'The Greek' Letsos: So my first introduction to wrist locks I learned was from Carlson Gracie. It was a self-defence wrist lock and when I felt it, I was like "Whoa this REALLY works". Other wrist locks I'd seen before you'd have to turn your back and judo throw the guy to finish it. So that one was pretty cool. A few years after that I was living in Brazil and training with Master Osvaldo Alves who liked wrist locks too. He had really cool stuff and I found them really interesting. 
20 years goes by and you know Carlson has passed away, Osvaldo is down in Brazil and I go back down to visit him. I see the same wrist locks I'd seen before and its just made me think like…I need to pick a move and master it. 
Gotcha. When did you first start training Jiu Jitsu? 
Pete 'The Greek' Letsos: Like 13/14/15 probably. Started officially at a Gracie school. 
What made you want to train? 
Pete 'The Greek' Letsos: The UFC. I saw Royce Gracie doing what he did and then a few months later they moved to town. 
Were you under Carlson throughout all your belts? 
Pete 'The Greek' Letsos: Oh yeah. I was Carlson all the way. A lot of Carlson guys cross-trained at Osvaldo Alves too. All the top guys at Carlson's school would go over and get training there too. I trained everywhere though, I guess. My team split apart. It was like the green light to go everywhere. I bounced around Brazil and the US going to a bunch of gyms at that point. Some in Europe but Europe at that time BJJ was a bit spread out.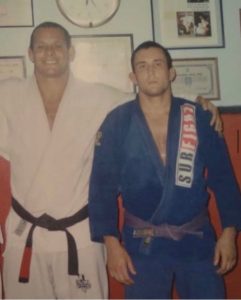 When you were on Daniel Strauss's podcast you mentioned back in the day if someone went for a leglock it was totally acceptable to punch them in the face. Can you talk about that a little more?
Pete 'The Greek' Letsos: The way we came up was, well… Carlson always said "If a guy is going for your legs he can't pass your guard" so as a result of that we had a rule. You punch or you pass. If you can't pass then you punch, if you can't punch then you pass. So same mentality with leglocks. If you look back to BJ Penn in the early 2000's in Orlando at a tournament he got DQ'd for that. Some fool tried to footlock him and BJ clocked him in the face. It's just how we grew up. Someone goes for something dirty then you just punch them in the face. 
What do you think about that approach now? Now that BJJ has evolved so much and the leglock game has evolved..
Pete 'The Greek' Letsos: The way we came up at Carlson's was always thinking about a fight. Thinking about punches from every position. So if you go for a leglock at Carlson's you understand where you can and can't get hit. The moves you try to do need to be two or three steps. If it's more than three steps you are going to get your head punched off. 
Do you like that mentality? Would you like to see a return to that on a wider scale? 
Pete 'The Greek' Letsos: Yeah everyone is looking for a quick fix. Like that you are somehow going to just walk up to a dude and triangle him. I mean Royce used to do that but.. 
Magid Hage: Everything works until it doesn't!
Pete 'The Greek' Letsos: Yeah exactly. There's always holes in the game no matter what you do. But back to your question, for me, it's what Carlson taught. Take the guard. The guard is to protect your face. You aren't going to protect your face by spinning and going upside down. Can you defend your face from there? 
If you can't that's not a great defensive guard. You have to manage the distance. Otherwise if it's a fight you are going to get soccer kicked in the face from there. Get on top, if you are on the bottom get to your feet. Just…there's a lack of using strikes well from the bottom. We see it every now and then in MMA but it's something a lot of guys don't figure out. Carlson was good at that. 
We see it every now and then for sure. An example that sticks out to me is Kevin Holland knocking out Jacare from the bottom. Did you catch that fight? 
Pete 'The Greek' Letsos: Haha you know your stuff. Yeah I watch it all man. That was a crazy finish. 
I think another example that comes to mind is when Kron Gracie fought Kawajiri in Rizin back in 2016. He pulled guard and was really offensive off his back. Very aggressively attacking and looking for the finish. 
Pete 'The Greek' Letsos: Heel strikes, elbows, yeah man it was brutal. Those heel strikes to the kidney looked like they sucked. 
Last question, I know you guys gotta go soon: What is your advice for people new to Jiu Jitsu? 
Pete 'The Greek' Letsos: White belts should focus on making friends. Make friends with higher belts and people that are better than you. Make sure they like you. If they dont you can still get good you'll just have gnarly cauliflower and everything. If you want to get good at a move, chances are that there is someone at your gym that is good at that move and can show you… OR you can go to BJJ Fanatics and check out my instructionals.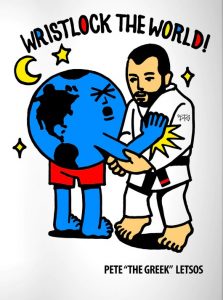 But yeah man. Like Gorilla Hands (Magid Hage), he's good at the baseball bat choke because he's good at it. If you want to be good at it, be nice to him and he'll show you. That's how I got good, you know? Just from my friends showing me what they were good at. 
Be a good person, make lots of friends, get good at their moves. Chances are if you are friends with someone – you know their stuff. If you don't…you probably aren't friends. If someone says they are friends with Magid and they have a shitty baseball bat choke or like if they say they are cool with Dean Lister… well then they better know some damn leglocks. 
Magid Hage: Pete the Greek is the American I know that knows the most about Jiu Jitsu!
Pete 'The Greek' Letsos: Oh thanks man haha
Thank you so much for taking time out of your day to chat with me. I appreciate the opportunity to talk with you. 
Pete 'The Greek' Letsos: Appreciate you man! 
Follow Pete 'The Greek' Letsos on Instagram at @Petethegreekwristlocktheworld and find his instructionals at BJJ fanatics.