I spoke with BJJ black belt and recent Trials silver medalist Magid Hage IV on his recent ADCC run, surfing, and running his new school Surfight. Magid has made waves in years past with his notorious efficacy of the baseball bat choke (instructional found here) but has showcased his complete game in the lead up to ADCC Worlds in Las Vegas this year. The next opportunity to see Magid Hage competing at the highest level will come at Polaris 19 in Southampton, England on March 26th where he will take on Roberto Jimenez shortly before he makes another attempt at glory in the ADCC West Coast Trials on April 1st and 2nd. 
Thanks for taking the time to speak with me today, I've been a fan for a long time so this is a really cool interview to do for me. 
Magid Hage: Oh yeah man, that's cool to hear. 
So to start off – you've been competing forever right? Your dad had you in tournaments as a little kid? 
Magid Hage: Yeah, I started competing at 11. My dad trained a lot and surfed a lot back in the day. So I just started both really young as well. 
You competed a lot for a long time and then it seems like you took a step back to travel, do seminars, and open your gym Surfight. What made you want to come back to do ADCC? 
Magid Hage: Well I always competed a little bit. The last tournament I did was in November 2019 but I just really wanted to do ADCC. I like the rule set of the event. It lets me fire off submissions for the first half of the match and not really care. The rules are fun, the event is going to be huge this year. I just wanted to be a part of it. 
It's been so much fun watching your run at Trials this year. You've had a really good showing and you've caught a ton of subs across the Trials you've been in. What has this winning tear been like for you? 
Magid Hage: It's been fun man. I opened my school two years ago so I've just been setting that up. I've had a lot of homies come through like Jeff, Pete, and Joel. Joel teaches some crazy classes and even AJ comes down and teaches too sometimes. I've had a really cool experience these last two years on the mats where I've just tried to copy other peoples styles. Just trying to see if I can pull off their shit. It's been a lot of fun to just be in the lab and then come back to see what works. 
It's been a lot of fun watching you try that new stuff. You are obviously famous for the baseball bat choke but it's been awesome seeing new stuff make an appearance. Like that toehold you caught at trials. That guy tried to invert on you and you crunched his foot in a toehold – that was gnarly. 
Magid Hage: Yeah dude it was nuts. 
That might still be the fastest sub in Trials this year right? 
Magid Hage: Yeah it was something like fifteen seconds. 
Did it feel as bad as it looked when you caught it?
Magid Hage: Dude it was gross. I broke it. The foot broke before the heel in the middle of the foot. Usually with a toehold it's these three big pops. Like "POP POP POP" but this one just cracked right down the middle. I let go as he said stop but…it was just crazy. I have really big hands so you know when I get that grip it's just right there. 
Oof. Yeah that was a rough one to see. For people that don't know, Magid has giant hands hence the moniker "Gorilla Hands" as his Instagram tag. I'd imagine when you get a toehold there aren't a lot of great outcomes for your opponent once that grip is established.  
Magid Hage: Yeah man haha. Big hands and toeholds just work so well together.
For sure. Bit of a segue… what has your preparation for Trials been like? 
Magid Hage: I mean… I just teach and surf everyday. I surf in the morning and I teach at least two to three classes a day in the afternoon/evening.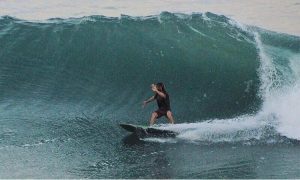 So not a super structured camp? 
Magid Hage: Nah. I've been trying to establish my school for the last two years. Just training with my students and getting homies to come over and train since I'm here all the time now. I have one day off and that's when I'll go visit one of the homies at their spots. Otherwise I just rest. I have some pretty sick students though. A few of them are going to go up with me and do the West Coast Trials too.
You have multiple instructionals out, have there been things you've worked on for Trials we might see in another instructional video? 
Magid Hage: I gotta see how I want to organize it. I have some ideas on what I'd like to do but I'm working on how I want to set them up. People definitely want to see a guard one so that'll likely be next up. 
Awesome. Looking forward to it. I saw when you were in Brazil you took a class with Master Osvaldo Alves at his school – what was that like? 
Magid Hage: Oh man, it was cool. I always try to visit when I am in Rio. Usually every time I go he shows me three things I've never seen before that work really well. Back in the day he got to go to Japan and I think because of that he got to learn a lot of crazy shit. It's like secret techniques that no one else really knows. 
Yeah I have to imagine that's a trip. The fact that he can regularly show you stuff that is entirely foreign must be a crazy thing to experience. 
Magid Hage: Yeah like I've been training forever and it's rare for me to see stuff I haven't seen before. But every time I go he shows me stuff I've never seen before and it works. Like it works on the best guys around. He's got cool stuff and cool drills. Mindset, pressure, he's just really cool. 
Totally. We've mentioned your school but I'm curious how the process of opening and running it has been. You opened it with Joel Tudor right? I used to see him in surfing magazines as a kid growing up so when I found out he was super into BJJ it was just the coolest thing for me to see. 
Magid Hage: Yeah haha. Uncle Joel. He's so good at Jiu Jitsu it's crazy. He and I hang out a lot and some of the surfing people we know think he just trains a couple times a week but he TRAINS. That dude is there. Every. Single. Class. Every class. Two times a day most of the week. He's really active and it's just so much fun to run the school with him. His Jiu Jitsu is very aggressive and straightforward – just a killer mindset and approach. He also just studies a ton. Books, videos, researching, always trying to learn more and stay up to date with what is going on. 
After ADCC do you think we will get to see you do more tournaments in the gi? 
Magid Hage: I love the gi. I just think that sometimes people get too focused on winning…which is the ultimate goal obviously but as far as entertainment, people want to see a scrap. That's why I think wrestling is so cool because people have to go for it and there are a lot of resets. In Jiu Jitsu people settle and stall and they make the match boring. It's also a lot of wear on your body to compete in the gi. I'll probably just stick to Worlds from now on. Do a few others to qualify and then get in there with the best of the best. 
I love the whole "Nobody Has More Fun" thing you've been talking about as of late. How did that come about? 
Magid Hage:  (Jeff) Glover man! Glover came up with that slogan and I stole it from him. We steal stuff back and forth for whoever it works best. Me and Pete the Greek and him. It's just the vibe I have been pushing this whole Trials season. I expected to win the first one and didn't and definitely didn't anticipate doing all of them. But so far if I win a match I win dominantly and the ones I've lost – they've been super close.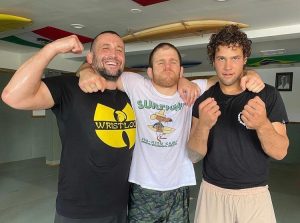 Yeah, very close. You mentioned in an earlier interview that you feel the best when you just go out, have fun, and try to smash the other guy and submit him. 
Magid Hage: Yeah well everyone knows the top guys train all the time and that the top guys can probably cruise control through matches if they are conservative. But like nobody wants to see that. They want to see the top guys risk it and go for stuff against the other top guys. People want action. A lot of people at Trials have felt like they are waiting but to me it's like "What are you doing? There are 3 minutes left – let's go and get after it". 
With that in mind do you like no time limit sub-only rules over a points focused ruleset? 
Magid Hage: No, not really. I think it's less about the rules and more about the fighter. If you fight Kade,Tye, Jimenez, or Gary all those dudes go for it. They want it. But some people try to play it. It is what it is. There's no point with the guys that pull 50/50 in the gi and want to have a 2 hour match. 
Speaking of Jimenez you have a match against him at Polaris 19 on March 26th. How do you feel about that matchup? 
Magid Hage: Fireworks. It's going to be fireworks. 
Do you have a prediction as to how it goes? 
Magid Hage: Haha someone is going to tap. We're going to go for it. 
Haha that's probably the best response for the question. Total non-sequitur but are you still doing yoga? I know that was something you were really into a few years back. 
Magid Hage: Yeah I am. Yoga is good. I think it really works for Jiu Jitsu because of the awareness of your body and how it moves. A lot of people are missing that. It just helps. It helps with surfing, with Jiu Jitsu, just developing good body awareness.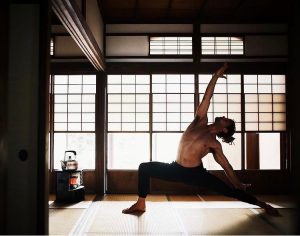 What advice do you have for people in jiu jitsu? Competitors and hobbyists alike? 
Magid Hage: Haha come to Surfight and try a class! Nah, but seriously people need to learn how to flow roll and learn to chill out with it. Jiu Jitsu is fun. Make it fun. You can't try to win every roll because then you won't be able to train forever. 
Anything else you want to cover? Any sponsor shoutouts? 
Magid Hage: Surfight haha. Nobody has more fun than us. That's it. 
Perfect. Thank you so much for taking the time to talk with me. This has been really cool. 
Magid Hage: Yeah man. Thank you!
Follow Magid Hage for the latest news from him on instagram @Gorilla_Hands, his gym @Surfight, and check out his instructionals here.