What is the best way to improve your BJJ game? Is it perfecting drills? Learning the latest technique? How about sparring? All of these are extremely important in the development of a BJJ athlete. The most important tool that you have at your disposal is conditioning.
The first time I heard that statement was about 12 years ago. I was in Columbus, Ohio listening to Frank Shamrock speak during a seminar. He posed the question to the audience about what they thought the most important attributes a fighter needed. As you would expect, many different answers were given; skill, power, strength, explosiveness and heart were all mentioned.
Frank addressed the crowd over the microphone. He agreed that all of the aforementioned skill sets are significant factors to a fighter's career. He was quick to point out that the key to his success was to "not run out of gas" while in the cage. The answer I heard surprised me. Once I started training it did not take long to figure out exactly what Frank meant.
If you have ever done any kind of sport or athletic activity, you realize that being well conditioned leads to better performance. BJJ athletes are no different. If your conditioning is spot on, you don't fatigue. If you are not tired, you don't make mistakes. Therefore, it makes sense that you fight better. It really is a straight forward concept… or is it?
Well it is not quite that simple. You do need to know a few basics to get you in peak cardio condition.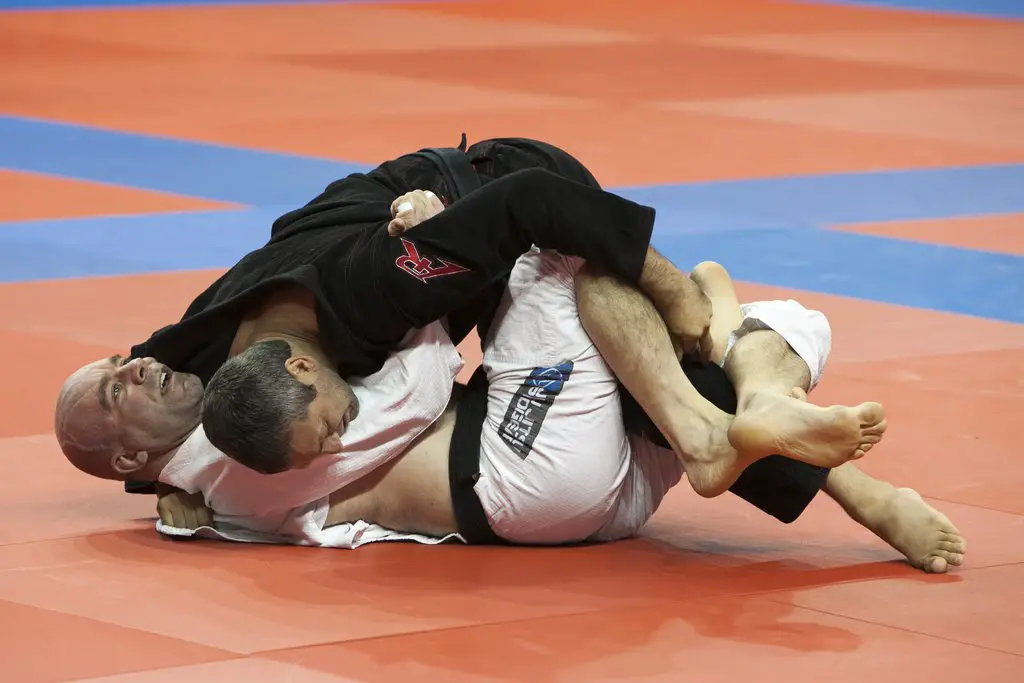 1) The Difference between Aerobic and Anaerobic Training
Most people spend countless hours in the gym on treadmills, bikes or elliptical trainers. The vast majority of these people are conditioning the aerobic system. Basically, aerobic activity means that your body is using oxygen (as a fuel source) to perform low to moderate intensity exercise over an extended duration. This is the most popular and common type of cardiovascular exercise.
Anaerobic exercise does not require oxygen. Sprinting, shot put and discus throw are just a few examples of anaerobic sports. This type of training requires the athlete to perform high intensity, short duration activities. The time frame ranges from just a few seconds to about 2 minutes in duration.
2) When to use Aerobic Training
There are several instances that you would use aerobic training. Aerobic training is excellent for someone who is looking to get baseline conditioning (ie: a beginner or after coming back from a long training layoff etc.). It is also a great method of weight control (particularly with heavier weight class athletes who cut weight for tournaments). The frequency and time of exercise will be dependent on your current level of fitness. For most healthy individuals, 3-4 times per week with 15-30 minutes sessions in duration are adequate. Base conditioning should only be performed for 4-8 weeks maximum.
3) When to use Anaerobic Training (interval training)
Anaerobic training is usually used after you complete your baseline conditioning (aerobic) phase. Intermediate and advanced athletes will be able to train more efficiently due to previous exercise experience and fitness levels. The frequency and duration are slightly different than aerobic. Two to three times weekly is almost always sufficient. Your work period will consist of 30-40 seconds, while your recovery phase will be between two to three minutes (longer if necessary). The total amount of repetition or intervals will vary. Four to six total repetitions is a good starting point for most people.
*Please do not guess what may work for you. Consult a certified trainer for specifics on programming.
Aerobic Exercise
| | |
| --- | --- |
| Pros | Cons |
| Base conditioning. | Boring. |
| Comfort level when starting | Takes a long time to complete. |
| Weight control (for heavier weight class athletes). | Can be hard on the joints (knees, lower back). |
| Confidence. | Muscle loss (if done too long). |
| Varied equipment. | Only works for a limited time. |
Anaerobic Exercise
| | |
| --- | --- |
| Pros | Cons |
| Efficient (short duration). | Can be unpleasant (hard workouts). |
| Excellent results. | Increased risk of injury. |
| Increase in performance quickly. | Hard to motivate yourself for workouts. |
| Decrease in body fat and maintains muscle. | May need trainer to optimize training. |
| Takes less time (vs Aerobic). | Excessive fatigue (if not training properly). |
Understanding the basics of cardio conditioning and how to implement proper programming, will help you develop a "competition ready" fitness level. I guess Frank Shamrock had it right over a decade ago when he said if you want to win, make sure your gas tank is full. Time to go fill up!
Words by Dan Sammit
*Consult your doctor and get medical approval before beginning any fitness and / or exercise program. Instruction or advice obtained from this article may NOT be used as a substitute for your doctor's advice or treatment.
For more of our opinion pieces on various topics, visit our opinion piece archives.