BJJ Stars 11: Women's Heavyweight Grand Prix is scheduled for September 9th, 2023 and we've put together a preview of both the stacked tournament and the superfights. There's a grand prize of 100,000 Brazilian Real available for one of the 8 women competing, but they'll have to win three matches in a row against some of the toughest opposition on the planet. In order to give those who progress to the later rounds the opportunity to get some rest between matches, there will also be a series of 6 superfights between some of the best gi competitors available.
BJJ Stars 11 Full Preview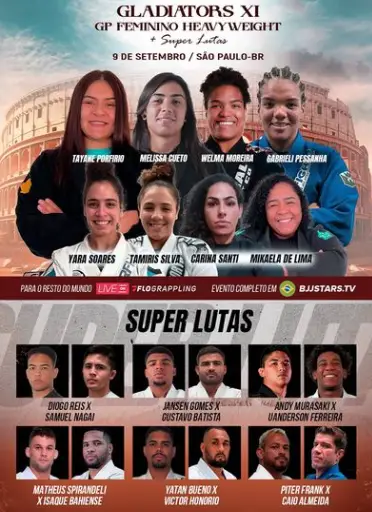 Women's Heavyweight Grand Prix
The lineup for the Women's Heavyweight Grand Prix at BJJ Stars 11 is full of the best competitors in that weight class, but even then there's a pretty clear favorite in this preview. Whenever there's a tournament in the heaviest weight classes of women's BJJ in the gi over the last few years then there's one woman who's been absolute unstoppable. She's won everything there is to win multiple times over, and Gabrieli Pessanha is always going to be the favorite when she steps on the mats. It's still not going to be easy for her though, and two of the women in the lineup have actually defeated her before.
Yara Soares has competed against Pessanha 17 times in the past and although Pessanha does usually win, Soares has managed to get 4 wins against her so far. BJJ Stars 11 might very well be the night Soares wins again, but there's another woman in this preview who has a win over Pessanha too. Tayane Porfirio has a 1-2 record against Pessanha and she'll undoubtedly be eager to level the score if she gets the opportunity. These three women represent the most likely winners but Melissa Stricker Cueto, Carina Santi, Tamiris Silva, Welma Moreira, and Mikaela Barros are all fantastic grapplers who could get the win here if things go their way.
Superfights
The Women's Heavyweight Grand Prix isn't the only thing we're breaking down in this preview of BJJ Stars 11, as the superfights booked for the event are equally impressive. All 6 of them will be contested between male grapplers so as a result, the event will be a roughly 50/50 split between male and female matches.
Diogo Reis v Samuel Nagai
Diogo Reis has been unstoppable since he won the 66kg division at ADCC 2022 but Samuel Nagai has been in pretty great form himself over the last year. Nagai has beaten several of the best featherweight grapplers on the planet, all while building up to the high-point of his career this year when he won the IBJJF World Championship in that division. This should be a great match with plenty of action and Nagai will have the slight weight advantage, so he might be able to use that to edge out his opponent in a close battle.
Jansen Gomes v Gustavo Batista
Jansen Gomes is a fantastic grappler anyway but he registered the biggest win of his black belt career in his last outing when he defeated Tainan Dalpra and claimed the middleweight world title. He's not alone though, as Gustavo Batista has also won several major titles in the sport and actually has two IBJJF World Championship gold medals to his name. In fact, he's actually beaten Gomes twice in the past by pretty thin margins. This could still go either way, but we're picking Gomes to get one back in this preview of BJJ Stars 11.
Andy Murasaki v Uanderson Ferreira
Andy Murasaki is one of the top competitors in his weight class and Uanderson Ferreira has been one of the top prospects in the sport for quite a while now. Ferreira has done well on smaller stages but he's lost to a few competitors who are around the same level as Murasaki. It's not as if it'll be a domination, but Murasaki is  still the favorite to win this match.
Matheus Spirandeli v Isaque Bahiense
Matheus Spirandeli and Isaque Bahiense have actually met on the mats several different times in the past, and Bahiense has managed to come out on top every time. They've competed on both the AJP Tour circuit and in IBJJF majors, but Bahiense hasn't managed to submit Spirandeli yet. Both men have had mixed results this year, with Bahiense going 2-2 and Spirandeli going 6-4. It's tough to predict who'll win this match at BJJ Stars 11, but we're backing Bahiense to come out on top again in this preview.
Yatan Bueno v Victor Honorio
Yatan Bueno has really come into his own over the last few years with some great results, whereas Victor Honorio has actually been absent from competition around the same time. Honorio has come back with a vengeance though and the only man who's been able to stop him from winning every match has been Victor Hugo. We're judging Honorio based on his recent performances in this preview and he's the safe bet to win this match at BJJ Stars 11.
Piter Frank v Caio Almeida
This is a really fun matchup between two veteran competitors, both of whom have garnered plenty of respect for their performances. Caio Almeida experience plenty of success on the IBJJF Open circuit at one point and although Piter Frank was also a solid competitor in his own right, this match seems as though it should go in Almeida's favor.
The full BJJ Stars 11: Women's Heavyweight Grand Prix event is available to watch live on September 9th, 2023 on FloGrappling.