Bas Rutten recently did an AMA (Ask Me Anything) on the r/MMA subreddit and his pick for the 'dream fight that he never got' was none other than BJJ legend Rickson Gracie. It's actually not a crazy suggestion either, as the two legendary MMA fighters are around the same age and were both at the height of their powers around the same time. Gracie is only around 5 years older than Rutten and although he did have his first professional MMA fight 13 years earlier than Rutten back in 1980 against Rei Zulu, Rutten was far more prolific throughout his career. He did explain though that there's no animosity involved, and he simply would have loved to test himself against a fellow legend:

Rickson Gracie's second professional MMA fight was a rematch against Rei Zulu that came just 4 years later, but he didn't make his third appearance until halfway through 1994. Bas Rutten made his professional MMA debut at the end of 1993 but by the time Gracie had his third fight, he'd already put together a 5-2 record. Rickson Gracie finished his career in 2000 with an 11-0 record, while Bas Rutten retired due to injuries in 1999 with a 27-4-1 record before winning just one more comeback fight in 2006.
The main reason that the two men never met in competition is because they actually spent their entire careers fighting for different organizations. Rutten spent the majority of his career at Pancrase and even became the 'King of Pancrase' at one point, before he moved to the UFC and won the light-heavyweight title. Gracie on the other hand spent a lot of his career fighting in Japan, first for Vale Tudo Japan and then later for PRIDE. Although Rickson Gracie is a fantastic choice for his 'dream fight', Bas Rutten was asked a similar question about the potential 'hardest matchup' and his answer was slightly different: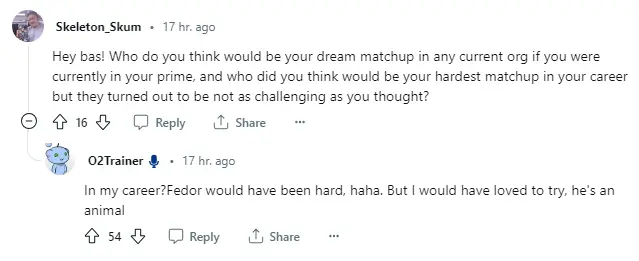 Fedor Emelianenko is another fantastic choice, as a fight between him and Bas Rutten would have been an incredible proposition. This would have been much harder to make though given that the two men missed each other by just a matter of months. When Rutten retired temporarily due to some severe injuries in 1999, Emelianenko was still just a Sambo competitor on the Russian national team who hadn't even made his MMA debut yet. Then by the time Rutten returned for one final fight in 2006, Emelianenko was at the height of his powers ruling over the PRIDE heavyweight division with a 25-1 (1) record and the matchup would've been pretty unrealistic.