We recently sat down with top-ranked brown belt competitor Valor Boyer and the resulting interview has been split into two parts. This is part one, and the second part will be released in the coming weeks.
So in case anyone reading this hasn't been watching a lot of IBJJF tournaments in the last year or so and have missed your performances, can you introduce yourself and give us your background and how the last year or so has been for you? 
Valor Boyer: Yeah for sure. I am Valor Ulysses Boyer, I am currently a brown belt training out of Movement Art under Danny Maira and Nick Salles. And the last year has been pretty f*ckin crazy for me. 
I had a gnarly car accident in September 2020 and I was back to training around June of 2021. Around August 2021 to about mid December of 2022 I did basically every tournament I could. 
I did a bunch of IBJJF opens, I did Gi Worlds, Gi Pans and really hit my stride these last few months winning 2022 NoGi Pans, NoGi Euros, and taking third at NoGi Worlds. 
It's been a hectic last 18 months or so!
Yeah that's a pretty wild timeline for everything to have come together like that. 
I should probably point out that I know you outside of just this interview. I've known you since I was a white belt and you were a purple belt, we met through my coach and mutual friend Dave Grossman. 
Valor Boyer: Great dude.
Yeah Dave is the best. 
But yeah, it's been really really cool to see you out there not just competing on the world stage, but making it happen and getting wins and medals. 
You've always been a tough roll but it's been wild to see what you are able to impose on guys that are at the top of their game in your division. A lot of stuff I haven't seen before when we've trained in the past and it's been fun watching how rapidly you are progressing and refining your game. Especially so with your performances at Pans and Euros. 
Speaking of Euros, you didn't even plan on competing until basically right before, correct?
Valor Boyer: Yeah, Euros came about because of my win and performance at Pans. With that, I was able to secure a sponsorship with Inverted Gear. They've always been good to me, even back when I was a relatively new purple belt they showed a lot of love and gave me a lot of gear. It's awesome to have it come full circle and have them as a sponsor now. I pitched going to Euros which was right around the corner after we negotiated the deal and they made it happen.
I flew out by myself and it was intense. 
But, to go back for a minute to what you were saying before – I have to give a lot of credit to Nick and Danny at Movement Art. 
I came to them as a sort of raw product needing some refinement in my game. I had always trained hard but just wasn't aware of the depth needed to develop the level of strategy necessary for competing at the highest levels. But those guys have helped so much with that to get me where I am and polish me to be at the place that I am.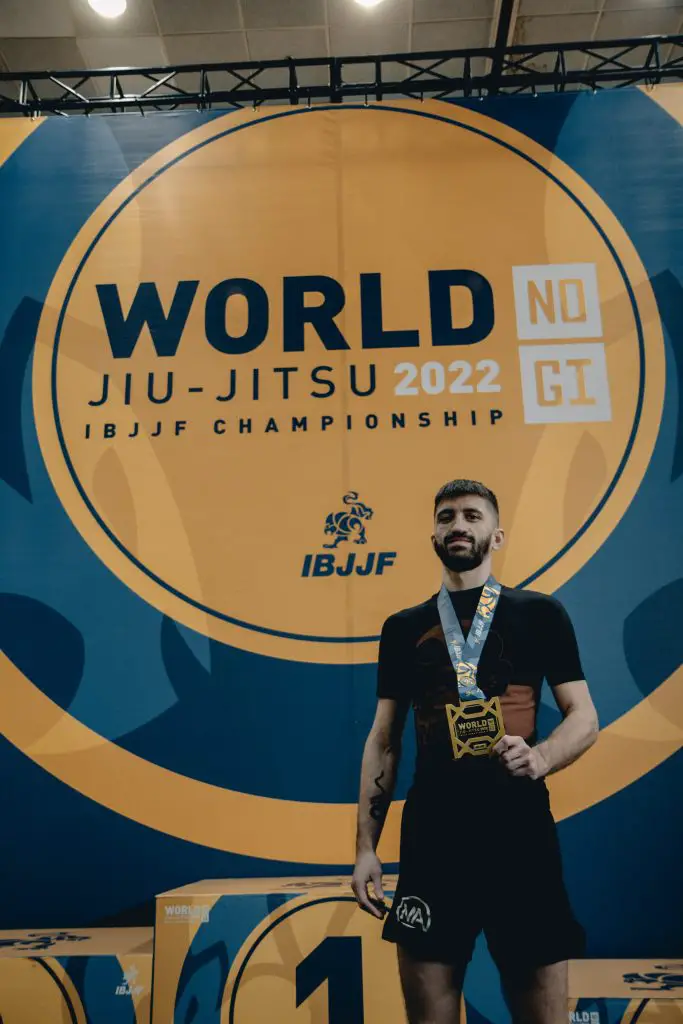 Nick and Danny are beasts. That gym just has so many good dudes always on the mats. I've tried a bunch of times to line something up with my buddy who trains there, Brendan Peck, but it never quite works for both of us. Dylan Royce has been over there quite a bit too it seems, that guy is a wizard. 
Valor Boyer: Oh dude yeah. That guy has ridiculously good Jiu Jitsu and he's also just a phenomenal athlete. 
Totally. I outweigh him by probably 45lbs and he puts the hurt on me every time we roll and I have to count my victories in the amount of times I am able to make him shift his weight or hand fight for grips just slightly longer. 
You definitely see it when they compete too. You guys are all building Movement Arts reputation up really quickly. For a gym with only a few years of being open it's made a big splash at a bunch of the Majors and is gaining a lot of notoriety locally and in general as well. 
When did you switch over to Movement Art? 
Valor Boyer: Just shortly before the car accident in September 2020. Didn't really start training a ton there til I was recovered and back on the mats in May of the following year. 
Okay that tracks. So that, funny enough, means that a lot of the guard stuff I have been working on for the better part of almost 2 years has indirectly come to me through you showing a bunch of the supine guard stuff to Dave around then who then did it to me and made me want to rebuild my guard from the ground up. 
Valor Boyer: Oh supine guard is nasty. Danny and Nick will chase dudes around in that position and like "kip" at them to close the distance and try and force them to engage. It honestly works really well because if the match ends without a submission or any point disparity, the ref is forced with the reality of the situation that one guy on his side practically chased around the other dude still on his feet and pushed the action. It ended up being how I won the finals of Euros because I think a lot of the people I had matches with just didn't know what I was doing.
They would try and blitz and reset when the pass wouldn't work. After a few attempts of that he got a stalling call because he would back up and not really know what to do with it.
After the refs told him he had to engage I was able to get closed guard, I took his back and that was that. 
Any guard you play should be played with sufficient hooks and frames. It'll protect you from neck and back damage when guys try to stack you or smash you. It's just a phenomenal position.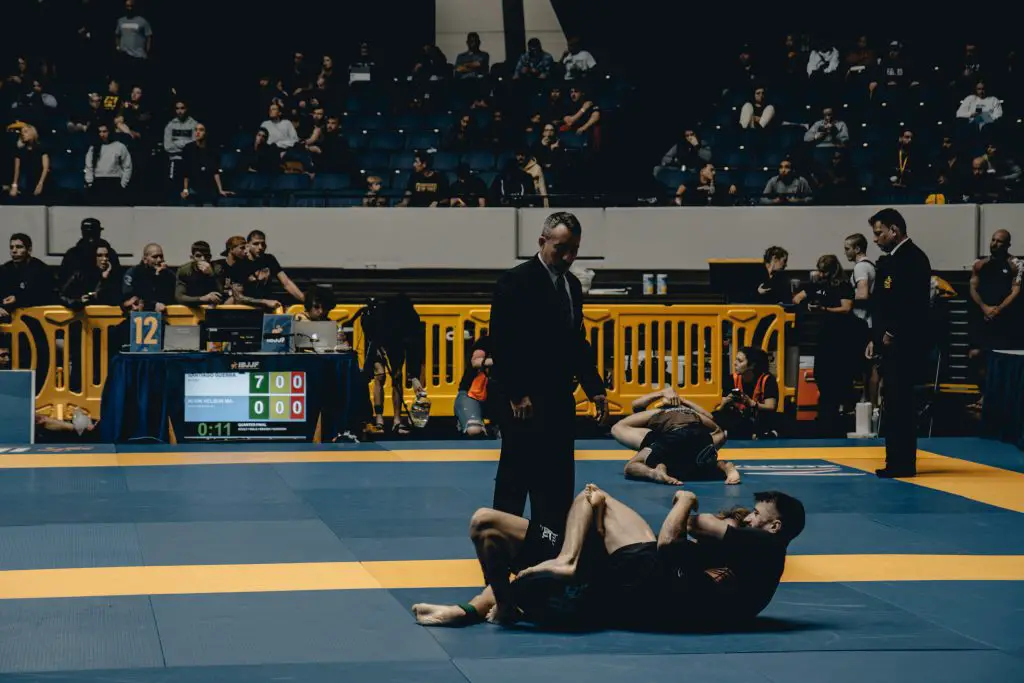 Was that a big adjustment to changing your open guard to supine guard? 
Valor Boyer: Yeah it was a huge adjustment. That, along with everything else being taught at Movement Art was a bit of a trip to get used to. I had still been at Movement Art for a bit before the car accident and when I came back nine months later I got paired up with Kirk Brenneman and Steve Loomis and they beat the absolute sh*t out of me. The skill gap they created during my time away lit a huge fire underneath me and after that training session I literally sat in my car and had a existential crisis. But it's what I think someone like me needs, it has been a great motivator and has definitely helped me progress on a pretty condensed timeline. It'll be a different type of struggle when I open a school but maybe not the same type of struggle haha!
Oh cool, do you think you will be opening it as a brown belt or will you wait til you get promoted? 
Valor Boyer: I'll probably be a black belt by the time it opens. I had originally planned to open it a few years back but it didn't work out. 
My first coach who I went white to brown under is just a phenomenal human being and back then he was ready to help me get my gym started and really walked me through the process and was incredibly supportive. 
I was getting really close to signing everything and going forward but I happened to be on the same flight as Danny on the way to Worlds and in the same row. I had moved over there training at that time and I told him about my plan. Danny is just a brutally honest guy and I love that about him. He tells you exactly what he thinks and doesn't edit his thought process to try and give it to you softly – if he likes you. If he doesn't know you he'll just smile and wave haha. But anyways, he gave it to me straight and gave me a lot of feedback on things that I hadn't considered and it convinced me to put it on the back burner and go full steam on competing for as long as I could sustain it. 
I'm having a good amount of success, and I think I'm getting a lot of experience that I can share with my future students. I think a school is in a year or two in the future at this point. 
That's great, looking forward to when that happens man. 
This is a total departure in topic but I gotta ask before we run out of time – did you end up being the first person to hit the Mikey Lock in a IBJJF competition?
Valor Boyer: Oh haha yeah. But that's only because Mikey (Musumeci) hasn't done no gi IBJJF on the same timeline! It's funny you say I'm the first because there are some internal disagreements at Movement Art in terms of the timeline. 
Nick Salles technically attempted the first one, but had his hands in the inverse position. I'm sure he would have gotten it and been the first to hit the actual Mikey lock, but the guy tapped before he set it up fully. 
But yeah, I'm pretty confident I have the first one. It was actually a pretty crazy weekend. It was at the (IBJJF) Indianapolis Open and competed the day before in the gi and I had left my leg out a bit going for a bolo and he capitalized on that. Snatched up a toehold and just started cranking it. Definitely got a lot of loud pops on that one and I just tried to poker face it and not cry out in pain to avoid the verbal tap. I was able to roll out of it and still won the match. Went to finals and lost by ref decision after making the dumbest mistake I've ever made in my Jiu Jitsu career – but that's another story. 
That night I'm back at the hotel, my foot is a balloon and I'm just trying to get it to go down. I hobbled over the next day and got it taped up while FaceTiming my girlfriend who is an athletic trainer and got the green light, so to speak, that I was going to be okay to compete. 
I talked to Danny and we decided my strategy was going to be to try and get my opponents frustrated by only playing guard retention and have them try and blitz me playing guard and catch them in a mistake. 
I go through the bracket and end up in the finals against the same guy as the day before who popped my foot and in my head I'm wishfully thinking that like "maybe there will be a gentleman's agreement to not just wrench on this foot" but that was absolutely not the case. He almost immediately grabbed it, leaned on it, and started squeezing it whenever he could. It was pretty rough. 
The referees are still pretty inexperienced to the Mikey Lock and I had two pretty deep ones, one that was deep enough it that gave me a sweep, and another where he had to roll out and I should have been given the advantage. 
At like 1 minute left, the score is super close, he's up by 1 advantage and I got closed guard, transitioned to K guard, then double backside 50/50. From there I was able to wrap it up again and got it done there. It was pretty crazy. It has been my goal to hit it that weekend and to hit it and be the first was pretty surreal. 
Haha, that's a wild story. Let's cap it at that. I really appreciate your time, it was great to finally sit down and talk about all of this. I really enjoyed it. 
Valor Boyer: For sure man, thanks for reaching out!
—————————————————————
You can follow BJJ brown belt Valor Boyer on Instagram and book him for private lessons through Instagram Direct Message, and you can use his code VALOR15 for 15% off from Inverted Gear. Part 2 of this interview with Valor Boyer after his phenomenal run at brown belt will be released in the coming weeks.