In BJJ there is a multitude of different grips and their purposes often get overlooked. In class you may hear your instructor say something is done by "grabbing the sleeve" or "using the pistol grip". Coming to terms with all the different grips can often seem quite overwhelming for a newer white-belt. But understanding what each grip offers and knowing when to use them can benefit your game tremendously. It may seem like a boring area of the sport to study, especially considering the wide range of fun and exciting guards you could learn, or the flying submissions you could practice. But if you can win the grip fight, it will put you in the right position to get your takedown, score a sweep or even pass their guard.
What grips are there in BJJ and when do you use them?
Knowing how to control your opponent's sleeve is important from multiple positions. Probably the most common and effective way to hold someone's sleeve is by digging your four fingers on the outside of the sleeve with your thumb safely removed from the fabric in a floating position. Olympic Judoka Travis Stevens refers to this grip as a 'cat's paw'. It is common that your sleeve grip will often go hand in hand with a collar or pant grip, depending on what your goal is and what position you wish to use it from. If you were to watch high level Jiu-Jitsu athletes compete you will notice how they will not want to give up their sleeves or collars up easily and will battle to win the grip fight to gain dominance over their opponent.
One often under-utilized grip in Jiu-Jitsu is the 'pistol grip'. In Stevens' instructional 'Scientific Grip Systems for Jiu Jitsu' on BJJ Fanatics, he explains how the pistol grip can be used both as a pant and sleeve grip. Gripping the fabric with four fingers as if you were holding a joystick allows you to manipulate your opponent easier and more freely opposed to a standard sleeve or pant grip. The grip is acquired by holding the material of the Gi like your holding a pistol, hence the name 'pistol grip'. So perhaps next time you're in class, look to see where you could implement the pistol grip instead, whether it be on your opponent's pant leg from De La Riva your guard or from a standing position.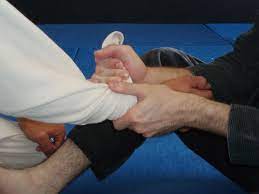 Another area of grippin that is important to understand for BJJ are lapel grips. The lapel stretches from the top of the Gi right down to the bottom, in what looks like one big collar to hold onto. In recent years people have used lapels to set up entire systems of guards such as squid guard and worm guard. But for a beginner it is probably best to get to grips with the basics first and gain a fundamental understanding of how you can use the lapel to your benefit. Gripping a lapel can set up chokes, takedowns, sweeps and even guard passes in certain scenarios. The plethora of options using the lapel is endless. But one basic way to perhaps start implementing the grip would be to see how you could attack the lapel to set up a takedown.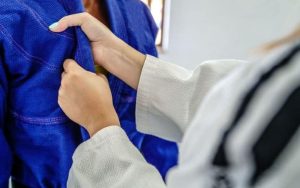 Another important grip to add to your game is the standard pant grip. You can grab a pant grip on multiple areas of the leg from many different positions. Through using four fingers (similarly to the standard sleeve grip) you can use pant grips to set up guard passes such as the torreando. Or, perhaps you could use the pant grip when playing guard, as opposed to just grabbing the ankle as you would in No-Gi or MMA. You may find by alternatively attacking the pant grip instead may increase your chance of sweeping your opponent or passing their guard.
In the Gi you can even grab your opponent's belt and use it to great effect, but it is important as a beginner not to over-complicate Jiu-Jitsu. If you take your time to understand grip fighting and how to use each grip effectively, along with building up sufficient grip-strength for maximal effect, it will give you an advantage over your opponents. If you would like to understand Gi grips in further detail, I would recommend watching Magid Hage's 'Gorrilla Grips' or Travis Steven's 'Scientific Grip Systems for Jiu-Jitsu', both of which are available on BJJ Fanatics.