We sat down with Mike Glover, the CEO of Fieldcraft Survival and an expert in preparedness:
So, maybe to start off, for anyone who is unaware as to who you are or what your background is – you could introduce yourself? 
Mike Glover: Sure, yeah. I'm an entrepreneur that owns and operates a company called FieldCraft Survival. Our focus is training citizens to be prepared for the worst case scenario. I have a background in the military as well as having been a government contractor. I spent nearly 20 years in the U.S. Army – 4 years in the infantry and the rest of that time as a Special Operations Sergeant Major. Various positions and various roles in that time period and I ended my career as a full-time contractor for OGA. I spent two-and-a-half years doing that and lots of years overseas. I decided to start Fieldcraft in 2015. 
Fieldcraft Survival, your company, focuses on preparedness, survival training, and fieldcraft. In case people are unaware as to what preparedness is, could you explain what preparedness is and what that lifestyle is about? 
Mike Glover: Preparedness is really everything in a holistic approach – to paying attention to this idea of being prepared for the worst case scenario. A lot of us, whether its education, training, or equipment really haphazardly neglect the understanding of how we would react or respond to an accident, natural disaster, or something considered a worst-case-scenario. So Fieldcraft, in the arena of preparedness, is designed to create a conversation/culture/lifestyle of paying attention to all of those things. It's about taking a holistic approach. So its mindset, resilience, physical fitness, EDC [every day carry], tactical considerations, as well as health and wellness. Preparedness for us is really a lifestyle of paying attention. 
That makes perfect sense. I've been a fan of you, of Fieldcraft, and of your podcast Mike Force for a long time now. I really wanted to talk to you about jiu jitsu after I heard a conversation that you had with Andy Stumpf on the Cleared Hot podcast. You guys were discussing your experiences with jiu jitsu and it really made me want to talk to you about how BJJ fits in with the preparedness lifestyle and everything you teach. 
With that in mind, when did you first hear about jiu jitsu? 
Mike Glover: So a lot of people don't know this about me because I haven't advertised it, but I grew up in martial arts. I took Ninjitsu, a Japanese art form before jiu jitsu had really made its way to America. I did it as a child, and it had elements of grappling in it – but it wasn't what Brazilian Jiu Jitsu would turn out to be later. That got me into other martial arts but especially jiu jitsu. Originally, I trained under a Machado lineage instructor early on after joining the Army as a 17 year old Infantryman.
I spent a lot of time on mats in my off time just rolling. I was also really involved with Army combatives and eventually being a Primary Combatives/Tactical Instructor. Over time, I became a very capable practitioner of Jiu Jitsu. I didn't get super into certain aspects of jiu jitsu because of my job – a lot of the things I taught and focused on were combatives and CQB [Close Quarters Battle] with tactical considerations, but all of it based on my initial jiu jitsu background. 
That makes sense. You'd need to be able to scale jiu jitsu for whatever circumstances you would find yourself in. This is part of why I was so excited to talk to you about how jiu jitsu and the preparedness lifestyle go together. Jiu jitsu can go with you wherever you go. It's highly scalable and it can go from truly being the "Gentle Art" to as nasty as you want to make it. It comes with a sense of community, meaningful friendships with training partners – all with the primary benefit of a self-protection skill set. 
Is that what attracted you to martial arts in the first place? 
Mike Glover: I think first and foremost for me when my parents introduced me to martial arts it was for discipline. So starting as a kid, I did Taekwondo, Kickboxing, Boxing, and Ninjitsu.  Brazilian Jiu Jitsu was evolving at the time as I went into the Army and became something we did. We started doing a hybrid version of jiu jitsu – we didn't want guys pulling guard and being on their back because that would be a disadvantage for somebody fighting for their life in war. But I will tell you, I think the number one thing that a person can do to start this lifestyle of preparedness is join a jiu jitsu academy and start rolling. Because I mean, whether it's physical preparation, the community, discipline, attention to detail, or just the general fitness aspect – it is all the right things. All of the things that put you in the right state of mind and the right physical condition for being prepared. 
I think a lot of guys in my position that talk about tactics and preparedness neglect that. In fact, I feel irresponsible not promoting it more but that has been more of a business structure problem instead of a advocation problem. Something that we are doing is migrating more into promoting Jiu Jitsu as the start point of preparedness. 
That totally makes sense. You actually have an instructor at Fieldcraft that is a black belt in BJJ and is an active Bellator MMA fighter – Dan Moret right? 
Mike Glover: Yeah I have several instructors that kind of moonlight for me and teach all over. Dan used to fight for the UFC and now fights for Bellator. He's an accomplished jiu jitsu practitioner as well as being an MMA fighter. We have always taught self defense since the origins of my company. The ability for you to respond physically in a confrontation. Whereas, a lot of people who do firearms training immediately default to that pistol..it's just the wrong line of priorities. Being at proximity and not knowing what to do physically puts you at risk of injury or loss of life. It's a huge disadvantage to not include jiu jitsu in preparedness. It's something a lot of people don't pay attention to. 
Absolutely. It reminds me of videos I see on Tim Kennedy's Instagram every so often of him doing weapons training and jiu jitsu. He has these clips where he will roll with a training knife that shocks when it makes contact. It's amazing to see how hard it is for these guys to get Tim with it and how easy it is for him to take it away. He's overwhelmingly effective with it. We do some of that sort of training at our school being an academy with a Rorion Gracie lineage. I'm a larger guy and I'm not bad for a hobbyist, but it's amazing to be on the receiving end of that skill set when I roll with someone who is also a cop or in the military. It seems like it should be a bigger priority for other academies to focus on as well. Maybe it is something that has just fallen off with how fast jiu jitsu has grown and grown into more of a sport as well. 
Mike Glover: I 100% think you are right. A lot of people when they think about preparedness miss it because it's an easy thing to buy a pistol and train on a flat range because it's comfortable. But they forget about this suppression of all your technical skill sets and stress. I used to do an active shooting class where before the law enforcement officers would go in to do the simulation experience, I'd have them on the mats and rolling with me where I would pummel 'em. I would give them a hard time, get in mount and put my weight on them. It grossly affected their ability to think and they would go into a flight or fight response. They'd start hyperventilating and eventually lose control of themselves. 
That to me demonstrated for the first time really, that stress and the inability for you to control your body or someone else's body was the starting point. Because after that experience, I would pick them up, hand them a simmunitions pistol and tell them to go do the course. I'd get push back like "Why are we doing it like this?" and my response was always "That's how it works. You lose your breath, the amount of cortisol you have flowing in your body and you lose control of yourself. If you can control yourself you are going to go into a hostile situation and make a lot of mistakes. Potentially even getting someone killed".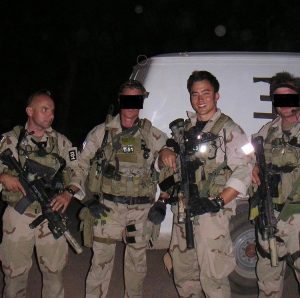 For sure. I think that initial response is what a lot of people's initial responses to jiu jitsu is. It's a sense of disbelief that it works as well as it does. It just completely destroys any fantasy of fighting ability someone has in their head. It can be a big ego killer. It definitely was for me in my first class. I got destroyed by a guy 30 pounds lighter and 20+ years older. I couldn't believe it the whole drive on my way home that night. 
That transitions to the next point I want to go over –  which is how so many people think about training but don't pull the trigger. They have these fears and anxieties over what the culture and the environment of the gym is going to be like and they fear getting injured. In my experience that couldn't be further from the truth. I've never been to a jiu jitsu academy and felt unwelcome as a newcomer. Has that been your experience? 
Mike Glover: Yeah I agree with that. I think a lot of people are looking for that purpose in the first place, and in schools with a legitimate lineage and culture I have never experienced that sort of toxic culture or unwelcoming environment. It's always been a positive thing. Health, fitness, sparring, understanding yourself – that's why I think even outside of the techniques learned, jiu jitsu is just a great source of lessons for life. To just learn and get better. And while it definitely helps in preparedness, I think it helps in every facet of your life. 
I think maybe another barrier to entry is that people have a fear of injury. In that same episode of Cleared Hot I mentioned earlier, you talked about some of the significant injuries you've sustained while training. Having had those injuries and experiences, how would you encourage new people to start and approach BJJ? 
Mike Glover: Yeah I had a severe injury in the military. I high kicked – which is rare to do in combatives, but when I was in combatives I was trying to create distance and he caught my heel and my hamstring had an initial tear. My opponent was a very accomplished wrestler and when he took me down we got in a scramble. In the scramble I tried to mount him and I ripped my hamstring off the bone. It was emergency surgery, it was a lot of physical therapy. It was a pretty serious injury. And I've had a whole bunch of other little injuries over all the time I've been training Jiu Jitsu.
But I'll say in my older, wiser age, you have to be very cognizant of who you roll with. Because immaturity, inexperience, and ego will all put you in bad situations. In my position now, I'm not solely focused on the submission. I'm training to learn. To stay adaptive. To flow roll. To go through the motions and be aware of what is working and what is not. I think a lot of people think of martial arts as being a means to an end and they just focus on the submission, the tap out. I mean, there's a whole brand called "Tap-Out". That's just not what I'm in it for at this point. I want the health, wellness, and the mental agility benefits. I want to learn to be adaptive in stress and flow through problems with jiu jitsu. So at this point in life it's a different journey for me.
When I was younger, my ego made me want to destroy and beat the other person. It led into that problem set of creating opportunities for injury a lot. What I would advise anybody who is training or wants to train, is to pick the right leaders or informal leaders in your academy. I would look to the school and the coaching staff to create the right culture. That's what I look for first and foremost. 
Yeah I'm with you on that. You mentioned earlier that if someone is interested in preparedness you'd encourage them to start training at a BJJ academy. I think in my own experience with preparedness, it totally fell into place after starting to train.  It wasn't something I was really aware of on a cognizant level until I was a couple of years into training. I heard about it when you first started appearing on podcasts with people like Jocko and Sean Ryan's podcast. Preparedness kept coming up and it just clicked. It seemed so logical, like the natural extension of what I was already doing. Just a general awareness to prepare for potentially negative or dangerous situations. It just seems like the totally natural extension of BJJ. 
Mike Glover: I think you are right on that. The starting point is definitely having a level of awareness of how you fare in physical confrontation. BJJ is also a great measure of how you fare under stress. A lot of people hear that and think, "Well, I'm going to be at a disadvantage". Well, my answer is that there are ways for you to scale your advantages and learn moves that make you better at jiu jitsu in a different way. It's also a great starting point for having a frame of reference on fitness. People realize their vulnerability when they are out of breath after a couple of seconds of confrontation.
And it's honestly a starting point for understanding the scope of the mental agility required to manage your breath and tactics in a physical confrontation. If someone sees me in a physical situation with somebody, you'd be like "Wow this dude is calm, he's breathing normally, he's not getting into an emotionally elevated state". Not what a lot of people would assume given my background. I feel like a lot of people assume I would be loud, aggressive, and confrontational – when I really would be the opposite. All those lessons you learn on the mat translate into easy logical reasoning for how you can be prepared in every other aspect. 
Definitely. It totally touches on our earlier point of untrained people going into conflict all amped up as opposed to being in control of the situation. I think another aspect we didn't touch on as much is how people build an expectation for how scenarios play out without testing that plan with stress. You can have all the plans you want but if you can't execute under pressure it doesn't mean anything. jiu jitsu tests itself with stress. When you go to class you have bigger, stronger, more talented people trying to submit you. Your abilities get tested and you learn what works and what doesn't. It's an important part of the process. 
Mike Glover: Yeah I think jiu jitsu just humbles you. It makes you realize all the virtue signaling of the world that you think would work in a confrontation doesn't work at all. It very much humbles you and makes you accept that you aren't the baddest dude in the room. And then in an addictive way, you want to become the baddest dude in the room. All of the best BJJ guys that I have rolled with are the most humble, kind human beings on the planet. So it's really just good for every element of preparedness. 
I think that's totally correct. And as you get better at Jiu Jitsu I feel like there is an awareness that allows for higher level awareness in terms of how you can scale techniques in different situations. That brings me to my next question of how do you integrate Jiu Jitsu into the training programs offered by Fieldcraft? 
Mike Glover: Yeah for sure. We teach a course called Self-Protection and in that course it's all scenario based. It all starts with threat mitigation. It can range from non-verbal body language/demeanor to higher levels of response. There's a lot of things we go over – even decision making. Self awareness and situational awareness that develops you into reducing the risk of a physical confrontation. In that course we actually have a whole learning block on decision points. Solving the question of "What is the decision matrix for you to go hands-on or not go hands-on and utilize a different tool?". All of these things can progress and scale and we build it until it culminates in a cohesive holistic approach. 
One of the things I have been considering, and something that got covered in depth with Andy Stumpf in a podcast from a few days ago that will drop next week – is doing a FieldCraft Survival jiu jitsu gym here in Heber City, Utah. It's so important, and even though there are segments more applicable to self defense, the art form and community are things I am personally interested in partaking in and fostering. Especially now as my injuries heal up and I feel like I'm ready to get back on the mat where I can show people I've really been around this for a long time and I can talk about it more. 
Right. Yeah. That makes sense. That would be awesome to have it at HQ where it'd be so easy to incorporate it into your existing programming. I have to say, I think it's really cool that you guys have a brick-and-mortar location. During the pandemic a buddy of mine and I would watch BJJ Fanatics instructionals and train. It was a great way for us to continue to learn in an environment where classes at the normal scale weren't possible. I know you currently offer online courses, but are fight based or survival based jiu jitsu training programs on your radar for the future? 
Mike Glover: Yes. 100% yes. We are doing that, we actually had kind of a brokered conversation about that with Andy on this last podcast for next week. And now, I think the time is right. Andy and I talked about doing something – and we are connected between the two of us to so many great jiu jitsu practitioners and coaches and fighters like Chad Robichaux for example. 
We want to integrate it all with seminars and workshops to mix in jiu jitsu with the other aspects of preparedness with the best guys around. 
That's awesome. It's cool to hear that you guys are doing that. I'm really looking forward to seeing that roll out. To ask you one more question about your jiu jitsu experiences – and at the risk of being corny…what is your answer to the age old question of preference: Gi or Nogi? 
Mike Glover: You know, I went through a period of time in probably the early 2000's where the only thing I did was NoGi. The main reason being the realism of my position in war. I was basically focusing on what I thought would best prepare me for what I would deal with in my profession, and it certainly was no gi jiu jitsu. I wasn't really interested in PanAms or doing tournaments in general. I was just interested in learning how to control and manage people without having the benefits of the gi or clothing to rely on. But I had a few circumstances in war, in Iraq, where I got tied up with bad guys.
Like where I was getting in these physical confrontations. And it's not like they were also jiu jitsu practitioners but they had clothes. And so it made me realize after that, that Gi jiu jitsu is just as important. Jiu jitsu guys know this, but if a guy you are fighting is wearing a jacket, and you know BJJ..that's like the worst thing that could happen to him. Like if you want to be in a terrible position, fight someone who knows jiu jitsu with a jacket on or in winter time. The advantage of sleeves, collars..man its a huge disadvantage to not know. I realized I needed to do that. 
That reminds me of the last time I got injured, which was when I last rolled with Chad Robichaux. He's one of the most accomplished grapplers I've ever rolled with and he's about half my size. I have about a hundred pounds on him but he's just so technical that I got put in a bad position and my neck got cranked on. I ended up getting a compressed C4 and socket C5. I actually need surgery to fix it now. But anyway, I think there are advantages to both but I think there is a time and place. I don't view Gi jiu jitsu as "traditional jiu jitsu" I look at it as the preparedness advantage of being able to control someone with long sleeves or just wearing clothing period. 
Now that I'm getting back into jiu jitsu it's definitely going to be something I encourage and include in my workshops and seminars. I also think it's important to get exposed to people with different training backgrounds, body types, and experiences. It's something I'm looking forward to and that I am interested in while also adding in the message of preparedness and survival. 
All of that makes perfect sense. I think it's so great that Fieldcraft is getting into this space in a bigger way. Jiu jitsu is growing at such a tremendous rate – there are like 20+ gyms within an hour of me. It's cool to see how rapid the growth is and it makes sense. Jiu jitsu is just so much fun, I'm 2 hours out from class tonight and I can't wait to get on the mats. It really becomes an obsession and it's cool that something that seemed daunting when I first considered it – is now one of the best parts of my week.  
Thank you so much for taking the time to talk to me and another thank you for doing your podcast Mike Force – it has brought a tremendous amount of value to me. 
Mike Glover: Yeah man. I appreciate that. It's something we've done since the beginning and we're just going to double down on it. I've seen that perspective, I've just seen it help a lot of people's understanding of things and I'm glad it's making an impact.
As discussed in the interview, Mike Glover is the CEO of Fieldcraft Survival and has a podcast called Mike Force.
To learn more about Fieldcraft Survival, click here. Or alternatively to listen to Mike Force, click here.