Submission Hunter Pro 84 is scheduled to take place on July 23rd, 2023 and the promotion has put together a fantastic 8-man tournament with $5,000 on the line for the winner. With top talent from all around competing for the grand prize, they've managed to put together something great for the first event of their new streaming deal with UFC Fight Pass. There's no weight-limit in place for the tournament either, so it's bound to produce some interesting matches between competitors that might not normally meet in competition. In this preview of Submission Hunter Pro 84 we'll break down each of the competitors in the bracket and what their realistic chances of winning are, given the rest of the field they're up against.
Submission Hunter Pro 84 Preview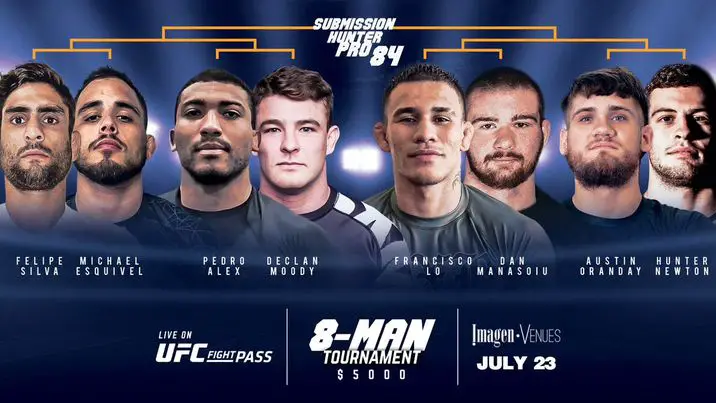 Felipe Silva – Dark Horse
Felipe Silva is a Unity Jiu-Jitsu black belt who's incredibly active on the IBJJF open circuit. He's medalled at major IBJJF no gi events multiple times over the years and even won the South American edition of ADCC Trials in 2017. His most recent major competition performance saw him take home a bronze medal from the medium-heavyweight division of the IBJJF no gi World Championship. Silva be tough to beat for anyone around his size and although he has a game opponent in the opening round, he should win. After that is when it becomes an uphill battle for Silva against some of the favorites at Submission Hunter Pro 84.
Michael Esquivel – Underdog
Michael Esquivel is a solid grappler pretty much everywhere who has a fair bit of experience against top competitors over the years. He even competed in the Combat Jiu-Jitsu lightweight world championship a few years ago, but couldn't make it out of the opening round. It wasn't as if that loss was to a nobody though, as he had the misfortune of drawing Nathan Orchard right at the start. He could definitely beat some of the other competitors in the bracket on the right day, but he has a tough opening round match against Silva. The most likely outcome here is that Esquivel goes out in the opening round.
Pedro Alex – The Favorite
Pedro Alex was a fantastic competitor during his journey through the colored belt divisions and has multiple gold medals from the IBJJF World Championship from that time. He's been on the verge of breaking through to the highest level of competition for quite some time, and he even came within inches of making it ADCC 2022 when he left South American trials with a silver medal. He definitely has the capability to beat anyone in the bracket and although he has a difficult opponent in the opening round, he's the most likely to reach the final from his side of the bracket.
Declan Moody – Dark Horse
Declan Moody is one of the top competitors to come out of Australia in recent years and he's been right on the verge of big things for quite a while now. Now that he's been getting in hard rounds at B-Team Jiu-Jitsu and taking on bigger challenges outside of his home-country, he might just be ready for the next level of competition. Moody has one of the toughest draws of Submission Hunter Pro 84 in the opening round and it won't get much easier from there. He'll be put to the test at every stage of the tournament, but he might just be able to rise to the challenge.
Francisco Lo – Dark Horse
Francisco Lo has only been a black belt for a little over a year, but he's already been finding plenty of success on the IBJJF Open circuit. He's been able to beat some fantastic grapplers like Clay Mayfield and Adam Wardzinski in that time, falling just inches short of the podium at the major events he's competed in. Lo had a breakthrough performance at the most recent edition of Who's Number One where he won an exciting match against William Tackett, and that could be the start of something big. Lo has arguably the hardest opening round match of the entire tournament but if he does manage to win it, he might even win the whole thing.
Dan Manasoiu – The Favorite
Dan Manasoiu has one clear advantage over the rest of the competitors in the bracket, as he's larger than every single one of them. He's not unbeatable of course, and he has been submitted by smaller competitors in the past. Realistically he should be considered the favorite to win the tournament at Submission Hunter Pro 84, although not entirely because of his size. He's had some great recent performances at events like UFC Fight Pass Invitational 4, where he submitted an ADCC medalist and an IBJJF world champion pretty quickly before going right to the wire against Nicky Rodriguez. Lo is far from an easy match but Manasoiu is till the favorite and getting past Lo should clear a path to the final for him.
Austin Oranday – Underdog
Austin Oranday is a great competitor who generally competes at middleweight or medium-heavyweight, but he's got plenty of experience competing in absolute divisions too. He does well on the IBJJF Open circuit, but he hasn't quite been able to break through to the top level just yet. His most recent competition appearance before this was actually on the preliminary card of a Who's Number One event, but he wasn't able to come home with the win. Oranday's opening round matchup really could go either way, but it's tough to see him making it further in the bracket than that.
Hunter Newton – Underdog
Hunter Newton floats between middleweight and medium-heavyweight, and he's coming into Submission Hunter Pro 84 with previous experience on the promotion's stage. He competed at their 81st event where he faced Luke Griffith in the co-main event, an ADCC 2022 veteran who also happens to be Dan Manasoiu's teammates at New Wave Jiu-Jitsu. Newton has beaten good grapplers like Matheus Luna before and he is definitely capable of beating Oranday in the opening round, but whoever awaits him in the semi-final is going to be a huge challenge.
The full Submission Hunter Pro 84 event is available to watch live on July 23rd, 2023 on UFC Fight Pass, click here to subscribe and watch.