The Triangle Choke is a classic submission and is one that is often seen as a clear representation of BJJ, in so much that it allows the smaller man to easily defeat a larger opponent. John Danaher calls it "close to the soul of Jiu-Jitsu" because it allows you to wrestle an opponent's upper body using your lower body, which will almost always give you an advantage. It's also a technique with incredible versatility as minor adjustments can allow you to finish a triangle choke from every angle imaginable, and it opens your opponent up to a whole host of other attacks on either arm. Nothing represents both of these principles at once more beautifully than Luke Rockhold's 2014 Submission of the Year against Tim Boetsch:
One of the first uses of the triangle choke in the UFC also perfectly displays the ability of the technique to level the playing field when two competitors have a significant size difference. Back at UFC 4, Royce Gracie won the final match against Dan Severn using this submission despite the fact that Gracie would compete as low as 170lbs and Severn was a 253lb wrestler who would never be able to cut down below the Heavyweight bracket. Several respectable sources like Romero Cavalcanti and Marcio Stambowsky have credited this technique's introduction to BJJ to Rolls Gracie having found depictions of it in an old Judo book. Although a second degree black belt under Rolls himself, Mario Tallarico, has disputed this claim:
"The triangle was a very old technique from Judo that was used in Jiu Jitsu from the beginning. As it was not associated with the armbar or the crossing of the arm to the side, it was too easy to defend and seldom used."
This explains why many believe that Rolls re-discovered the submission, as it was not used in tandem with attacks on the arm until late in BJJ's development, so it wasn't seen often. It seems that the most you could really credit Rolls with, is potentially introducing the technique to his training partners at the time. Even that seems unusual, as the triangle choke can be seen pretty clearly in a 1935 newspaper clipping that depicts Yasuichi Ono training for his upcoming match with Helio Gracie, one that would eventually end in a draw. Because of this, it seems highly unlikely that nobody in the Gracie family would come into contact with this submission until the 70s or 80s.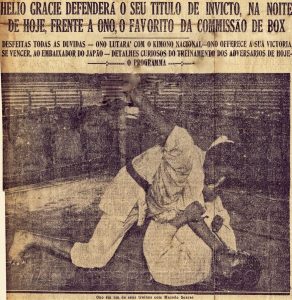 The technique was actually strongly associated with a renowned Judoka who was instrumental in the formation of Kosen Judo, Yachihyoe Kanemitsu. Kanemitsu was rumoured to have used the triangle choke throughout his career, but the first recorded use of the submission in a Kosen Judo match was actually by a student of his, Masaru Hayakawa back in November, 1921. The oldest surviving video footage of the submission is actually a demonstration done by Tsunetane Oda, a fellow Kosen Judoka who studied directly under Jigoro Kano. There is still some debate as to whether Oda or Kanemitsu are responsible for the actual invention of the triangle choke as both men have been credited by different sources.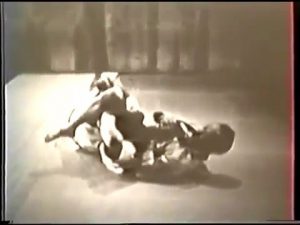 In Kanemitsu's second book, Okayama Ken Judo Shi, he goes on to explain the first version of the triangle choke he ever saw being back in 1890 by JuJutsu master Senjuro Kanaya. He does then elaborate that this was more similar to a neck-scissors motion without the posterior pressure of the triangle choke. Regardless of whether he was the original inventor, the fact that the technique is so strongly associated with Kanemitsu lends further credence to the notion that it was present in BJJ circles long before Rolls Gracie. Both the aforementioned Yasuichi Ono and his brother Naoichi were direct disciples of Kanemitsu and spent much time in Brazil in the 30s.
Considering grappling in general has undergone millennia of evolution, the fact that the triangle choke seems to be a little over a century old at most makes it a relatively recent addition to the grappler's arsenal.
This piece is part of a series diving deep into the history of various submissions, click here to look through the rest of the series.