Kyle Boehm has just made some explosive accusations, namely that several current and former students of John Danaher have been fixing matches or were intending to do so. This all came about because of EBI 20: The Absolutes, where Boehm was competing in the same tournament as both Luke Griffith and Giancarlo Bodoni. Both of them were relatively recent additions to the team at New Wave Jiu-Jitsu and both were competing at their very first ADCC world championship event earlier this year, also alongside Boehm.
Boehm made the allegations during the lead-up to EBI 20, when he accused both Griffith and Bodoni of intending to 'do a fake match'. He believed that, had they both made it to the semifinals of the event, they would have gone out and pretended to have a competitive match for the sake of the broadcast. Instead, the winner would have been decided beforehand and they would simply have been acting out a sequence of events that would put one of them in the final without having to have a tough match beforehand.
Of course, that didn't come to pass in the end anyway. Griffith didn't make it past his quarterfinal match with Nick Rodriguez and Bodoni suffered a rib injury during his opening round match and withdrew from the rest of the tournament. That wasn't all though, as Boehm also accused Garry Tonon and Eddie Cummings of doing the same thing all the way back at EBI 3 and implied that Tonon and Gordon Ryan had done it once again at ADCC 2019.
Kyle Boehm posted his allegations to his official Instagram account, although the post itself has now been deleted. Below is a screenshot of the original post, copied before it was deleted: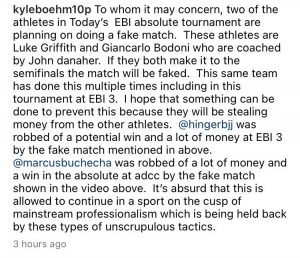 Gordon Ryan is undoubtedly the most successful athlete to study under John Danaher and he gave an immediate response to the allegations of fixing matches that Kyle Boehm made against both his past and present teammates. Ryan posted his response to his official Instagram account and he took aim directly at Boehm's performance in EBI 20 the same weekend: