When Craig Jones initially announced himself as the grappling coach for Team Volkanovski on the upcoming season of The Ultimate Fighter, naturally fans were curious as to whether Rener Gracie would be coaching opposite him for Team Ortega. Jones actually chimed in on Reddit himself to confirm that he was going to make the most of his appearance on the show and planned to call out Rener for a match live on the show if he was actually going to be flying in to help Ortega. Seeing as Rener has been in Ortega's corner for every match of his UFC career except for one where a positive Coronavirus test forced him to stay home, this seemed almost like a certainty.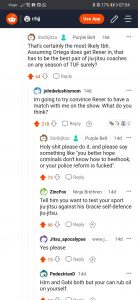 Now fans can finally rest easy knowing that Ortega has confirmed that he's bringing in Rener Gracie to help with grappling instruction for his team of Bantamweights and Middleweights. He announced the news in a post on his official Instagram account where he shared a shot of his entire coaching staff for the tournament. This puts the wheels in motion for what could be one of the best moments in the history of The Ultimate Fighter as there's never been a live grappling match between an elite competitor like Craig Jones and a legend like Rener Gracie.
The only thing that might prevent this from happening is the recent health issues that Jones has experienced that prevented him from competing in his scheduled match against Tye Ruotolo at Who's Number One. Either that, or of course there's always the potential that Rener might simply refuse to meet him on the mats altogether.
The full season 29 of The Ultimate Fighter will be available to watch on UFC FightPass, click here to subscribe and watch.