The ADCC World Championship is the most prestigious tournament in no gi grappling, and it has a long history of inviting MMA fighters to test themselves against specialist combat sports athletes. The most commonly-cited examples are Georges St-Pierre and Ben Askren, two fantastic wrestlers who received an invite to compete but were beaten by Jiu-Jitsu specialists. They're far from the only ones however and other MMA fighters have even managed to go pretty far too. Tito Ortiz had a fantastic run at ADCC 2000 and Vitor Belfort did well at ADCC 2001 as well.
While it's unlikely that MMA fighters ever manage to beat specialists at their own game, there are a few who possess such phenomenal grappling talent that they could reach the podium if given an invite to the ADCC World Championships. Now that UFC Fight Pass has secured exclusive broadcasting rights to ADCC, it seems more likely than ever that we might see some MMA fighters given the opportunity to compete.
5 MMA Fighters Who Could Do Well At ADCC
These five MMA fighters are all fantastic grapplers in the cage and while some of them have more pure grappling experience than others, they could all transition well to ADCC if given an invite to compete.
Charles Oliveira
It's pretty much universally agreed that Charles Oliveira has some of the best BJJ skills of anyone who has ever stepped into the UFC cage. The former Lightweight world champion has managed to register the most submission finishes of any fighter in UFC history and while a few of these were against MMA fighters who couldn't possibly compete at ADCC, that's still an impressive resume. Oliveira has great offensive Jiu-Jitsu and it's almost a certainty that any grappling matches he has would end in a submission, either by him or his opponent.
The only trouble is that he has two ADCC divisions to choose from near his weightclass, under 66kg or under 77kg. Oliveira has had trouble making weight at Featherweight (66kg) in the UFC, and that's why he moved up to Lightweight (70kg) so it seems like he'd most likely to compete at under 77kg for ADCC, where he may be a little smaller than the rest of the division.
Luke Rockhold
Luke Rockhold is another former UFC world champion and MMA fans might be surprised to find out that he actually won an IBJJF no gi world championship at purple belt back in 2007. He's been known as a great grappler throughout his career and although he has gone back and forth over retiring from MMA, he's still competed in grappling matches over the years. He actually took on Nicky Rodriguez in the main event match of Polaris 12 and although he didn't win, it was a grinding decision that really could have gone either way.
Rockhold might be considered on the older side of competitors at the ADCC world championships but he'd also likely compete in the heavier divisions, where age is less of a factor. As a Middleweight who has occasionally competed at Light-Heavyweight, it's likely that Rockhold would compete at under 99kg if he was ever given the invite to ADCC.
Roberto 'Satoshi' de Souza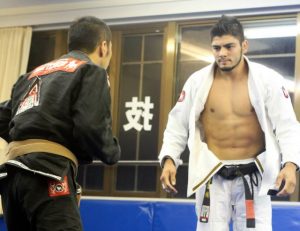 Roberto 'Satoshi' de Souza has the most professional grappling experience of anyone here, and he's actually faced several ADCC veterans throughout his time on the mats. He has reached the podium of the IBJJF world championship at black belt multiple times over the years, beating some phenomenal names along the way. Perhaps the most notable name on his resume is JT Torres, the two-time ADCC world champion who de Souza actually owns three wins over in 2012.
De Souza has competed at under 76kg in most of his gi competitions and is the RIZIN lightweight world champion, so under 77kg would likely suit him perfectly at ADCC. He would truly be in with a great chance of reaching the podium if he was ever invited to ADCC, the only thing that may stop him is the fact that he would be entering what is historically the most stacked division at the event.
Khamzat Chimaev 
Khamzat Chimaev managed to reach the top tier of the UFC rankings without really getting to display much of his talent in the cage. What fans did get to see made it abundantly clear that he was a fantastic grappler who is able to use his wrestling and Judo experience to take down and control almost anyone. While he isn't as much of a known quantity as the rest of this list, he's definitely got what it takes to cause upsets against more experienced BJJ black belts.
Chimaev has floated between welterweight (77kg) and middleweight (84kg) during his MMA career so although he might be able to make the under 77kg weight limit at ADCC, it's far more likely that he would compete at under 88kg instead. Although Chimaev could definitely beat a lot of grapplers on points or by decision, it remains to be seen how well he would do against elite leglockers.
AJ McKee
AJ McKee is without a doubt one of the most talented fighters that Bellator currently have on their roster. He has beaten almost everybody he's ever faced in the cage, including Roberto 'Satoshi' de Souza at a cross-promotional event at the end of 2022. He's a great all-rounder when it comes to MMA but he's been known to display some innovative grappling in the past; even winning our 'MMA Submission of The Year' award in 2020.
Mckee has comfortably made the Featherweight limit throughout his MMA career, so it seems reasonable that he might be able to join other fighters in the under 66kg division at ADCC. It would be difficult here given that the level of competition is generally ridiculously high, but McKee's excellent wrestling could present a rare challenge for a division that's usually full of leglockers and guard-players.