Injury prevention and rehabilitation is one of the most vital parts of any athlete's training regimen and is important for even the most casual practitioner. At the end of the day, BJJ is a combat sport and even the most diligent practitioners can make mistakes, or be part of an accident. As a result, it's a good idea to prepare for those eventualities and either do your best to prevent injuries from happening, or rehabilitate those injuries properly to minimize their chance of recurring. Here's all the equipment you need to help limit the injuries you receive in your BJJ career:
Gumshields
This is the most common form of injury prevention that most grapplers will think of, although most wouldn't really classify missing teeth as an injury as such. The truth is that a broken or loose tooth can be very painful for even the most hardened athlete and can also be pretty expensive to fix. Comparing that pain and expense to the relatively small amount that a gumshield costs, and the minimal effort it takes to remember to put it in before sparring, and it's easy to see why so many grapplers choose to wear them. Not only the major problems, but splitting a lip open and having to miss a round to stem the blood is just annoying really.
Click here to find out more about Gumshields.
Finger Taping
Take a cursory look around any BJJ gym and you'll see dozens of fingers strapped tight, or taped to the one next to it. This is for good reason as constant gripping, and the stripping of grips, wreaks havoc on the small muscles and joints in your fingers. Not only is it important to strengthen the extending muscles in the fingers to help prevent injury, but finger tape itself is an important part of any grappler's backpack. The only problem is that tape is single-use only and if you're in this game for the long haul, it can become expensive as the years go on. Because of this, reusable alternatives have been devised which provide flexible support that secures the finger to the one next to it.
Click here to find out more about Finger Taping alternatives.
Knee Supports
As far as severe injuries go, the knee is the most common joint to suffer in BJJ. This is actually pretty common across all grappling sports like Wrestling and Judo, as standing grappling can often put pressure on the knee at unusual angles. It doesn't get much easier when the match hits the ground though and a number of positions like the lockdown or reaping the knee can put as much or even more pressure on the knee than takedowns. Because of this, it's important to pay attention to minor issues and employ prevention techniques like providing enhanced support to the joint, something that can also help enable you to continue training while rehabilitating a minor or even major injury.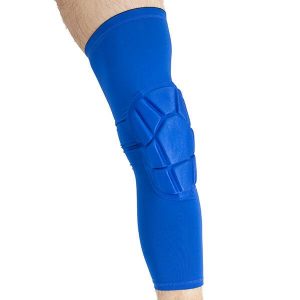 Click here to find out more about Knee Supports.
Massage Balls
Muscle tension is not a serious injury by any means, but it can certainly hinder your training and last longer than needed if not dealt with. The shoulder area in particular is susceptible to developing trigger points, areas of hyperirritable muscle that can cause pain when pressure is applied. BJJ has a great deal of positions that are designed to put pressure on the opponent and if you're suffering with a trigger point while under a particularly heavy side control, the pain can be unbearable. The best way to get smooth out these areas of muscle is to apply constant, direct, and massaging pressure which is easily applied with the use of a firm massage ball. This, combined with alternating hot and cold therapy can provide relatively quick relief from the issue and make the area painless again.
Click here to find out more about Massage Balls.
This article is sponsored by the Jits Shop, click here to visit and use the code JITSMAG for 10% off.